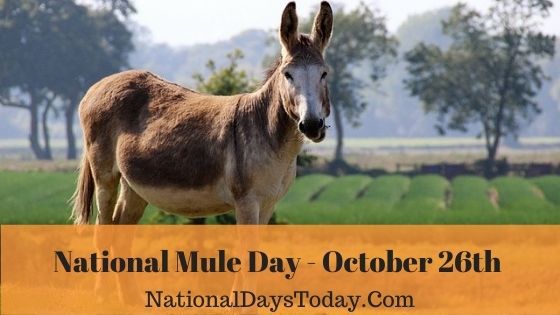 National Mule Day:
National Mule Day is celebrated on 26th October every year. It is celebrated to commemorate Spanish Jacks' arrival (donkeys) to the Americas on Oct. 26, 1785.
| | | | |
| --- | --- | --- | --- |
| Year | Date | Day | Where |
| 2023 | 26th October | Thursday | United States |
| 2024 | 26th October | Saturday | United States |
| 2025 | 26th October | Sunday | United States |
Twitter Hashtags:
#NationalMuleDay
#MuleDay
Related: Other National Days Celebrated on October 26th:
Why National Mule Day?
This day is celebrated because it marks the arrival of the first Spanish Donkeys in America. These were the first donkeys that were used for breeding mules for the first time in the United States. Citizens marked the day and celebrated mules before the government-sanctioned it. Contests and ceremonies were held in Lynchburg. Mule traders arrived there all from around the United States shows and sales of mules. It was to commemorate the creation of such a hardworking and useful creature. This day celebrates these long-eared hybrids.
How Can We Observe National Mule Day:
You can observe or celebrate  #NationalMuleDay in the following ways:-
You can visit some mules at a farm or a zoo
You can also ride a mule. You could plan a trip to ride on a mule along some trails in the United States.
Get to know about the American Mule Museum. Support it and get to learn more about mules.
Another entertaining way to celebrate this day is to watch a movie. You can watch a film based on mules or at least focus on them somehow.
If you love reading, then you can involve yourself in reading a book about mules on that day. In that way, you can also learn more about mules.
You could check out the Western Mule Magazine or the American Mule Racing Association.
Plan a trip to attend Mule Days or Hells Canyon Mule Days.
Use #NationalMuleDay on social media to observe and celebrate this National day.
Interesting Facts About National Mule Day:
Let us take a look at some unique facts about the mule:-
The hybrid between a male donkey and a female horse is known as a mule. It is not a breed of equine.
Mules are generally sterile because they are a hybrid, and donkeys and horses have different chromosomes.
No cases of fertile male mules exist, but there have been about 60 proven cases of female mules giving birth to mule offsprings since 1527.
Mules can be found in all shapes and sizes. It depends on the breeds of the donkey and horses that are bred together. Mules can range from under three feet tall to 17 hand draft size.
Mules have more stamina than horses of the same size. They can also carry more weight than horses can. They also generally require less food than similarly sized horses.
Mules are often considered to be of higher intelligence than either of their parental species. This is perhaps due to them being a hybrid of both.
Mules are found in the bay, black, chestnut, or gray. Though these are the most common shades of mules, they can be of any solid color like that of a horse.
They show brown or tan coloring around their eyes, on their muzzles, and sometimes on their bellies and lower legs.
Mules neither bray like a donkey nor neigh like a horse. They have a very different and unique sound that is a combination of both. It starts with a sound similar to a whinny and ends with a weird "hee-haw."
Mules are not stubborn. "As stubborn as a mule" is a false notion. They are sometimes lazier than horses because of their heightened intelligence. This actually keeps them from putting themselves in harm's way.
History Of National Mule Day:
On October 26th, in the year 1785, a Spanish Donkey arrived in America for the first time. George Washington specially requested the breeding of American Mules. This donkey was named 'Royal Gift' and was a present from the Spanish King Carlos III. George Washington bred what the first mules of their kind in the United States
were from this donkey.
President Ronald Reagan officially proclaimed the date of National Mule Day on the two hundredth anniversary of the Spanish Jack's arrival. It was October 26th, 1985.
A day devoted to mules was already listed in 'Chase's Annual Events' for 28 years since the year they began publishing. William D. Chase, who was the editor of the publication, wrote a letter to the editor of 'The New York Times' saying that such a holiday already existed, which was called Mule Day U.S.A, and that even without the government's blessing, a holiday honoring mules and the marking the arrival of the donkeys could be observed.
'Chase's Annual Events' currently lists this holiday as National Mule Day.