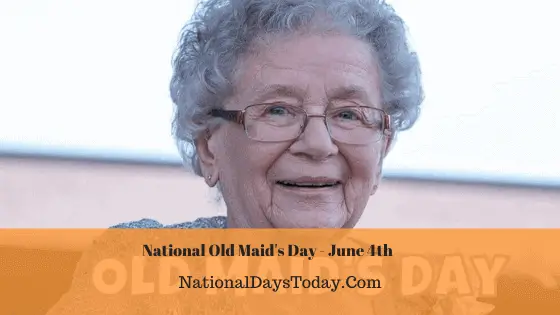 National Old Maid's Day:
Celebrated on June 4th every year. The day is observed to honor the sacrifices of Old maids commonly known as Spinster.
| | | | |
| --- | --- | --- | --- |
| Year | Date | Day | Where |
| 2023 | 4th June | Sunday | United States |
| 2024 | 4th June | Tuesday | United States |
| 2025 | 4th June | Wednesday | United States |
Twitter Hashtags:
#NationalOldMaidsDay
#OldMaidsDay
#OldMaid'sDay
Related: Other National Days Celebrated on June 4th:
Why Old Maid's Day?
The National old Maid's Day is observed to honor the sacrifices of Old maids commonly known as Spinster. The term "Old Maid" is denoted as disrespected words in the olden days where marriage, child bearing and child rearing were mandatory for women. Nowadays, perceptions on old maids were changed to some level at least that is potentially a healthy approach towards spinsterhood. Moreover, finally, the definition of the term "Old Maid" was corrected and meant as a powered, Independent Woman.
Liberty is a better husband than love to many of us. says, Louisa May Alton, A famous Writer and a spinster.
How we can Celebrate or Observe National Old Maid's Day:
Let us observe this day by narrating a poem for Old maid's whoever sacrificed their life on behalf of their family. Normally, Women sacrifice their life and avoid marriages due to their family orientations. Sometimes, some family may solely depend on the women's income and for that reason, she might have avoided marriage. Such women, who sacrifice their life and motherhood has to be considered as a divine Angel of that family. There are equal to a candle which diminishes itself to provide light to the surroundings. Post about them using this hashtag #OldMaid'sDay on social media.
Some women may not prefer marriage and motherhood for their carriers. women should be praised for their bold decision. Some would never get married due to their physical or mental inability .such circumstances has to be avoided at any cost since loads of treatment facilities are available to overcome such issues. Age is not a factor for marriage. Anyone can be married to anyone at any time. At last stage of our life, we do not need a partner for partying, we need a companion who could share our miseries and Laughter moments. No matter, Join on this auspicious occasion and enjoy the Spinsterhood. And of course, a friend is a great companion rather than husband and children.
Our research could not furnish further details about Marion Richards. Post unknown facts about her, if any, using this hashtag #MarionRichards on social media.
Interesting Facts About Old Maid's Day:
First World War left with a number of spinsters who ought not to marry due to loss of their boyfriend. Status issue was an another major concern. Women of those days unaccepted to marry a boy with low social status and further their parents could not afford money to get those married of equal status men. Other reason could be the fear of commitment, child bearing that prevented them from getting married.
One such notable spinster was Elizabeth I, Queen of England and Ireland from 1558 to 1603, until her death. She was 69 when she died, childless, never, married though she has a handful of offers from various countries princes. The reason was unknown in spite of various speculations. Despite several considerations, she never married. She was rumored to be in love with Robert Dudely, Earl of Leicester. However, she neither acknowledged nor proclaimed her love due to the fear that her marriage with Dudely will lead to people neglect resulting in the loss of throne.
History of Old Maid's Day:
The National Old Maid day is reported to be founded by Marion Richards in the year 1948.However, our research could not reveal more about her. Marion has founded this day to commemorate the contribution of sacrifice for their families, for social services, for church services, etc… She has created this day on June to coincide with Mother's Day in a hope that it might have a reach like mother's day.
The event has been hosted by Marion in which several old Maids join and celebrate their spinsterhood life with no worries by enjoying with Old maid Cocktail and Old Maid Cakes. It was declared as an annual event.