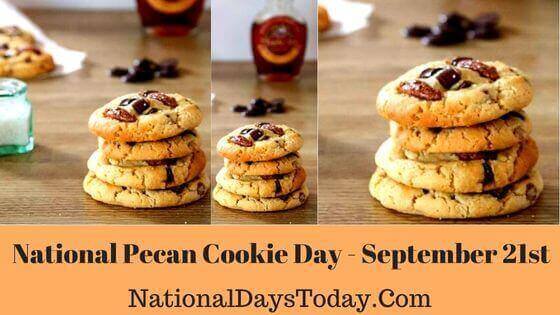 National Pecan Cookie Day:
National Pecan Cookie Day is celebrated on the 21st of September every year. This day is dedicated to this delicious cookie variant.
| | | | |
| --- | --- | --- | --- |
| Year | Date | Day | Where |
| 2023 | 21st September | Thursday | United States |
| 2024 | 21st September | Saturday | United States |
| 2025 | 21st September | Sunday | United States |
Twitter Hashtags:
#NationalPecanCookieDay
#PecanCookieDay
Related: Other National Days Celebrated on September 21st:
Why National Pecan Cookie Day?
It's not unknown that pecan is very healthy for us. This crop contains calcium, magnesium, and potassium that can reduce blood pressure. There are so many health benefits of pecan. And that is one of the top reasons to celebrate this special day.
However, Americans also celebrate National Pecan Day on the 14th of April. So, you can say 21st September is special for pecan cookies. Plus, who wouldn't love to celebrate a special day for cookies?
You might know that Americans love cookies. And it can be a good excuse to enjoy a sweet treat. Plus, you can spend quality time with your family and friends. No matter if it's trying out a new recipe or taking a cooking class, you will enjoy this day.
How Can We Observe National Pecan Cookie Day:
You see, this special day is very important among cookie lovers. The best thing is they can do a lot of new things while celebrating. If you want to celebrate like them, we have some amazing ways. That's why we will share our top ways to observe this special event in the following list. So, let's get started:
You can't celebrate this event without baking pecan cookies. On the other hand, it's a great way to exploit your inner baker. If you don't know how to bake pecan cookies, you can get help from the internet. 
Besides baking traditional pecan cookies, you can try out a new recipe. Hence, it's one of the most unique ways to observe this special day. To get a new recipe, you can do some research. Moreover, you can also get help from someone. 
As we noted before, there are so many things to do to observe this day. It's the best way to start something new. If you love cooking and baking, you can take a cooking class. You will learn a lot of things from a cooking class. 
If you have kids, make sure you involve them while baking cookies. Plus, you can also share your recipe with them. In fact, you can also teach them about the history of pecan. It will add extra fun for kids. 
Your celebration will be incomplete if you don't take some pictures. In this case, make sure you take some good pictures of your pecan cookies or newly cooked food. You can also share these photos on social media.
 Challenge Your Friends
If you want to do something exciting, taking on some challenges can be ideal. Moreover, you can challenge your friends and cousins to do multiple things. 
Celebrating an event is incomplete without social media. So, don't forget to share your story on your social media platforms by using the #NationalPecanCookieDay and #PecanCookieDay hashtags.
Interesting Facts About National Pecan Cookie Day:
Everyone should celebrate this day to add some fun to their life. If you are ready to observe this event, you can learn some cool things about pecan and pecan cookies. In this case, we have handpicked some interesting facts about pecan. Let's unfold in the next section:
The word 'Pecan' means 'a tough nut to crack' and the origin of this word is Algonquian.
The US is the major shareholder of pecan crops. According to a report, the US supply's around 80% of pecan crops in the world.
The manufacturers follow a grinding process before selling. And it involves cleaning, sizing, sterilizing, and shelling.
The pecan tree is Texas's state tree.
History of National Pecan Cookie Day:
As we noted before, the word 'Pecan' comes from Algonquian origins. This tree belongs to the hickory family. Most pecan trees are found in the southern and central regions of the county. As per historic records, Europeans first found pecans in the 16th century.
Later it became popular among American colonists because of its delicious taste. In 1773, pecan got the limelight and became the symbol of the southern part of America. That's the reason why pecan pie also got popular.
Well, there is no record of the history of celebrating this day. Still, we can say it's a day to honor the delicious pecan cookie.