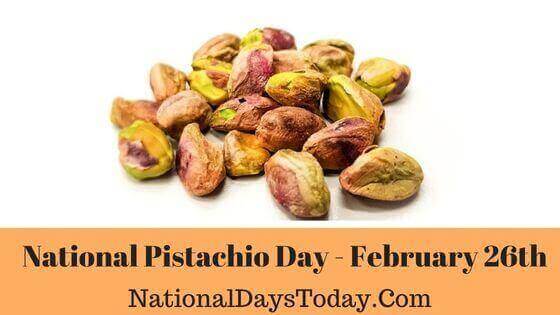 National Pistachio Day:
Observed every 26th February, National Pistachio Day celebrates the happy, smiling, and one of the healthiest nuts on the planet – The Pistachios! These vibrant beige nuts add a nutritious punch to all your favorite desserts & foods, today & every day!
| | | | |
| --- | --- | --- | --- |
| Year | Date | Day | Where |
| 2023 | 26th February | Sunday | United States |
| 2024 | 26th February | Monday | United States |
| 2025 | 26th February | Wednesday | United States |
Twitter Hashtags:
#NationalPistachioDay
#PistachioDay
Related: Other National Days Celebrated on February 26th:
National Tell a Fairy Tale Day
Why Pistachio Day?
Pistachios go by the name "green almond" as well and have always been three or four times pricier than other nuts! They are called the "happy nut" by the Chinese, and the smiling nut by the Iranians!
Pistachios belong to the evergreen tree family along with cashews, Sumacs, mangoes, and poison ivy!
The history of pistachios dates back to 9000 years ago and in fact, the Bible mentions it. The Queen of Sheba loved them and limited the consumption of pistachios for royalty.
Americans had been enjoying the pistachios since the 1800s but it became popular only around the 1903s when James W. Parkinson invented the pistachio ice cream!
It was only in 1976 that pistachio was harvested for the first time as a commercial crop! Today, California is a leading producer of pistachios in the US producing about 300 million pounds each year! The other global producers of pistachios include Greece, Turkey, Italy, and Syria.
Pistachios are native trees of western Asia and Asia Minor growing wildly in the desert regions! Since ancient times they are known for their high nutritional value and longer shelf life making them suitable sustenance forms among early explorers, travelers, and traders using the Silk route!
Pistachios are loaded with phytosterols and 90% unsaturated fat making them the healthiest nuts for your heart! Being rich in antioxidants and good fats they boost your heart health and are the best hearty snacks! With just 30 gram serving of pistachios, your 12 percent of dietary fiber requirement is accomplished!
The ripening of Pistachios takes place in the late summer or the early fall. They grow so energetically that shells split on their own when ripe! These trees are pollinated by the wind!
Legend has it that couples in China stood beneath the pistachio trees to hear the cracking of these nuts as a symbol of good luck!
Because of their nutritional crunch, they are used in various global cuisines, desserts, and seasonings! They go perfectly well with poultry, pork & veal! Their attractive colors make it indispensable for exclusive food decors, flavor, and texture!
How Can We Observe National Pistachio Day:
Go all pistachio nuts today! Have them sprinkled on your oatmeal, cereal, and pancakes! Add them to your salads and soups, or top it off on your favorite gelato! You could also have pistachio-coated salmon for dinner! Not the cooking type? Just snack them all day!
Whip up a homemade Pistachios Gelato!
Surprise your family and friends with a tasty pistachio Ice Cream this National Pistachio Day! You could check online for some simple recipes or whip it like your grandma or mom! Don't forget to share your homemade Pistachio gelato recipe and photos on social media!
Gift some pistachio treats!
Does anyone in your family or friends love Pistachios? Grab a bag of pistachios, Pistachio gelato or baked pistachio treats for them today! If you want it to be more romantic, a pistachio encrusted salmon is the way for dinner today!
Get back on the diet resolutions!
If you or your friends are having trouble keeping the new year diet resolutions, today might be the perfect day to get back on track with Pistachios! Substitute your unhealthy snacks with Pistachios!
Let the social world know!
Give pistachios a shout-out on social media for their health benefits and impressive flavor! Use #NationalPistachioDay and #PistachioDay to share recipes, pictures, and videos today!
Interesting Facts On National Pistachio Day:
Here are a few interesting facts related to National Pistachio Day!
One male Pistachio tree produces enough pollen for 25 female Pistachio trees!
The female Pistachio tree doesn't produce nuts in the first five years and bears fruits for the next 200 years or so!
They contain high amounts of dietary fiber and low amounts of saturated fats!
China holds the top position followed by the US for pistachio consumption at 80,000 tons and 45,000 tons respectively
The antioxidants in pistachio give it the colorful green and purple hue!
They are loaded with magnesium, copper, phosphorus, and thiamin.
If you find pistachios in red, then they must have been dyed to hide their imperfections
History of National Pistachio Day:
Unfortunately, the founder and the origin of National Pistachio Day hasn't been uncovered yet! While we continue to dig in to find the origin, don't forget to enjoy National Pistachio Day in ways you would love! Happy National Pistachio Day!!!