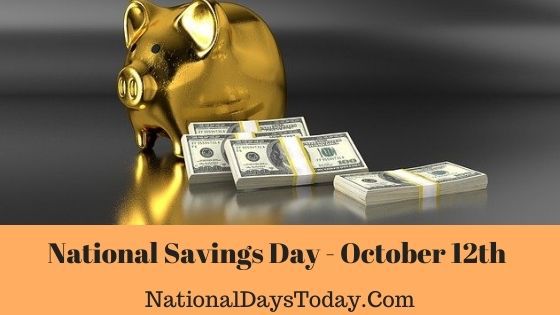 National Savings Day:
Celebrated annually on the 12th of October globally, National Savings Day is a day to recognize those people who value the act of saving by reminding everyone of the importance of savings in an individual life, which is an essential part of everyone's life to live life in a happy manner.
| | | | |
| --- | --- | --- | --- |
| Year | Date | Day | Where |
| 2023 | 12th October | Thursday | United States |
| 2024 | 12th October | Saturday | United States |
| 2025 | 12th October | Sunday | United States |
Twitter Hashtags:
#NationalSavingsDay
#SavingsDay
Related: Other National Days Celebrated on October 12th:
Why National Savings Day?
All of us have heard from our very early childhood times that we should save whatever we can from our daily expenses to stay prepared for those bad phases of life, which can occur at any moment and can create huge difficulties for us that can be unbearable for us if we don't have enough resources to tackle them.
Everyone will agree on the fact that relationships are important, but some may deny this fact in the case of money, but it is evident from one's day to day life that our relationship with money has equal or even higher values than our other relationships. In present times, one can't achieve anything if he or she is not financially stable and have a good bank balance to rely on for their daily expenses or any other sudden requirements. This financial stability can only be achieved only when you make a saving habit.
To achieve so you must have to nourish and enrich positive habits such as doing balanced shopping, i.e., shop only as per your needs instead of shopping just for huge discounts or just for fun. By doing so, you will not just save your money; you will also develop a habit that will prove beneficial for a lifetime.
If you are a person who wants to work with a complete focus towards achieving your daily, weekly, or monthly goals, then you should make saving your best friend in your journey. Start creating a budget, keeping in mind your objectives, acting accordingly, and witnessing the change in your life. Creating a budget stabilizes you not only financially but also mentally because by doing so, you can always stay stress-free and hence can have a relaxed and joyful mind.
Also, we should start using our savings bank account for the purpose it was created for, and that is to save. Most of us use our savings bank account as a salary account in which we wait for the salary to get credited, and then we debit all of them and hence don't have any savings in the savings bank account. We should start fixing a particular percentage or amount of our salary, which shouldn't be debited until an emergency occurs in your life
How Can We Observe National Savings Day?
Everyone can have different ways to celebrate a specific event. Here we are presenting some best ways in which you can observe National Savings Day.
Have a check of your credit report
A credit report is something you will always need whenever you will be stuck in trouble or an emergency and hence will need a loan. All banks ask for a good CIBIL score for granting loans, and hence having a credit check is a must. So this National Savings Day, let's start a healthy habit of checking your credit score regularly.
Suppose you have huge debts on your forehead, which is continuously creating a situation of uneasiness for you, then this National Savings Day. In that case, you should attend a Debt counseling session which can help in managing your debts effectively by developing a workable budget, negotiating with your creditors on your behalf, etc.
Nearly everyone around us is fond of a variety of events ranging from cultural to art to automobile and so on. We spend a lot on all such luxurious privileges. So, this National Savings Day, why not let's try something new? Plan to attend some free events which you can find after a little bit of net surfing. Additionally, you can also work in some of the paid events and get access to them free of cost.
Share your saving techniques with the world by posting varied content on social media platforms. You can also create forums where everyone can share and learn saving techniques or can connect with professional experts. Use #NationalSavingDay on all your social media platforms.
Interesting Facts About National Savings Day
The U.S. stock market witnessed a huge surge when tech got combined with unemployment in the 1990s.
Dodd-Frank Law came into existence in 2010.
In 2017, US congress passed a revolutionary tax bill.
History of National Savings Day:
National Savings Day was founded by Capital One and observed to be celebrated annually from 2017 to make people feel more confident about money savings techniques by educating the simple and straightforward techniques of savings and making them realize the real worth of savings in their day-to-day life.