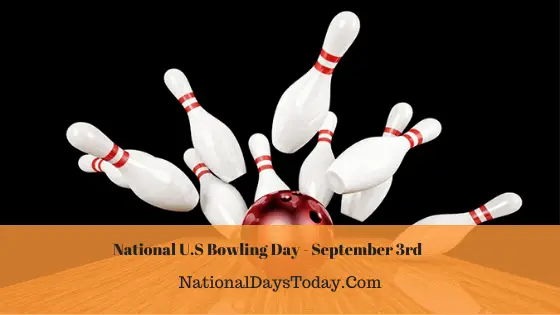 National U.S Bowling Day:
Celebrated on September 3rd every year. The bowlers across the country celebrate this day as "National U.S Bowling Day", a sport that has become a prominent leisure game in the United States.
| | | | |
| --- | --- | --- | --- |
| Year | Date | Day | Where |
| 2023 | 3rd September | Sunday | United States |
| 2024 | 3rd September | Tuesday | United States |
| 2025 | 3rd September | Wednesday | United States |
Twitter Hashtags:
#NationalUSBowlingDay
#USBowlingDay
Related: Other National Days Celebrated on September 3rd:
Why U.S Bowling Day?
The bowlers across the country celebrate this day as "National U.S Bowling Day", a sport that has become a prominent leisure game in the United States. Primarily the Americans play the sport. There are more than 100 million bowlers playing this sport globally in which about 70 percent players are from the United States.
Moreover, Bowling lanes were built in the garden of the white house in 1948, as a gift to the then president Harry S. Truman's Birthday. Not only in the United States, but also popular in more than 90 countries, including Canada, United Kingdom, etc.
How we can Celebrate or Observe National U.S Bowling Day:
c'mon! Go bowling on this day! Get your friends and families and enjoy this day. Use this hashtag #U.SBowlingDay to post on social media.Several bowling competitions are held on this day around the country, participate or enjoy the day by cheering one of the American's old sport games.
Interesting Facts About U.S Bowling Day:
In Bowling, 300 is the maximum score that can be achieved by striking all the 12 in a row. Indoor and outdoor bowlings are played globally. Bowling is reported to be originated from the Egyptian protodynastic period roughly in 3200 BC.
The oldest bowling green to play target style bowling was built in the year 1299 in England. It is in use even now. You can visit Old Bowling Green, Southampton, England, to explore more about the oldest bowling green.
King Henry VIII, in 1511 banned bowling for the lower class people and made private lanes so that it could be accessed only to the high-class wealthy people. Moreover, he imposed a law that prohibited workers playing the game, with limited exception. The workers can play only in the respective master private lanes or home with master's permission. This act was later withdrawn in the year 1845.
William Gilbert "W. G." Grace, a cricketer founded English Bowling Association in the year 1903.
Wiliam Wuerthele invented Rubber Duckpin bowling, a variant of traditional bowling in the year 1905.
World's first bowling association for women named "Victorian Ladies' Bowling Association" was founded Melbourne, Australia in the year 1907.
In 1921, the annual Petersen Open Bowling Tournament was held in Chicago, United States .In addition, it becomes the richest bowling tournament ever.
In 1926, countries including Germany, Netherlands, and Finland and the United States, formed the first International association named International Bowling Association (IBA).
The first ABC Masters Bowling tournament was held in the year 1951.
In the year 1958,famous bowling players Dick Hoover, Buzz Fazio, Carmen Salvino, Glenn Allison et al., Don Carter, and Dick Weber founded Professional Bowlers Association (PBA) in Akron, Ohio. In 2000,Microsoft former executives purchased it and it was moved to Washington. Richard F. Carlson founded the American Wheelchair Bowling Association (AWBA) Louisville, Kentucky in the year 1962. In 1964, Don Carter, a bowling champion who was fondly called as "Mr.Bowling" became the first bowling athlete to sign a contract of $1 million deal with Ebonite International.
History of U.S Bowling Day:
The origin of National U.S Bowling Day is not yet found within our research.