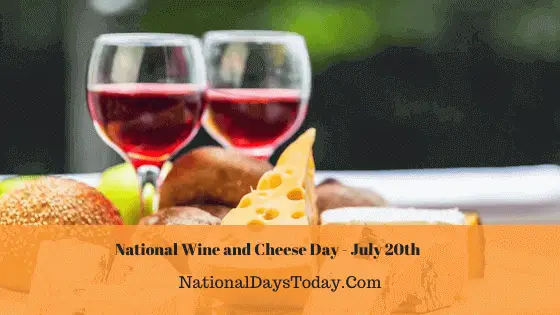 National Wine and Cheese Day:
Celebrated on July 20th every year. This day is to celebrate the popular combinations and to create a new pairings.
| | | | |
| --- | --- | --- | --- |
| Year | Date | Day | Where |
| 2023 | 20th July | Thursday | United States |
| 2024 | 20th July | Saturday | United States |
| 2025 | 20th July | Sunday | United States |
Twitter Hashtags:
#NationalWineandCheeseDay
#WineandCheeseDay
Related: Other National Days Celebrated on July 20th:
Why Wine and Cheese Day?
Well! We all are familiar with a phrase, "We go together like cheese and wine", and the combination is famous right from the ancient period. This day is to celebrate the popular combinations and to create a new pairings.
There are numerous varieties of cheese and wine respectively and perhaps sorting out the best pair is quite difficult .This day is too dedicated to innovate such pairings and enjoy the existing best pairings. Hold on your work. Put a whole day for this. Wine is one of our best companions and today our loved flavor wine needs some more great cheese combinations. So hurry! Find it.. Dedicate this day..
How we can Celebrate National Wine and Cheese Day:
Celebrate this day with the best pair of cheese and wine. Use this hashtag #Wine&CheeseDay to post your enjoyed moments on this day.
In fact, you can make fantastic wine and cheese combination. Sort out your issues in choosing the pairing with the help of these tips.
Wines that comprises of alcohol volume more than 14.5 percent are vigorous in nature and thus can be mixed with more extremely flavored cheeses. Conversely, Wines which comprises of alcohol volume less than 12 percent are less intense in nature and thus can be mixed with less flavored cheeses.

The Red wines can be paired with aged cheeses since the old aged cheeses have more fat content. The high proportion of fat neutralizes the high amount of tannin present in the bold red wine.

The sweeter wine and the funk cheeses make a classy pair. The sweetness of the wine matches well since it could balance the funk making further creamier and delicious. Certainly, one of the sweetest wine like Moscato and blue-veined cheeses pairings are notably one of the best pair.

Sparkling wines and soft cheeses are one of the best pair. This kind of wines are highly acidic and carbonated that collides well with the soft creamy cheeses.
Interesting Facts About Wine and Cheese Day:
The wine and cheese pairing culinary skills exists right from the ancient period that is before some hundreds of years. However, in ancient period, the same region wines and cheeses were paired. The foods which are cultivated to prepare wines and cheeses were cultivated in the same geographical region as claimed by many historic paintings where images of same origin wines and cheeses are depicted. Despite period, the same cultivation protocol were been followed for centuries.

Other non vegetarian foods like meat and fish were widely used in ancient times. One of the famous phrases like "White wine with fish and red wine with meat" tells us the fairy combination of wine and meat or fish.

History claims that British merchants preferred sweeter and acidic natured apples since wines made by these varieties of apple mixes well with all forms of cheeses.

As old proverb says, "cheese, wine and friend must be old to be good". How old it is, that intense the taste will be. Thus, cheese and wine are ageless companions.

The health benefits of wine and cheese is abundant. Wine and cheese combination helps in body nourishment. Perhaps, it consisted of antioxidants. The tannin present in the wine deprives the risk of heart attack by depleting the formation of clots in blood.