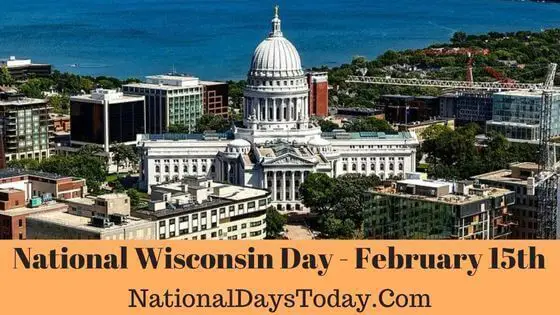 National Wisconsin Day:
February 15th is celebrated as National Wisconsin day, and the cheese, beer, and polka music do not come to a pause!
| | | | |
| --- | --- | --- | --- |
| Year | Date | Day | Where |
| 2023 | 15th February | Wednesday | United States |
| 2024 | 15th February | Thursday | United States |
| 2025 | 15th February | Saturday | United States |
Twitter Hashtags:
#NationalWisconsinDay
#WisconsinDay
Related: Other National Days Celebrated on February 15th:
Why National Wisconsin Day?
On May 29, 1848, the state that held the resources of copper richly, lead, forests, and farmlands, the area first discovered by Jean Nicolet, became the 30th state. It is the mining boom that led to its beautifully kept name of The Badger State. These miners would burrow into hillsides like badgers and make them their homes. When the initial settlers arrived, they uprooted those indigenous to the area.
The settlers brought with them a change of air, and dairies began to bloom. A while later, they grew so much that the state came to be known far and wide for its cheese.
Mines turned to dairy, dairy to a brewery. And then, they worked for hand in hand. All three grew at a steady speed, and the state became synonymous with them. The German influx of 1950 brought new, fresh air. Brewers across Wisconsin produced and produced and produced, trying to match the supply to the demand. The breweries across the rest of the country diminished permanently after the 1919 amendment that prohibited alcohol. This is why when the prohibition was removed; there were not many left in the brewing industry.
In this beauty of a state, Wisconsin, there are plenty of lakes to go around. Be it water sports or hiking or cheese tasting or wine; you have it all here. Snow in the winter and trails in the summer add to the already glimmering glamour of the state.
That is precisely why we celebrate National Wisconsin Day. The state is beautifully rich in history and even richer in joy. The state dance, Polka, is simply an image of grace. With cranberry as the state fruit and corn as the state grain, there is deliciousness all around. A state of such magnificence deserves to be celebrated.
How Can We Observe National Wisconsin Day:
Try Wisconsin traditions. Sightsee a bit, or try Polka dance, or maybe a bit of the Wisconsin cheese and wine.
Through a party! Play your favorite Polka songs and dance along. Also, look for Wisconsin traditions you can follow, and try them!
Post pictures and videos of your favorite Wisconsin traditions and use hashtags #NationalWisconsinDay #WisconsinDay
Interesting Facts on National Wisconsin Day:
Here are some truly fun facts about Wisconsin that I bet will surprise you!
The first kindergarten classes in the US were held in Watertown, and to this day, that location has been reserved for kindergarten.
The first ice-cream sundae ever was served in Two Rivers, Wisconsin.
Barbie is from Wisconsin's fictional town, Willows, and there's a museum called the Fennimore Doll and Toy Museum- a gift from the gods for the doll lover.
Warrens has only 400 residents- BUT 100,000 VISITORS each September for the world's largest cranberry festival.
Wisconsin's state symbol, the badger, refers to the 1820s miners who lived in mountain tunnels.
Margarine was illegal in Wisconsin from 1895 to 1967. The ban has been lifted, but restrictions still apply, and even today, it is not allowed to be served unless a customer specifically asks for it.
Ever wondered where the name Wisconsin comes from? It comes from Meskousing, which is the Wisconsin River in the language of the Algonquian-speaking tribes. French explorer Jacques Marquette recorded this name, which, over time, was Anglicized into Ouiskonsin, Wiskonsan, and finally into the present pronunciation and spelling. Linguists believe that the original word was meskonsing, meaning "this stream meanders through something red," hence referring to the sandstone deposits.
The coldest temperature ever recorded in Wisconsin is -55 degrees Fahrenheit in Sawyer County, 1996.
Wisconsin is unofficially called "America's Dairyland" because, as of 2019, it had a total of 7,292 licensed dairy farms.
To all the music lovers- Milwaukee, Wisconsin, is home to the largest music festival, Summerfest, an annual 11-day festival held along Michigan's shoreline. The attendance in 2019 was about 900,000 people!
History of National Wisconsin Day:
Wisconsin, The Badger State, is celebrated as National Wisconsin Day, which Gov. Tony Evers declared in 2019 because he believed that the state was remarkable and deserved notice for the same.