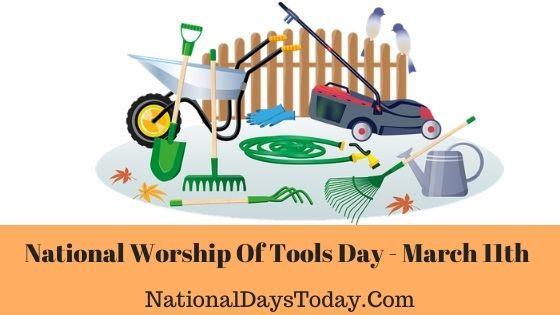 National Worship Of Tools Day
The 11th of March is celebrated as National Worship of Tools Day every year. It recognizes the importance of all the tools in our lives that help us lead a better and more meaningful life.
| | | | |
| --- | --- | --- | --- |
| Year | Date | Day | Where |
| 2023 | 11th March | Saturday | United States |
| 2024 | 11th March | Monday | United States |
| 2025 | 11th March | Tuesday | United States |
Twitter Hashtags:
#NationalWorshipOfToolsDay
#WorshipOfToolsDay
Related: Other National Days Celebrated on March 11th:
National Oatmeal Nut Waffles Day
Why National Worship Of Tools Day ?
Tools have played an important role in the evolution of mankind. They have helped us move from caves to houses and from hunting to agriculture. Even in these modern times, our lives would be incomplete without some basic tools. We still need them for various purposes such as carpentry, electrical workings, plumbing, construction, and even destruction and dismantling of items you no longer need. Tools are made from a lot of materials, aluminum and its alloys, and stainless steel being the most common.
Tools are an indispensable part of life irrespective of your profession. Small issues always need setting right, be it at home, school, office complexes, or anywhere else. Handling tools is considered a very important skillset, so even young children are introduced to familiarize themselves. Building blocks, mechanical toys, building birdhouses, and other such fun activities are often done with children to involve them and help them learn this skill in the most fun way possible.
The 11th of March celebrates the importance of all types of tools in our life and the enrichment they bring. It is a day when everyone is thankful for all the simple pleasures they can indulge in because of these wonderful things called tools!
This day marks and honors these inanimate objects' contribution to the building, preservation, and progress of society as a whole.
How Can We Observe National Worship Of Tools Day?
Everyone celebrates National Worship of Tools Day in their way. One aspect common to all is that they exhibit thankfulness and gratitude towards all the things possible because of tools. Some fun and amazing ways to celebrate National Worship of Tools Day in the company of your dear ones are listed below. Take your pick or come up with your unique ideas to make the most of this day.
Spread the word on social media and help more people become aware and join in on the celebrations. Use hashtags on your social media handle like #nationalworshipoftoolsday, #thankyoutools, #funwithtools, and so on.
Clean your tools and organize them properly in your toolbox. It is likely they might be strewn all over the place, used, and unkempt. Rearranging them nicely is a good way to be thankful and help keep them in a useful condition.
Building something with your dear loved ones using your tools is probably one of the best ways to celebrate National Worship of Tools Day. This helps you spend some quality time with them as you revel in the pleasure of something as simple as building something by yourself from scratch. You can build a birdhouse or even put together that kitchen shelf or any other piece of furniture you have wanted to for a long time but kept putting off.
Interesting Facts On National Worship Of Tools Day?
National Worship of Tools Day is a fun-filled occasion for people from all backgrounds to enjoy the finer things in life that they get to experience, all thanks to the tools available, and express gratitude at the opportunity. It is celebrated on a personal as well as a public level. People share interesting facts about this day and tools. Some such interesting facts are listed below.
Black & Decker invented the first electric drill with a handgrip in Germany in 1895. Before this, you would need a minimum of one more person to bore a hole as the machine was heavy and required support.
There are a lot of superstitions attached to scissors in nearly all traditional cultures. It is considered a bad omen to leave their blades open or for them to come apart during use, among others.
While most tools can be sharpened professionally to make them as good as new for use, modern pliers cannot undergo this process.
History Of National Worship Of Tools Day:
Not much is known about the history of National Worship of Tools Day and how it came to be. However, it is common knowledge that tools have helped humans evolve from their primitive livings state to the much modern conditions of luxury and comfort. They were earlier made of metals and alloys like bronze, iron, and gold. Nowadays, tools are most commonly made from aluminum and its alloys as it is strong and lightweight. Stainless steel is another widely used material to manufacture tools on a wide scale.
It can be easily said that along with humans, tools have come a long way in history as well. But how the National Worship of Tools Day came to be established on the 11th of March is not known.