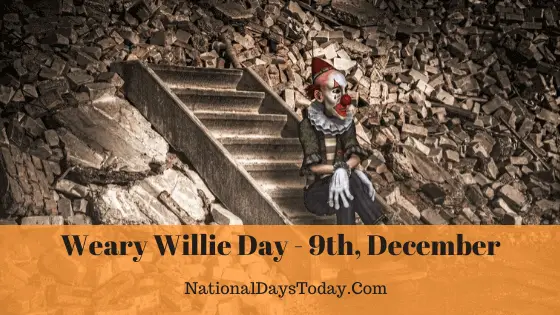 Weary Willie Day:
Celebrated on December 9th every year. The day is observed to celebrate the birthday of Emmett Kelly, a famous Circus performer.
| | | | |
| --- | --- | --- | --- |
| Year | Date | Day | Where |
| 2021 | December 9 | Thursday | United States |
| 2022 | December 9 | Friday | United States |
| 2023 | December 9 | Saturday | United States |
Twitter Hashtags:
#WearyWillieDay
#WearyWillie
Related: Other National Days Celebrated on December 9th:
Why Weary Willie Day?
Weary Willie Day is observed to celebrate the birthday of Emmett Kelly, a famous Circus performer and one of the greatest American clowns in the 20th century who created the famous and best clown character of all times – the Weary Willie. Weary Willie day is celebrated to appreciate the art of clowning and its impact on our lives. Nowadays clowns are feared as they are associated with bad things, which shows how distorted the world has become; that which was funny has become fearful. So let's celebrate this Weary Willie Day to remember that Clowns are good and fun, not the ones to be feared about!
How to celebrate Weary Willie Day?
Post on social media about Weary Willie Day and Emmett Kelly using hashtag #WearyWillieDay.
Watch the movie "The Greatest Show on Earth" in which Emmett Kelly played the role of Weary Willie. Also, try to watch the TV show "What's My Line?" in which Weary Willie was a Mystery Guest.
Read about Circus, Clowns and their life on the internet. Learn about the life of Emmett Kelly.
You can celebrate the day by dressing up like Weary Willie and imitating his shows.
Try some clown activities like juggling also.
You can plan a visit to the Emmett Kelly Museum or the International Circus Hall of Fame.
Interesting facts on Weary Willie Day:
Weary Willie was a white-faced tramp dressed in tattered clothes with unshaven and sad face, and down on his luck clown with a bulbous nose.
Emmett Leo Kelly was the son of an Irish railroad worker born on 10th December, 1898 in Sedan. He went to a school for cartooning when he was young and entertained everyone as an actor.
As a teenager, he moved to Kansas and tried to find a job as an artist. After many rejections, he got a job at a carnival. While working as a trapeze artist in 1923, he met his wife Eva Moore and together they performed as "Aerial Kelleys".
At that time, he used to occasionally dress up as a white-faced clown, which he had designed 10years earlier. Weary Willie was usually seen as a sad figure sweeping the circus floor after performances.
Weary Willie became popular during the depression time because Weary Willie's character seemed to be sadder than others who were going through a tough and hard time during Depression-era. So the character to bring smile to one's face who had nothing to be happy about.
Weary Willie always appeared in his typical white face, bright colored clothes with sad activities which somehow made others feel better about themselves. The Weary Willie character came into the scene in 1933.
One of his famous performances was 'Weary Willie trying to crack a peanut with a sledgehammer.' This role became revolutionary as it was based on the tramps of the Depression-era.
Emmett Kelly performed with the Ringling Brothers and Barnum&Bailey Circus from 1942-1956. He was present at the historic Hartford Circus fire of July, 1944 in which 167 people died. It was the one time Weary Willie was shedding real tears.
History of Weary Willie Day:
Though the exact year of the beginning of the celebration of Weary Willie Day is unknown, it was on this day in 1898, Emmett Kelley the creator of the character Weary Willie was born.