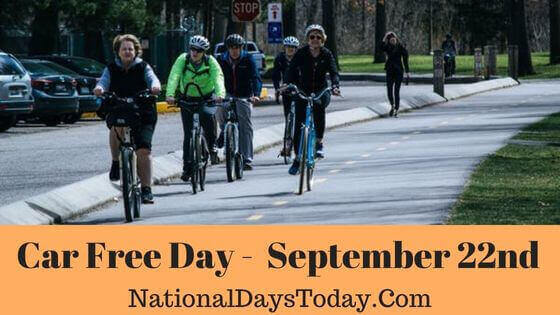 Car Free Day:
On the 22nd of September, the day encourages motorists across the globe to ditch their cars for a day. This day is also known by the name World Car Free Day.
| | | | |
| --- | --- | --- | --- |
| Year | Date | Day | Where |
| 2023 | 22nd September | Friday | United States |
| 2024 | 22nd September | Sunday | United States |
| 2025 | 22nd September | Monday | United States |
Twitter Hashtags:
#WorldCarFreeDay
#CarFreeDay
Related: Other National Days Celebrated on September 22nd:
Why Car Free Day?
International Car-Free Day is celebrated on the 22nd of September to inspire motorists to drop their automobiles for just one day.
Considered a fantastic opportunity to lower pollution from the air, International Car-Free Day promotes cycling and walking, as well as the protection of the environment as advantages.
It gives a glimpse of what the world could be 24/7 without any movement.
How Can We Observe Car Free Day?
The most effective way to celebrate is to avoid using your Car. If you have to get somewhere, walk or cycle, and you may consider using a skateboard or electric scooter instead. Be aware of the role cars play in the future of our planet. Explore alternatives to energy sources for vehicles.
Find ways in your local community to travel without using a vehicle. Are you able to take advantage of public transport? Set up a carpool with your coworkers. Have fun with your kids on the way to school. Find out the benefits of driving less often.
Savings increase
Lower maintenance costs
Carbon footprint reduction
Physical exercise
It could be that you decide having a Car-free lifestyle isn't all terrible.
If you decide to opt for car-free, please share your experiences on social media with the hashtag #CarFreeDay.
Interesting Facts about Car Free Day:
Issues with cars in urban areas
The cities, where the negative effects of automobiles are evident due to the large concentration of cars, are now beginning to recognize the negatives of cars' popularity. With the number of vehicles driving around the city increasing, traffic jams are now an ongoing problem for people living there, and the busy roads also leave little room for bikes or pedestrians.
Additionally, air pollution has been an issue that has forced governments to curb the use of vehicles. In places such as China and India, deaths due to pollution from particulate matter have reached one million or more each year. Since it is a sector that releases the second-highest amount of carbon dioxide emissions in the world, following heating and electricity production, road transport is an issue for the health of people and the planet.
Car Free Day and the Car Free movement
In response to these issues, cities introduced policies that encourage commuters to refrain from driving their cars and create more pedestrian-friendly city areas. The incentives range from heavier financial burdens on new registrations of vehicles to the introduction of car-free zones, especially in the old town of the medieval area in European cities.
This is why the day of car-free was introduced to motivate motorists to stop driving for a day each year and to educate people about the possible benefits when they opt to be car-free. The campaign went global in the year 2000. Since it has been a regular feature of this day , it takes place each year on the 22nd of September. Furthermore, the European Commission has taken a step further by transforming the day into a complete mobility week.
The impact differs from location to location, but the impact on this day is clear that the reduction in air pollutants was between 40 % in Paris to 89% on the day of the car-free marathon in London, as reported by the World Economic forum. The major cities also reported greater efficiency in parking spaces, as these spaces comprise between 15 and 30 percent of urban zones.
The growth of mobility services (ride-hailing and on-demand car-sharing services) and the worldwide pandemic that is expected to hit in 2020 are other factors that have acted for the benefit of the mobility of cars, as evidenced by the results of a Roland Berger survey reporting the proportion of respondents who prefer to use a mobility option over owning a car up to 85 percent Singapore as well as around 80 percent for India as well as those in the United Arab Emirates.
History of World Car Free Day:
Informally, car-free days were held in the 90s, and the first global, official first celebration was launched in 2000. Many cities, such as Bogota and Jakarta, shut down their main roads during this time, making them pedestrian and cycling events. Smaller events for car-free days are held across the globe.
There have been a variety of important events that have been held throughout the world about the World Car Free Day. In 1956, the first car-free Sundays were observed throughout Belgium in the Netherlands. In 1992 in Ottawa, the newsletter Auto-Free Ottawa began. In the more recent past, In 2019, more than 16 miles of roads throughout Central London were closed by the mayor of the time, Sadiq Khan, in recognition of this day.
The mayor announced that his goal was to ensure that most of London's travels were made using public transport, cycling, or walking over the coming 22 years. As you will see, there are numerous ways this day is celebrated worldwide and in various periods in the past.