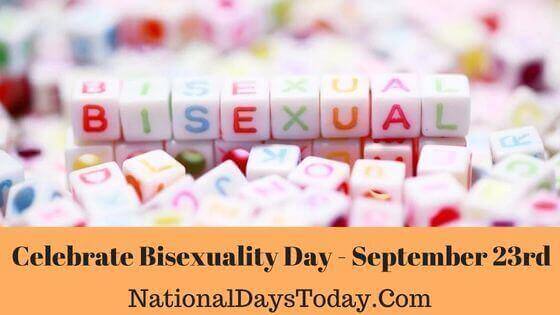 Celebrate Bisexuality Day:
On the 23rd of September, Celebrate Bisexuality Day brings together people who identify as bisexuals, their companions, and supporters. It also increases awareness and allows informing the general public about Bisexuality.
| | | | |
| --- | --- | --- | --- |
| Year | Date | Day | Where |
| 2023 | 23rd September | Saturday | United States |
| 2024 | 23rd September | Monday | United States |
| 2025 | 23rd September | Tuesday | United States |
Twitter Hashtags:
#CelebrateBisexualityDay
#BisexualityDay
Related: Other National Days Celebrated on September 23rd:
National Great American Pot Pie Day
Why Celebrate Bisexuality Day?
Celebrate Bisexuality Day on the 23rd of September each year. It is an integral element of Bisexual awareness week celebrations in September. It is a day to bring awareness to the past and challenges facing the bisexual community. Bisexuals are people who are not only attracted to people of one particular gender. The flag that symbolizes the bisexual community includes three colors: blue, purple, and pink. It remind us that everyone is worthy of respect and love regardless of how different they may appear to us. It's a day to teach that we should accept each other.
How Can We Celebrate Bisexuality Day?
An excellent way to celebrate is to be aware that Bisexuality is an acceptable sexual orientation, as are all the other sexual orientations. Also, remember that bisexuals are entitled to the same respect and honor as other human beings, no whatever their lifestyles or choices.
Find Local Events :
One suggestion is to look around your area to determine if there are any classes or poetry readings, or other gatherings organized that you could be able to attend and find out a bit about the topic. Although it might seem easy at first glance, the challenges of being bisexual can be more complex than people think. Use hashtags #CelebrateBisexualityDay and #BisexualityDay to share local events.
Be a Lifelong Learner
If you have family members or friends who are bisexual, maybe you could consider talking to them about their struggles with adversity due to their sexuality or lifestyle.
Another method of learning is to learn about the background and development of Bisexuality and the Bisexual movement. For instance, take a look at these crucial facts:
The first bisexual contingent from the nation to participate in the March of Washington was held in 1987 and was organized through Liz Nania.
According to Invisible Majority, a report released by the Movement Advancement Project, bisexuals make up more than half of the LGBTQ community, and more than 2/3 of LGBTQ parents are bisexual.
Bisexuals suffer a lot of invisibility, discrimination, societal stigma, and violence, which can lead to poor physical and mental health, including anxiety, mood disorders, and depression (according to the study previously mentioned).
The younger generation has more bisexuals. More than 25% of people ages 18-44 identify as neither gay, lesbian, or heterosexual compared to only 7-8% of older generations.
Educate Someone Else
Making sure that others are treated with recognition is continuous work! Even people who aren't bisexual can spend time advocating for the marginalized. Whether adding a comment of support to a conversation with a friend or expressing their opinions publicly, the cause during BiWeek or living an open-minded life and advocating for those less fortunate is an ideal goal.
Fly a Bisexual Flag
Michael Page designed the flag 1998 in 1998; the bi pride flag is adorned with the colors blue, pink, and purple. Like the Pride flag, which has rainbow colors, the Bi Pride flag only has three colors. It features vibrant pink (hot pink) and royal blue stripes (consisting of 40 percent of the flag) on both sides (representing gay or straight attraction). The flag is adorned with a narrower purple line that runs through the middle, which means bisexuals.
Interesting Facts About Celebrate Bisexuality Day:
It make up the majority of the community.
Over 9 million LGBT people live in the U.S., and more than half identify as bisexuals.
Bisexuals aren't the majority to have come out to their coworkers.
49% of bisexuals report that they haven't yet come out to their colleagues.
They are more prone to the brutality of police officers
Bisexuals tend to be three times more likely to police violence.
Bisexual women are more vulnerable to domestic violence
Bisexual women have higher rates of intimate partner and sexual violence.
They are among the healthiest.
Bisexual individuals have high mental and physical health levels due to the sexuality they choose to express.
History of Celebrate Bisexuality Day:
Celebrate Bisexuality Day began in 1999 and was initiated by Wendy Curry, Michael Page, and Gigi Raven Wilbur. The first day of celebration was observed in 1999 at the International Lesbian and Gay Association Conference in Johannesburg, South Africa. The event's goal was to bring awareness to the issues that bisexuals face around the globe and to highlight their right to be treated with respect.
The founding fathers were particularly concerned about the diverse instances of discrimination and marginalization faced by bisexuals in all the Straight and LGBTQ communities. The Bisexuality of people is often dismissed by specific individuals in the straight group, who ignore it as "being confused" or simply "closeted gay." While in contrast, the LGBT community often views the bisexual community as "undecided" or even enemies of their LGBT community. This makes it extremely difficult for bisexuals to be open about their sexuality and prevents those who are a secretive minority from speaking out.
Bisexuals historically were a largely ignored group, as were members of the LGBT community. Although many of them think there isn't a thing as Bisexuality, others believe bisexuals are more likely to be sexually promiscuous. For some members of the bisexual group, this is taking a significant impact. This is so bad that a Human Rights Council report found that bisexuals were more likely to suffer depression, anxiety, and STIs than any other population. Thus, Celebrate Bisexuality Day ends with two goals, one which is to promote awareness about bisexuals all over the world and the other to reduce the stigma that bisexuals face. This day is celebrated with poetry readings, events, picnics, festivals, and awareness activities.