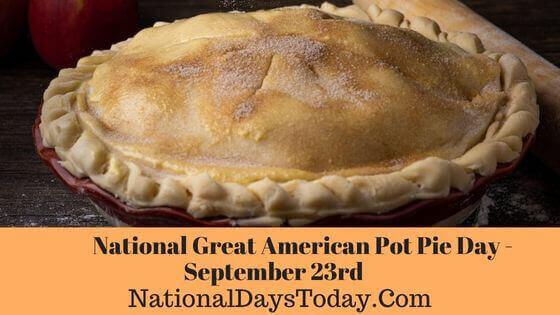 National Great American Pot Pie Day:
National Great American Pot Pie Day makes a toasty dinner on the 23rd of September. The home will be warm by cooking a delicious dinner of pot pies to commemorate the day!
| | | | |
| --- | --- | --- | --- |
| Year | Date | Day | Where |
| 2023 | 23rd September | Saturday | United States |
| 2024 | 23rd September | Monday | United States |
| 2025 | 23rd September | Tuesday | United States |
Twitter Hashtags:
#NationalGreatAmericanPotPieDay
#GreatAmericanPotPieDay
Related: Other National Days Celebrated on September 23rd:
Why National Great American Pot Pie Day?
The day recognizes an iconic American pie called the Pot Pie. The date was created around 2002 by Marie Callender's, a company that makes frozen pot pie, among other things. The initial intention was to have the day be observed at the beginning of the fall season. However, the 23rd of September was later re-established as the celebration date even after it was initially held on that day. While pot pies have a lot in common with meat pies, these are an American invention that first appeared in printed publications by the United States in 1785. They typically consist of meat like pork, chicken, or beef. They also often contain vegetables like peas, carrots, green beans, and potatoes. Another popular recipe is gravy. The top flaky crust is ordinary. However, there's usually an under the crust, too; however, it is not always. Apart from being made at home or purchased in the restaurant, they may also be bought frozen from the store. The first frozen pot pie was chicken and was first introduced by Swanson food products in the early 1950s.
How Can We Celebrate National Great American Pot Pie Day?
Take a look at these suggestions to get started by celebrating.
Enjoy Eating a Pot Pie
Certain American-style eateries and restaurants serve delicious pot pie on their menus, so it's an exciting idea to go to a restaurant for a delicious pot pie to celebrate the Day! Cheddar's Scratch Kitchen, Boston Market, Cracker Barrel, and Marie Callender's are only some of the establishments which offer this traditional dish in their standard menu.
Try Making Pot Pie at Home
Although it can be intimidating to prepare the perfect pot pie by hand, a few simple tricks will make it simpler. Instead of making your pie crusts, you can opt to purchase an entire pie crust from the refrigerated area of the supermarket. It is also possible to use puff pastry to create a light and flaky top layer (in this case, you can skip your bottom pie crust).
To make your sauce, use creamy chicken or cream soup made from mushrooms. You can also add frozen vegetables and chicken meat from the rotisserie. Voila! Chicken pot pie can be prepared in just 30 minutes.
Share a Pot Pie
For those who don't think baking or cooking isn't their thing, National Great American Pot Pie Day is an ideal opportunity to get together with family and friends. It doesn't matter if it's as easy as taking a couple of frozen chicken pies to work, sharing with coworkers, or even ordering an enormous pot pie from a restaurant and having it delivered to the family to enjoy at home.
Use these hashtag #NationalGreatAmericanPotPieDay and post on social media.
5 FACTS ABOUT POT PIE YOU SHOULD KNOW
It was an active dish.
Based on Smithsonian magazine, Cooks during the Roman Empire era would sometimes create pot pies using birds that could explode through the pie shell after being cut and then fly away.
They were once known as sea pie.
There was a variant of pot pie dubbed sea pies. These typically contained pigeons, turkey meat, mutton, and veal and were served on ships.
They were initially not crusty.
In the beginning, pot pie was a term used to describe a non-crusty mixture made up of the ingredients of a meat pie and noodles cooked in a pot over the stove.
It was changed to "American" by Americans.
Pot pies, as we call them, were known by various names at different times, including "articles," sea pies, meat pies, and even coffins.
You can make use of almost any protein that you like.
Pot pies aren't only for chickens or meat. You can also find pot pies made with fish-based products.
History of National Great American Pot Pie Day:
Pot pies are among the most delicious options for an aperitif. The most appropriate reason to indulge in some carbs without guilt is on a day specifically designed for it. These delicious meat-based pastries are more popular than you would believe and have been consumed all over the globe since they were first introduced.
The origins of pot pies are traced to the Neolithic Age around 9500 B.C. through archaeologists' discoveries. The Greeks cooked their meats with other ingredients inside open pastry shells known as "articles.' The treat was then embraced by the Romans and was made with various types of meats, oysters, mussels, lampreys, and fish; and was served with an outer crust of flour and oil mix and was served during banquets. Following this, the pot pies were famous throughout medieval Europe in the Crusades and were even referred to by the royals.
At the end of the 16th century, English gentlemen revived the tradition of serving pot pies and called them meat pies. The trend quickly took over all of the New World when the first American immigrants brought their recipes for pot pie with them as they made their way to the west.
The pot pie is made in many ways, including in an oven dish, a skillet, or a pie oven. Various dishes and recipes could be used to create this dish, such as seafood, turkey, ham, potatoes, carrots, green beans, and peas. The gravy and spices make this delicious flaky pastry delicious.
National Great American Pot Pie Day was created around 2002 by Marie Callender, the pot pie and Frozen Food Company. It's been celebrated every year on the 23rd of September.