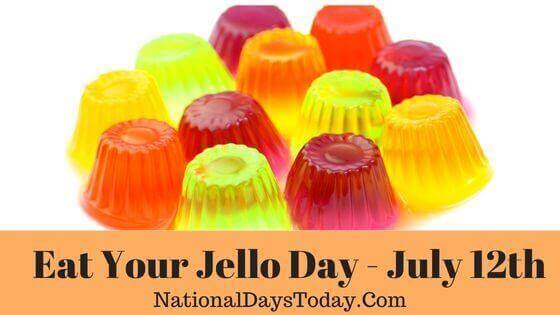 Eat Your Jello Day:
A classic dessert that has managed to steal the hearts of everyone, Jello is celebrated every year on the 12th of July as Eat Your Jello Day.
| | | | |
| --- | --- | --- | --- |
| Year | Date | Day | Where |
| 2023 | 12th July | Wednesday | United States |
| 2024 | 12th July | Friday | United States |
| 2025 | 12th July | Saturday | United States |
Twitter Hashtags:
#EatYourJelloDay
Related: Other National Days Celebrated on July 12th:
National Different Colored Eye Day
Why Eat Your Jello Day?
Trademarked in the year 1897, Jell-O is a classic dessert loved by the masses. Available in plenty of flavors and made with the simplest of ingredients, it can also be availed in different shapes and colors. This day is a celebration of this versatile and highly delicious dessert. Jello can be added to any fruits or nuts and you can even include it with an alcoholic beverage and still make a good dish out of it. Jello has the versatility to make anyone happy by being part of any menu.
As you would know, Jello is made with Gelatin, which is derived from animals. Higher in protein content, gelatin also has collagen that is good for your hair, skin, bones. Also, it is one dessert that is lower in calorie content and hence is desired by many to enjoy. The reason it is available in different colors can make it a fun addition to any party. There are different containers for you to choose from and you can make them in different shapes to please the crowd too. The dish is appropriately celebrated on this day every year by everyone of all age groups.
How can we celebrate Eat Your Jello Day?
If you are wondering about the ways you can celebrate Eat Your Jello Day this year, then we have some pointers to guide you.
The grocery stores near you will have Jello packets that you can make use of to make it yourself. The container will have the instructions printed out and you can use them to make the Jello at home by yourself. The satisfaction of making your Jello is unmatched and it is a tradition you can start from this year on this day.
Whether you like to make it or not, it is a day when you should eat the Jello for sure. Many restaurants have Jello featured as part of their dessert menu and you can order your favorite flavor on this day and enjoy it.
Jello is not just used for making a dessert. The Jello powder can be ingeniously used for multiple other purposes too. There is homemade play-doh or lipgloss that you can think of to make with it. You can find the many tutorials online and choose the one that is more favorable to you.
Enjoy this day with your favorite jello, homemade or store-bought, and think of what you can do with the jello powder to make it an interesting day. Share your thoughts and views on how this day can be made memorable for others to follow suit. Remember to use #EatYourJelloDay to bring attention to your online posts and pictures on this day.
Interesting facts about Eat Your Jello Day:
Available in a variety of shapes, sizes, and colors, Jello has been a fascinating dessert by itself and is easy to accommodate in any menu. Eating a Jello doesn't cause a dent in your budget, which is another reason for it to be loved by many. On this day celebrating the popularity and deliciousness of Jello, we will provide you with some interesting facts about this dish to mull about.
While Jello is available in many flavors, the most popular is the lime Jello which was invented in the year 1930. The flavor has been ruling the charts since then.
Tom Lehrer, an American musician takes the credit for inventing the Jello shots by adding rum or vodka while making Jello.
The dish is also the official snack of the state of Utah as recognized by Leonard M. Blackham, the state representative in the year 2001. It is rightfully so since the state has the highest consumption of Jello.
Nearly 164 million people consumed jello and other gelatin-based snacks according to a survey done in the year 2017.
The collagen protein used in the gelatin for jello is found in the connective tissues of animals and therefore this dish is not vegan.
History of Eat Your Jello Day:
There is no information available at this point regarding the person who initiated the celebration of this day or how and when this day was created.