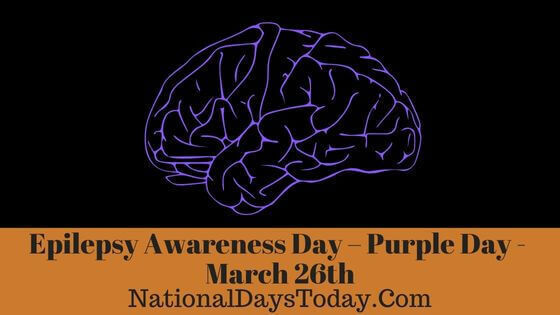 Epilepsy Awareness Day – Purple Day:
Epilepsy Awareness Day – Purple Day is celebrated every year on the 26th of March. The day aims to spread information and awareness on the disease epilepsy.
| | | | |
| --- | --- | --- | --- |
| Year | Date | Day | Where |
| 2023 | 26th March | Sunday | United States |
| 2024 | 26th March | Tuesday | United States |
| 2025 | 26th March | Wednesday | United States |
Twitter Hashtags:
# Epilepsy Awareness Day – Purple Day
#purpleDay
Related: Other National Days Celebrated on March 26th:
Why Epilepsy Awareness Day – Purple Day?
Epilepsy is a very common disease and is well known by people all around the world. The disease is associated with the nervous system. Epilepsy causes problems like periodical seizures and disruption in the proper working of the nervous system. Seizures occur when there is abnormal activity in the brain cells. It causes the body to convulse and act involuntarily and uncontrollably. It may also result in losing consciousness. A person loses almost entire control over their body during seizures. Epilepsy causes a continued occurrence of seizures.
Epilepsy comes with a variety of symptoms. The most common of these is seizures or convulsions. Other symptoms include fatigue, lethargy, muscle spasm, Amnesia, anxiety, and so on. The disease can be genetic or due to accidents like brain injury, substance abuse, or immune system problems. Around 65 million people in the world have epilepsy. In The United States alone, more than 3 million people have epilepsy, which makes it about 1.2% of its population.
A doctor can diagnose epilepsy through certain tests like EEG, CT Scan, and MRI. Although epilepsy cannot be cured completely, seizures can be minimized by regular consumption of medicines. People are also told to be away from drugs and alcohol, which may cause further complications.
Despite having affected such a large population, epilepsy is still surrounded by social stigma. In many cultures, epilepsy is considered a result of sinning in the past. Many people still refuse to seek treatment for epilepsy and try using unprofessional and backdated cures to get rid of the disease. People who have epilepsy are considered weak and incapable of leading a normal life. However, that is not true as most people suffering from epilepsy can lead a normal life.
Epilepsy Awareness Day – Purple Day, therefore, seeks to impart knowledge on the subject and remove social stigma towards the disease. It helps spread awareness of the disease so that people who have epilepsy can find the courage to seek help from medical professionals to minimize the effects of the disease. It also calls people to be more empathetic and asks them not to look down upon patients.
How Can We Observe Epilepsy Awareness Day – Purple Day?
Here are some ways you can observe Epilepsy Awareness Day – Purple Day:-
You can help spread awareness of the disease by talking to your friends, family, and colleagues about the disease and help them understand.
You can volunteer at local hospitals and NGOs to help people who have severe epilepsy.
You can help any friend who has epilepsy by assuring them that you support them and they can come to you when they feel low or when they are in trouble.
You can improve your knowledge of the disease by reading reports and studies. This will also help you in spreading awareness.
You can organize a charity or donation drive to aid your local NGOs who help patients who have epilepsy.
You can purchase the merchandise for the purpleday.org website, which is dedicated to observing Epilepsy Awareness Day and has the founder in its members.
You can make social media posts on Facebook, Instagram, Twitter, etc., to spread knowledge and awareness. Don't forget to use the hashtags #EpilepsyAwarenessDay–PurpleDay or #EpilepsyAwareness.
Interesting Facts On Epilepsy Awareness Day – Purple Day: 
Given below are some quite interesting facts about Epilepsy to help to understand the disease better:-
For observing Epilepsy Awareness Day, people wear purple ribbons or purple-colored clothes.
Around 60% of people who have epilepsy do not know the cause of the disease.
Around 80% of people who have epilepsy do not seek proper treatment for the disease.
There are three groups of epilepsy depending on the form of seizure the patient experiences.
Many people can feel warnings before they experience seizures.
Many children who experience seizures at a young age may overcome them once they become adults.
Epilepsy Awareness Day has been observed for over 10 years now. It was started in the year 2008.
History Of Epilepsy Awareness Day – Purple Day:
Epilepsy Awareness Day – Purple Day was first started by Cassidy Megan, who resides in Nova Scotia and is a Canadian citizen. The purple day was first observed in 2008 and had been continuing till date.