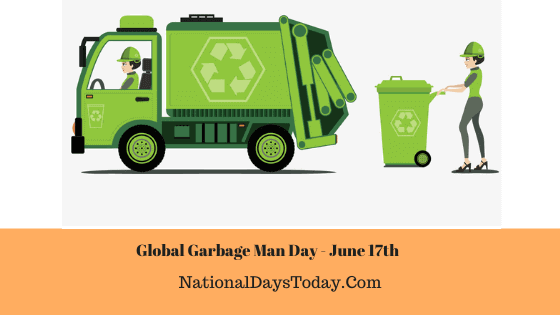 Global Garbage Man Day:
Celebrated on June 17th, every year. This Day is observed to pay respect to the sanitation workers. They work hard to keep the environment clean and safe for us to survive.
| | | | |
| --- | --- | --- | --- |
| Year | Date | Day | Where |
| 2023 | 17th June | Saturday | United States |
| 2024 | 17th June | Monday | United States |
| 2025 | 17th June | Tuesday | United States |
Twitter Hashtags:
#GlobalGarbageManDay
#GarbageManDay
#NationalGarbageManDay
Related: Other National Days Celebrated on June 17th:
National Eat Your Vegetables Day
National Stewart's Root Beer Day
Why Garbage Man Day?
This Day is observed to pay respect to the sanitation workers. They work hard to keep the environment clean and safe for us to survive. A study has estimated that Sanitation work is one of the most dangerous and hazardous work. The odors could make the workers sick, a broken glass may slit, and Inhaling dust may lead to respiratory problems.
Medical waste could cause a serious impact on them. Exposure to chemicals from broken sprays, bleaching bottles could harm them further. Stray dogs bites are another threat to them. Despite all this, they work constantly to make a better environment for us. Perhaps, environmental activists nowadays involve in cleaning the coastal area. This day is also observed to pay the gratitude towards them.
How we can Celebrate or Observe National Garbage Man Day:
Let us observe this day by thanking the Garbage collectors and their service. Post your greetings using this hashtag #ThankyouGarbageMan. Participate in recycling programs and learn the importance of advanced recycling methods. Take part in coastal clean-up activities with the garbage collectors to restore the beauty of our shoreline. Mark your presence in any waste management programme. Present them a gift that might make them happier. Conduct a function in your area and honor them with awards by recognizing their sanitation works.
Interesting Facts About Garbage Man Day:
250 tons of municipal wastes that include commercial, household, industrial wastes are produced every year in the United States.
The United States ranks top in producing trash. An American produces 7 pounds of waste everyday averagely, a study has found. The United States produces almost 30 percent of the World's waste. Almost more than 50 percent of the products were used only once by the American and then thrown as waste. 50% of the plastic were thrown and never been recycled.
 In the United States, garbage men are not only responsible for collecting trash but also for sorting the recycling items also. As per 2010 reports, around 139,900 were employed as Garbage Collectors in the United States in which almost 0.033 percent were brutally injured every year.
The trash was collected by several disposal companies and its employees were paid almost $100000 per year. The needs for such employees were raised by 20 percent compared to that of recent decades due to the increase in population.
Several laws were enacted by the Environmental Protection Agency in the United States to regulate Waste Management. Landfill Mechanism is widely used to manage waste material and the consistent amount was recovered by advanced recycling mechanism.
History of Garbage Man Day:
Initially, it was observed as national Garbage Man Day. The day was founded by John D. Arwood, president at JDA company which involves in environmental services like promoting and teaching about recycling, Advanced Disposal methods, Waste Management etc. since it garnered positive acclaims, the day is expanded to Global Garbage Man Day to recognize the extraordinary works of Garbage man and women that keep us clean and Hygienic and to encourage people to celebrate the Garbage collectors . Coloring books that have the drawings of the garbage man, recycling effort are also provided to the kids to encourage the importance of disposal mechanism and to treat the sanitation workers with respect.