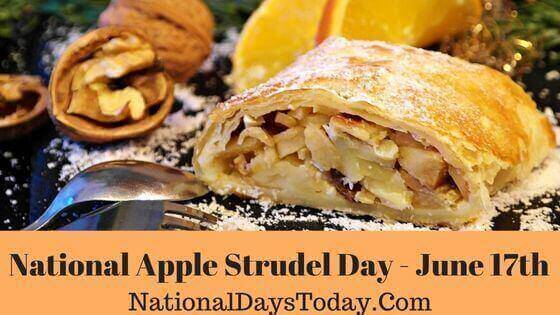 National Apple Strudel Day:
National Apple Strudel Day is a yearly cuisine celebration that takes place on June 17.
| | | | |
| --- | --- | --- | --- |
| Year | Date | Day | Where |
| 2023 | 17th June | Saturday | United States |
| 2024 | 17th June | Monday | United States |
| 2025 | 17th June | Tuesday | United States |
Twitter Hashtags:
#NationalAppleStrudelDay
#AppleStrudelDay
Related: Other National Days Celebrated on June 17th:
National Eat Your Vegetables Day
National Stewart's Root Beer Day
Why National Apple Strudel Day?
Apple strudel is a traditional Viennese delicacy made with sheets of thinly stretched dough, apples, sugar, and a variety of spices. The well-known meal can be eaten for breakfast or as a dessert at night. For an evening snack, it is also served with coffee and tea.
It can be served with a big dollop of whipped cream or dusted with powdered sugar or cinnamon. Even while the Austrian meal known as "Apfelstrudel" is sweet, it may also be savory by using different vegetables and herbs in place of the apple, such as spinach or cabbage. The term "strudel" is a vortex or an eddy that is derived from German.
How Can We Observe National Apple Strudel Day?
It may be topped with a generous amount of whipped cream, powdered sugar, or cinnamon before serving. Even while the Austrian dish known as "Apfelstrudel" is sweet, it may also be savory by substituting other vegetables and herbs, such as spinach or cabbage, for the apple. The word "strudel" is a German word for a vortex or eddy.
Your apple strudel should have a scoop of whipped cream on top.
A freshly baked apple strudel is dusted with confectioner's sugar.
Your apple strudel will taste better with ice cream on top. A buddy is being surprised with an apple strudel.
Use the hashtags #AppleStrudelDay, and #CelebrateEveryDay on social media to ensure that we see your pictures!
Interesting Facts Of National Apple Strudel Day:
Some Facts Of Strudel: 
The first known strudel recipes may be found in a handwritten cookbook from Vienna from 1696.
The German term strudel translates to "whirlpool" or "eddy."
Since 6500 B.C., people have been gathering, eating, and enjoying apples, according to archaeologists.
In the 18th century, strudel gained popularity thanks to the Habsburg Empire.
From 2003 to 2005, apple strudel served as Texas' recognized state dessert. This was as a result of it being one of Texas's first known pastries. (Texas, House Concurrent Resolution 92, May 28, 2003, with revisions.)
It frequently comes with coffee or tea. In one café in Vienna, it is served with champagne.
In her book "Great Viennese Cookbook," Anna Dorn wrote an apple strudel recipe that was incredibly thorough.
History Of National Apple Strudel Day:
The original National Apple Strudel Day's beginnings are still a mystery,  and the same can be said about the dish's origins.
There is something here for everyone, whether they want their strudel salty and plain, nutty and sweet, or sweet and savory.
Many people think of apple strudel as a German meal, while many others think of it as an Austrian dish; some even claim that apple strudel is the nation's food. The Vienna Town Hall Library has a document from 1697 that is the first documented account of dessert. The dish actually gained popularity among the general public in Austria during the eighteenth-century Austro-Hungarian rule. However, several academics speculate that the famed apple strudel may have its roots in Turkey or Greece.
Apple strudel is thought to have gained popularity in Europe as a direct result of escalating globalization, according to historical sources. The first mentions of strudel may be found in an Assyrian book from the seventh century B.C. because of trade networks and international travel. These studies describe the dish as a full dinner composed of layers of puff pastry with honey and almonds. The delicious strudel made it to Turkey and Greece thanks to the Mesopotamian kingdoms and the extensive use of the Silk Road.
For Greece, the idea resulted in the invention of "güllaç," a cornstarch pastry flavored with milk, almonds, rose water, and pomegranate deliciousness. In contrast, the Turkish invented "baklava," a sweet pastry with many layers made of different nuts like pistachio and peanuts that have been roasted and cooked in a sweet syrup. Today's meals are both served during Ramadan, the Muslim holy month of fasting. When it comes to making the dough for our highly adored apple strudel, it is repeatedly beaten against a tabletop.
Each layer is loaded with spiced apple slices and almonds as the layers begin to develop. The prepared strudel is swirled into the baking dish according to the customary recipe. The dough is baked until it turns golden brown and is well cooked. Around the world, many people adore the delicious dessert known as apple strudel.