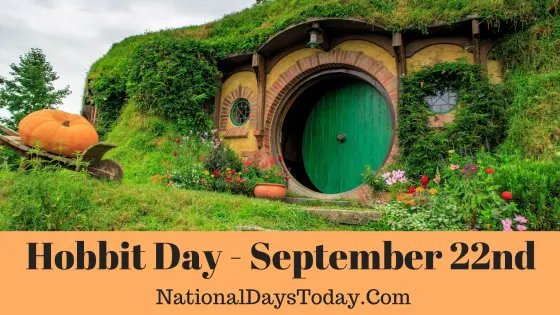 Hobbit Day:
Hobbit Day is observed on September 22 and honors Tolkien's most endearing and valiant Shire-people in addition to commemorating the birthdays of Bilbo and Frodo Baggins.
| | | | |
| --- | --- | --- | --- |
| Year | Date | Day | Where |
| 2023 | 22nd September | Friday | United States |
| 2024 | 22nd September | Sunday | United States |
| 2025 | 22nd September | Monday | United States |
Twitter Hashtags:
#HobbitDay
Related: Other National Days Celebrated on September 22nd:
Why Hobbit Day? 
Hobbits Are Complete AdventurersThe hobbits are one of many creatures that may be found in Middle-Earth, the main setting created by J.R.R. Tolkien. They take pleasure in exploring this enigmatic place, full of magic, danger, and adventure, and home to elves, dragons, and trolls. Your imagination can go amok when reading the book series. The hobbits' love of exploration is something to celebrate on this day, so let's do that.
Hobbits Have a Strong Faith in Goodness 
Despite obstacles, dangers, and difficulties, hobbits always manage to do good. Thankfully, they are also successful in accomplishing that. However, it should go without saying that getting there will be challenging. 
Hobbits Are Loyal IndividualsYou should respect the fact that hobbits are highly loyal creatures since this day is dedicated to them. They continually uphold the friendship concept. They desire to keep doing it despite all the challenges, challenges, issues, and tribulations that can happen.
How can we observe hobbit day
How can we observe Hobbit Day?
Watch moviesNational Hobbit Day is a great opportunity to watch the Lord of the Rings movies by yourself or with others, similar to the aforementioned occasions. Bring your DVD collection outside, or start here with one.
Have a hobbit gathering!Organizing a hobbit-themed party is perhaps one of the best ways to celebrate this day. Hobby all, Hobbit Day celebrates the birthdays of both Bilbo and Frodo, so what could be more appropriate than throwing a birthday party with games, food, and other hobbit-themed elements?
Make delicious hobbit food

Make a supper of slop. That was very easy! anything delicious, even potatoes and mushrooms It ought to be nourishing and filling. Visit the farmer's market in your neighborhood to get some traditional English cuisine. Contrary to popular belief, a lot of English cuisine is excellent. We frequently employ a very simple tactic called a ploughman
Dress up as a hobbitOn this day, you should definitely dress up as your favorite Lord of the Rings character or a hobbit. This will surely be a fantastic way to celebrate this day, whether you opt to dress as a Hobbit by utilizing current attire in earthy tones or decide to spice up your costume by acquiring a Hobbit cloak, Hobbit ears, and more.
Read the books

You can read aloud sections from The Hobbit or some of Tolkien's lesser-known poems. After that, enjoy some cider with your own family while lounging by the fire. That is the most enjoyable hobby you could have!
Interesting facts about Hobbit Day:

It first opened in 2002.

The basis for the first Hobbiton tours, which began after the release of Fellowship of the Ring, was laid by a few buildings that remained standing after the Lord of the Rings trilogy's filming was finished. When the production team began working on The Hobbit movies again, the settlement was reconstructed and transformed into the magnificent Hobbiton film set you see there todayto .


Is Hobbiton New Zealand a Real Place or fake?Is Hobbiton New Zealand is real or fakeveryone wants to visit it immediately, so they are all curious to know. There won't be any more waiting! This is a real place. You can now visit Hobbiton and experience it thanks to Peter Jackson, the filmmaker of "The Hobbit: An Unexpected Journey." He looked all across Auckland, New Zealand, for the ideal location to shoot The Lord of the Rings trilogy that was close to a large tree and had a pond in the distance.
The historical longest film combat takes place here.
"The Battle of The Five Armies" holds the record for the longest fight scene in a motion picture with a fight scene that lasts 45 minutes in the theatrical version.
Although fake, palm trees aren't added to the movie. 
Because it wasn't depicted in The Lord of the Rings trilogy, no one is aware of this incident. Peter Jackson replaced the plum trees in this image where kids were playing with pears and apples. Notably, he changed each apple and pear as soon as they started to ripen. As a result, all apple and pear trees produce fruits that look like plums. Because this scene was cut from the final version, there aren't any phony plums on apple or pear trees.
You may go throughout the holidays.

Hobbiton holds a number of festival the year, including a beer festival, Christmas, and the Summer Harvest Festival in February. Check out those festivals, get your tickets and enjoy!
History of Hobbit Day: 
September 21st, 1937 saw the launch of The Hobbit (There and Back Again). It was nominated for several awards and earned favourable first came out. It remains a classic in modern times. J.R.R. Tolkien followed this success with The Lord of the Rings, which he wrote from 1937 and 1between Bilbo Baggins was born in 2890, which is 1290 in the books, while Frodo Baggins was born in 2968, which corresponds to 1368 in our time.
Hobbit Day and Tolkien Week were instituted in 1978 by the American Tolkien Society. The holiday is still unofficial as of 2017, despite being acknowledged by several administrations throughout the years. But that doesn't stop people from all over the world from enjoying the holiday.