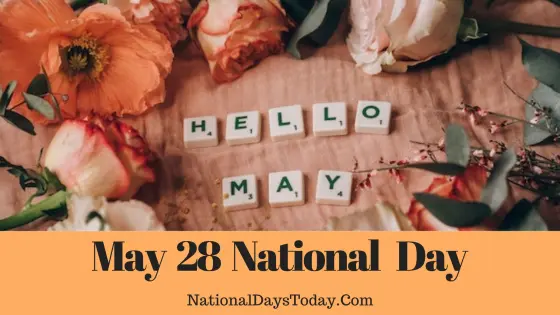 May 28 National Day:
| | | |
| --- | --- | --- |
| Date | Day | Where |
| 28th May | Indianapolis 500 | United States |
| 28th May | National Brisket Day | United States |
| 28th May | National Hamburger Day | United States |
| 28th May | Abolition Day | Saint Martin |
| 28th May | Amnesty International Day | World Wide |
| 28th May | Founding of the Democratic Republic of Azerbaijan | Azerbaijan |
| 28th May | International Burger Day | World Wide |
| 28th May | International Day of Action on Women's Health | World Wide |
| 28th May | Julia Pierpont Day | United States |
| 28th May | National Day of Ethiopia | Ethiopia |
| 28th May | National Flag Day in the Philippines | Philippines |
| 28th May | National Jake Day | World Wide |
| 28th May | Pentecost | World Wide |
| 28th May | Slugs Return From Capistrano Day | United States |
| 28th May | Whit Sunday | World Wide |
| 28th May | Whooping Crane Day | World Wide |
| 28th May | World Hunger Day | World Wide |
| 28th May | World Passion Fruit Martini Day | World Wide |
Indianapolis 500
An exclusive suburb of Indianapolis, Speedway, Indiana, hosts the annual Indy 500 at Indianapolis Motor Speedway (IMS). The celebration normally takes place on Memorial Day weekend, which is the final weekend of May. It is contested as a part of the IndyCar Series, the highest level of American open-wheel racing, also known as "Indy car racing."
The day is strongly linked to smoked meats in general, not just brisket. The brisket is one of these items, and while it takes some skill to prepare well, it is unquestionably the greatest of the principal cuts when done correctly. The day offers you the opportunity to fully explore this cut and everything it has to offer.
Burgers are, of course, consumed throughout the day. In order to promote eating contests, restaurants and delis frequently conduct Hamburger Festivals and provide large discounts on certain menu items. Digital marketing has allowed businesses to engage their audience by creating a tonne of entertaining online competitions and timely blog postings.
Abolition Day
Saint Martin has joined the list of places where the event has been celebrated in various ways. All French colonies that ratified this law consider this day to be significant, and it is celebrated with lots of festivities and events in remembrance. For this national holiday, businesses, schools, and other institutions are closed. Historically, a weeklong celebration has also taken place around this time.
Amnesty International Day
The day works assiduously to defend children, women, and men around the globe when their truth, dignity, and justice are violated. The group looks into and brings to light instances of abuse of resources, people, and authority. Many of the cases they have worked on are available for your review. This is a global movement with more than seven million participants, making it the largest grassroots human rights group on the planet.
Founding of the Democratic Republic of Azerbaijan
Geographically speaking, Azerbaijan is made up of people from many different eras. Caucasian Turks, Transcaucasian Muslims, and Tatars were the previous names for the people who now call Azerbaijan home. Approximately 10 million people live there. Today marks the establishment of the first Turkic and Islamic nation to grant women the ability to vote and guarantee equal political rights for men and women.
International Burger Day
Burgers are among the most popular dishes consumed worldwide, and for good reason. They are economical, quick, and simple. Though initially as a poor byproduct and inferior to quality steaks, ground beef is now frequently utilised to make hamburgers. Because of the different toppings, sauces, and customizations available, burgers have garnered global acceptance.
International Day of Action on Women's Health
It is a special day when women's health is highlighted. Therefore, it is a time to celebrate the advancements made in women's health as well as to remind health ministries, political leaders (presidents, governors, and lawmakers), as well as international organisations and for-profit businesses, of their commitment to women's health and rights.
Julia Pierpont Day
It has been customary to remember Julia Pierpont's kindness on this day. A source of patriotism, heritage becomes a part of the country's identity. According to a popular belief, people who remain true to themselves are the ones who inspire others most. This holiday promotes empathy and an appreciation of other people's feelings. It makes it possible for individuals to have sympathy for others and be approachable to those who require assistance.
National Day of Ethiopia
Due to their shared love of their nation, the festival aids in bringing people together. It aids in their continued unity as a nation. The biggest celebrations take place in Addis Abeba, the capital city, where there are typically significant crowds during the holidays. During this time, there are frequent traffic and business problems. The occasion honours the nation's liberation and serves to make people aware of the blessing of living in freedom.
National Flag Day in the Philippines
It is great that the Philippines' people revolted and fought for freedom after living under colonial control for generations. This day brings back memories of one's journey and rekindles one's love for one's nation for every Filipino. The day is also celebrated in the Philippines as a national holiday. It enables nationals and inhabitants of the nation to spend time with their loved ones.
National Jake Day
Jake has had a remarkable trip through history. In the Bible, he acted way too seriously. Someone who would rather struggle with angels than confront themselves is a superb con artist and money amasser. Jake is a friendlier man now. Life is easy when everything is "Jake," which is why he has earned the title of great adjective in Australia.
Pentecost
Priests from the Catholic Church decorate the church altar with red linen to commemorate this day by donning red robes. Pentecost was once a popular day for baptism since it was often chosen by believers; today, it is the most popular day. The ministry of the Christian church to the world officially begins on Pentecost.
Slugs Return From Capistrano Day
Slugs and their functions in our ecosystem are made more well known. Slugs are thought to hibernate in Capistrano throughout the winter. During this holiday season, they supposedly return to our patios and gardens. Most slug species are safe for people to encounter. Due to their propensity to decimate the foliage of developing plants, they can be pests in horticulture and agriculture. Additionally, they consume fruits and vegetables prior to harvest, ruining farms.
Whit Sunday
Whitsun or Whitsunday are other names for the day, which is also known as Pentecost Sunday, the Christian High Holy Day. The word, which is more frequently used in Britain, refers to the unique white clothing that is worn by those who have just been baptised. The festivals commemorate Jesus Christ's death and the arrival of the Holy Spirit among the disciples.
Whooping Crane Day
Cranes and their ecosystems are protected globally by the International Crane Foundation, which is based in Baraboo, Wisconsin. To assist in resolving the problems affecting cranes, the group offers guidance, leadership, and encouragement. To preserve and rebuild the habitats that support Whooping Crane populations, people must work together. The holiday provides a crucial chance to educate people about the issue with whooping cranes.
World Hunger Day
To bring attention to the recent dramatic increase in hunger, the day is observed. A change is required because the global crisis has forced hundreds of millions of people into a state of chronic hunger. One of the biggest problems is putting an end to world hunger. Global economy, health, education, equality, and social progress can all benefit from ending hunger.
World Passion Fruit Martini Day
Celebrations and drinking fruity, wild beverages are the focus of the day, with a focus on using passion fruit and topping your glass with a dirty martini. However, you are free to add whatever flavour to your cocktail. This day is ideal for unleashing your inner artist, and you should enjoy some great and unique cocktails to mark the occasion.