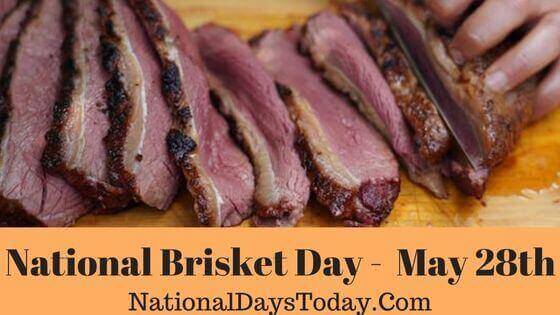 National Brisket Day:
Celebrated on 28th May every year, National Brisket Day is a celebration of the prime cut of meat from veal or beef or other animals.
| | | | |
| --- | --- | --- | --- |
| Year | Date | Day | Where |
| 2023 | 28th May | Sunday | United States |
| 2024 | 28th May | Tuesday | United States |
| 2025 | 28th May | Wednesday | United States |
Twitter Hashtags:
#NationalBrisketDay
#BrisketDay
Related: Other National Days Celebrated on May 28th:
Why National Brisket Day?
There are nine cuts in beef or veal considered as a prime cut of meat of which brisket is one. Cut from the breast or the lower chest of the animal, the brisket offers tender meat full of flavor. While the brisket is inexpensive, it takes skill and lots of patience to cook the meat to tender. And when cooked perfectly it renders the perfect meal on any day. The fat content keeps the moisture intact and searing it after seasoning arrests the juices from flowing out. The Brisket can be cooked either on coal or wood and it can be had as a meal without any saucy accompaniments too.
When cooked over wood, it takes the flavor of the wood in which is probably why many cooks prefer cooking brisket over hickory, oak, mesquite, pecan, and other hardwoods. With such techniques and texture, Brisket is one of the few cuts of the meat offering the perfect dish to your meal and that is why a day to celebrate the Brisket is definitely on cards.
How can we celebrate National Brisket Day:
Celebrate this National Brisket Day in some interesting ways as mentioned here.
There are many ways to prepare the briskets and you can share your recipe with everyone and why it is your favorite way to have a brisket.
You can indulge in a grilled brisket at your home, with your preferred additions. If you love cauliflower and corn, then these would make a perfect addition to your brisket. You can also try brisket with a salad of pasta or coleslaw. Even fruits can be added as an accompaniment to a perfectly cooked brisket to make a complete meal. If you love salads, you can try the Waldorf salad which would be the best dish to enjoy with this prime cut.
You can also have a barbecue party with friends and family and cook the briskets as everyone would love it and enjoy it together.
Give a shout-out to the restaurant serving briskets in your locality.
Use #NationalBrisketDay when sharing experiences and ideas about briskets or simply to share recipes for briskets with your friends and family.
Interesting facts about National Brisket Day:
A versatile cut of meat, the brisket can be served in many different ways once it is cooked tender. It can be served with many different accompaniments making it the most versatile prime cut on offer. On this day, let us find out more about briskets in general.
The term "Brisket" comes from the word "Brusket" of the Middle-East according to "Random House Dictionary of English Language".
Brisket is used more in the Texas-style barbecue and is actually the pectoral muscle of the cow and can weigh anywhere between 12lbs and 20lbs.
There are generally a lot of connective tissues on the brisket which requires slow and low cooking to make it a tender portion for serving.
The deckle part of the brisket is full of fat and it is much delicious after cooking than the first and lean cut of the brisket.
While there are many different methods in cooking a brisket, moist and slow cooking is the most favored.
In the southern states of the US, the brisket is given a spice rub and is slowly cooked over wood or charcoal.
Suadero is the name of the brisket in Mexican cuisine where it is cooked in a circular pan slowly. You will find them across the taco stands in the country.
It was the Spanish settlers who brought the meat cows to America.
History of National Brisket Day:
We do not have much information on the reason behind the celebration of this day or who initiated the celebration of this day. Briskets, however, have a very long history tracing back to the celebration of Passover by Jews in Eastern and Central Europe dating to the 1700s. The brisket is mentioned in print in an advertisement in Texas in 1910, but it was in the 1950s when brisket was offered as a dish on the menu in a barbecue restaurant in Texas. The day is a chance to enjoy this healthy meat portion loaded with vitamins, iron, zinc, and a healthy dose of protein.