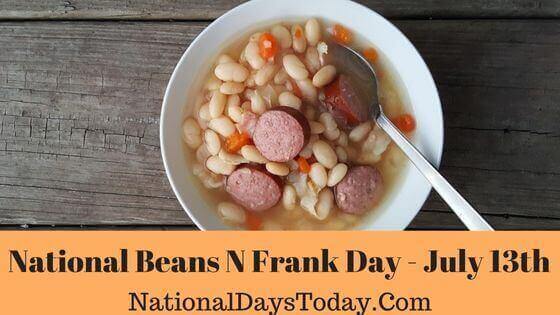 National Beans N Frank Day:
Celebrated every July 13, This day encourages people to make the 'all-time favorite recipe of beans and sausages. 
| | | | |
| --- | --- | --- | --- |
| Year | Date | Day | Where |
| 2023 | 13th July | Thursday | United States |
| 2024 | 13th July | Saturday | United States |
| 2025 | 13th July | Sunday | United States |
Twitter Hashtags:
#NationalBeansNFrankDay
#BeansNFrankDay
Related: Other National Days Celebrated on July 13th:
Why National Beans N Frank Day?
Beans are comfort food and instantly bring warmth to a bad day. 
Also known as 'Beanie Weenies' or pork and beans, this dish has a creamy taste with a soft crunch of sausages but substituting hot dogs with pork pieces. 
Gravy with soft beans is a wondrous delicacy that goes perfect with barbecue during summertime. This day is a reminder to buy beans with some juicy pork and bring in your inner chef. 
This day is to cook these full of gravy Beanie Weenies specifically. A delicious bean curry which has a savory taste. 
A day to make this yummy dish. These beans are available in restaurants and food joints, but we all know that there is no place like home. So homemade beans with fresh herbs and vegetables are a perfect weekend and the best way to celebrate National Beans N Frank Day.
How Can we observe National Beans N Frank Day?
Cook beans with fresh onions and tomato gravy, and finely chopped basil. Serve with bread or white rice.

Several dishes of beans like cutlets, fried rice, curry, pancakes etc., can be made.

Homemade is best as it is warm to the taste and gives a feeling of wholesomeness.

Cooking together can be a great date and a chance to spend quality time with family.

Share your unique recipe for beans.

Post stories and reels of your bean recipe.

Buying cans of beans, heating them and relishing in the taste. 

Camping nights with cooking beans together.

Serving chilled drinks like ice tea, mocktails and juices with a bean salad or any bean recipe.

Inventing new recipes for beans with friends.

Bringing beans for lunch to the school and office to celebrate this day.

Developing new ways of making beans and hot dogs.

Growing beans in your garden.
Celebrating beans day can be essential, but the joy of getting a recipe successfully is impeccable. 
Dont forget to share your recipes using hashtags #NationalbeansNFrankDay and #beansAndFrankDay on social media.
Food is healing and blessing, and we must save this fantastic day and encourage ourselves to make beans and relish. Many rumors are spreading on the internet regarding beans and legumes that can cause gastric problems. However, if eaten in the correct quantity, beans are incredibly healthy.
Interesting Facts About National Beans N Frank Day:
Some interesting facts about beans,
Beans are rich in proteins and essential vitamins that are an ailment to our body. For example, zinc, selenium, Vitamin B6 and K. Most of the time, beans are served as a side dish, but they are also used tremendously in salad and falafels.

Chickpea with few beans can make the falafel mix full of nutrients and protein-rich. Moreover, beans have some noble health benefits like it reduces the risk of cancer and heart diseases and is suitable for antioxidants and preventing fatty liver.

Beans are a rich source of fibre that helps digestion; however, eating too many beans can have adverse effects like gastric problems.

Beans are also suitable for those who are vegan and also fulfilling. It helps maintain satiety and is a beneficial food for someone with a calorie deficit.
History of National Beans N Frank Day:
Beans got very famous during the Civil war era. However, the exact origin is unknown like the origin of this day. In the early 1980s, the beans were sold in cans. These beans then were served as a side dish with eggs, bacon etc. Since then, many brands have sold these beans, and it is a popular dish worldwide. 
These beans are globally famous, and every country has its way of cooking them. The creator of this day is unknown, but the whole world remains grateful for him to create this day. These beans were one of the early sellers.
Significance
Baked beans are a staple dish of the chuckwagon, and in Indian culture, it is called Rajma, which is eaten with rice and roti as well. It is a spicy curry with onion and tomato paste with a hint of ginger and various herbs, giving it a relishing taste.
In the USA, Frank beans are very famous. Beans are used in kebabs and a dish called coleslaw which is corn on the cob. Beans with a beverage is a summer attraction.
This day is enlightening as to why beans should be a part of our diet. Even if we do not consume them in the amount we should, this day can be a reminder to eat the good beans. National Beans N Frank day is not only a day to cook these beans but also to cherish some quality time with family by cooking these delicious beans.