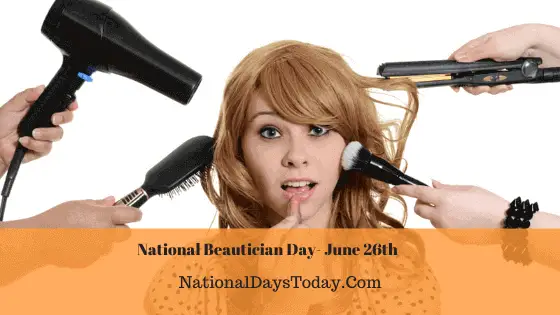 National Beautician Day:
Celebrated on June 26th every year. The Day is to honor the one who make us to glow further, the one who make us to be extra radiant.
| | | | |
| --- | --- | --- | --- |
| Year | Date | Day | Where |
| 2023 | 26th June | Monday | United States |
| 2024 | 26th June | Wednesday | United States |
| 2025 | 26th June | Thursday | United States |
Twitter Hashtags:
#NationalBeauticianDay
#BeauticianDay
#BestBeautician
#MassMakeup
Related: Other National Days Celebrated on June 26th:
National Chocolate Pudding Day
Why Beautician Day?
The National Beautician Day is to honor the one who make us to glow further, the one who make us to be extra radiant. When it comes to makeup, women really rocks! Women are always fascinated by makeup items compared to Men. From foundation to concealer, numbers of beauty products are available in the market. Sometimes we see some advertisement and buy the product, but honestly it works only at very few times.
Not only a waste of money, rather our skin blemishes and perhaps repairing and rejuvenation is really stressful. Beauticians are the one who sort out the problem. They choose the right product. Being beautiful provides us confidence. This day is to honor the beauticians who give us further extra confidence.
How we can Celebrate or Observe National Beautician Day:
Celebrating this day is very simple. Salon is the final destination for the women. Just go to any beauty salon and make yourself the best. Share the role of cosmetics and Beautician in your life using this hashtag #BeauticianDay. One in three suffers from acne, black heads, pigmentation, wrinkles that spoils the charm. Suggest any beautician who could resolve these deadly issues. Pimple prone skin may look not a great problem. But, the one have does know the awkwardness and only they know how hard it is to deal with. Therefore, use this hashtag #BestBeautician to post the beautician details and address of the beauty salon.
Greet all the beautician, near your area with a Bouquets. Thank them for making the people even more beautiful. Take a selfie and post it on the social media. Makeup gives us a mass transformation in look. many such videos are circulating in the Internet. Prefer the one you liked the most and show your gratitude to the concerned beauticians using this hashtag #MassMakeup.
And, Dear beauticians, this day is purely for you. Use this article as a great platform and post your sample work using this hashtag #myworkBeauticianDay. Your samples could promote your work and you may get few more new customers. Try this out.

Varieties of beauty techniques are available that ranges for normal to oily skin types. choose the appropriate and make the day yours since makeup is inevitable to make us impeccable.
Interesting Facts About Beautician Day:
A degree in cosmetology is required to be a licensed hairstylist and Beautician and the degree ranges from bachelor to masters and several certification courses are also available with limited course duration. Beauticians are normally cosmetologist, Hair colorist, shampoo technician and Aesthetician and relevant degrees are mandatory to practice as beautician.
Beautician is a woman's occupation in the United States with around half million women employed as cosmetologist. They are exposed to about 9000 chemicals like Toluene, Dibutyl phthalate, Formaldehyde which could degrade their reproductive system's functionality. Because of such occupation hazard and health perceptions, more than 20 percent of the women were reluctantly forced to leave their employment in the United States.
In accordance with the U.S Bureau of Labor Statistics, the average pay of a beautician is between 8 and 19 dollars approximately per hour and it provides a great platform for the women and deemed to be one of the most profitable self-employed occupation. Nowadays, most of the people prefer this as a part-time job.
The annual income of all the beauty salons in the United States is estimated to be 20 million dollars as of 2014.within our research, it was difficult to find the accurate number of beauty salons and hair dressing shops in spite of roughly estimated to be around 90000 salons approximately in the United States.
History of Beautician Day:
The creator of this day is unknown.