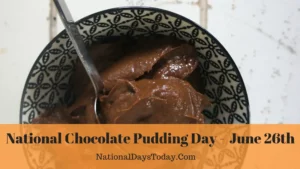 National Chocolate Pudding Day:
National Chocolate Pudding Day is celebrated on the 26th of June every year. This special event is celebrated to honor our favorite dessert.
| | | | |
| --- | --- | --- | --- |
| Year | Date | Day | Where |
| 2023 | 26th June | Monday | United States |
| 2024 | 26th June | Wednesday | United States |
| 2025 | 26th June | Thursday | United States |
Twitter Hashtags:
#ChocolatePuddingDay
#NationalChocolatePuddingDay
Related: Other National Days Celebrated on June 26th:
Why National Chocolate Pudding Day?
Pudding is a favorite thing for many Americans. We can't think of a nice dinner without pudding. Even though it wasn't invented in this country, its popularity increased day by day. Now, pudding is a favorite dessert for both kids and adults.
According to some reports, chocolate pudding is the most popular variant. That's why some people dedicated a particular day to this dessert. Hence, that's the key reason for celebrating this event. The good thing is you can also celebrate this day in your own style.
How Can We Observe National Chocolate Pudding Day:
Well, you know why Americans love to celebrate this day. If you want to observe this day as well, you can do something unique. There are so many ways to observe this event. That's why we will share some fantastic ideas about observing this special day about chocolate pudding in the following list:
The easiest way to celebrate this special event is by buying your favorite pudding. Now, you can choose the flavor as per your preference. However, we will suggest you get chocolate pudding in this case. It's the best way to observe this day if you don't have enough time to do something at home. 
Okay, you want to try something at home. Then, you can make mud pies. If you have kids, they will love it. Mud pies don't need a lot of ingredients. You just need some Oreos, chocolate pudding, and gummy worms. Make sure you involve your kids, so they can enjoy the day as well. 
A celebration is incomplete without a challenge. If you are up for a challenge, there are so many options available. In this case, you can get help from social media. On the other hand, you can also challenge your friends as well. It will be fun. 
Want to do something unique? Do you love baking? Then, you can observe this day by joining a baking class. You can learn a lot of things from a baking class. Well, you can also join an online baking class as it can save your time. 
Another unique way to observe this special day of chocolate pudding is by surprising a friend. You can make chocolate pudding by yourself and leave it for your friend with a loving note. On the other hand, you can also buy them the best pudding. Alternatively, you can try this method for a family member or your partner. 
Last but not least, having a pudding night is a great idea. In fact, you can keep it minimal. You can either buy chocolate pudding or prepare it with your loved ones. Use some creativity to make the night magical. 
Don't forget to share your story on social media platforms. Make sure you use the #NationalChocolatePuddingDay and #ChocolatePuddingDay hashtag while posting.
Interesting Facts About National Chocolate Pudding Day:
Celebrating something can be better if you learn some special facts about that thing. If it's your first time observing this event, you can learn some interesting facts about this day. In the following section, we will share some cool facts about pudding. Let's find out.
Interesting Facts About Pudding
Pudding was invented by an English chemist named Alfred Bird. He wanted to develop an egg-free dessert.
The word 'Pudding' has a French background and the meaning of this word is 'small sausage'.
Pudding is a dessert that can be boiled, baked, and steamed. Hence, it has so many recipes.
The first version of the pudding was invented in England in the 14th century.
In some countries, especially Commonwealth countries pudding is known as custard. However, the recipe is quite similar.
History of National Chocolate Pudding Day:
You can see why almost all Americans love chocolate pudding. You can observe a full day with your favorite dessert. We can say it's a great idea. However, we were unable to find the inventor of this day.
Plus, we are not sure when the celebration started. There's no valid report regarding this topic. Still, we are doing our research. Until then, you can observe this day with full enthusiasm.