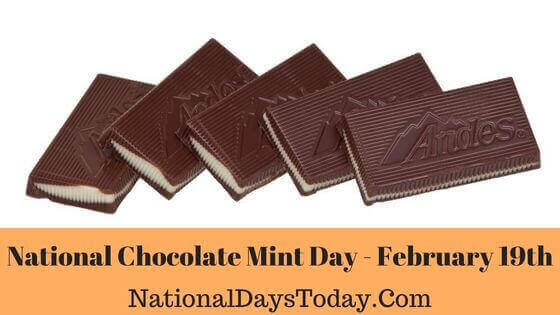 National Chocolate Mint Day:
National Chocolate Mint Day is celebrated on the 19th Day of February, as designated by the US National Confectioners Association for chocolate mint enthusiasts to enjoy the delicious treat.
| | | | |
| --- | --- | --- | --- |
| Year | Date | Day | Where |
| 2023 | 19th February | Sunday | United States |
| 2024 | 19th February | Monday | United States |
| 2025 | 19th February | Wednesday | United States |
Twitter Hashtags:
#NationalChocolateMintDay
#ChocolateMintDay
Related: Other National Days Celebrated on February 19th:
Why National Chocolate Mint Day?
National Chocolate mint day is a day for people who love chocolate mint. The day was set aside to give them a unique opportunity of enjoying the much-loved treat. The day was designed by the United States National Confectioners Association for annual commemoration. It is attributed to both the Aztecs and the Mayans, who are known to have many ways of making chocolate, the mint version being among them.
The chocolate in itself is normally taken as a hot beverage before the creative Europeans integrated mint as part of the beverage. They also tried cinnamon among other spices with the intention of making the beverage a little more palatable. As time went by sugar was also incorporated as part of the recipe which is when chocolate mint became very popular because the result was exceptional.
Today, chocolate mint is served in cafes' as well as restaurants; owing to the number of people that have come forward to embrace the delicious treat. Credit to the popularity it has gained, restaurant managers have taken the initiative of having their staff trained on how to make the best chocolate mint. This is part of their strategy to attract a wide clientele for the chocolate mint treat. Moreover, chocolate mint is also a much-loved treat at home, with many people preferring this to alternatives like coffee.
In the contemporary hotel industry, the concept of chocolate mint has been advanced to include ice creams, brownies, and even cookies. It is also taken with snacks like sausages owing to its exception flavor.
How can we celebrate National Chocolate Mint Day:
Some of the ways to celebrate or observe the National Chocolate Mint day include but are not limited to:-
The first way to observe this day is by posting on social media under the hashtag #NationalChocolateMintDay and sharing it across different social media platforms like Facebook, Instagram, and Twitter. This will serve as the fastest way to spread the word and create awareness to this day so that people can also remember it for what it actually means.
Engage in a Chocolate Mint making competition
You can as well choose to hold a chocolate mint-making competition with your friends and thereafter reward in cash or in kind, the person that ends up making the most delicious chocolate mint.
Invite friends or colleagues over for chocolate mint
You can also choose to have your friends come over for chocolate mint as you engage in meaningful or funny conversations while catching up. You can also bring chocolate mint to work and share it among workmates in the spirit of the National Chocolate Mint Day, bringing together the entire team of enthusiasts to enjoy the treat.
Another way to observe the day is by learning a new chocolate mint recipe and making it for your family. This will promote the tradition will eliminating the element of repetitiveness where you have the same design every February 19th.
Interesting facts about National Chocolate Mint Day:
Some of the most interesting facts about the day includes:-
Chocolate Mint is loved for its unique ability to promote fresh breath, among other reasons.
Chocolate mint is also an enabler for improving the process of digestion.
Chocolate mint and its associated snacks and delicacies, feature in the top 90% take away for scouting camps in the United States.
The most popular chocolate mints were called the Andies Mountains, prior to which they were referred to as Andies Candies.
History of National Chocolate Mint Day:
The history of Chocolate Mint traces back to an unknown origin, although the National Day Calendar has continued in its effort to make this research known to the public. Despite its unknown history, they treat continue to be a best seller in many outlets and a perfect accessory for all manner of gatherings, be it social or official. It also poses a good challenge to Chocolate Mint enthusiasts who actively engage in adventures of trying to make the treat even better by integrating other recipes and serving it alongside pastries.