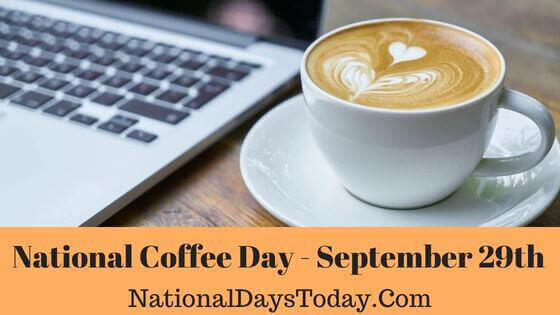 National Coffee Day:
National Coffee Day is observed on September 29th, Every year in the United States and Canada, although it is observed worldwide.
| | | | |
| --- | --- | --- | --- |
| Year | Date | Day | Where |
| 2023 | 29th September | Friday | United States |
| 2024 | 29th September | Sunday | United States |
| 2025 | 29th September | Monday | United States |
Twitter Hashtags:
#NationalCoffeeDay
#CoffeeDay
Related: Other National Days Celebrated on September 29th:
Why National Coffee Day?
Many individuals can't begin their day without a cup of coffee because it is the country's favorite beverage. Almost everyone can't resist the aroma of freshly made coffee in the morning. Whether you enjoy the traditional Americano or the cutting-edge Flat White, be sure to sip on the ideal cup (or cups) of coffee today.
The National Coffee Association was responsible for founding National Coffee Day. Although some believe the festival started as early as 2005, the National Coffee Association's social media accounts have the oldest recordings of it, dating back to September.
National Coffee Day strives to support locally owned coffee shops around the nation in addition to providing a day for coffee enthusiasts to indulge in their favorite beverage. Additionally, it aids in the production of a livable wage for the world's struggling specialty coffee producers.
How Do You Celebrate National Coffee Day? 
The good news for coffee lovers is that on National Coffee Day, many coffee shops and restaurants are offering free or reduced coffees. Visit your preferred location to take advantage of the deals, whether you want to get your coffee to go or to relax and sip it slowly. 
When ordering at coffee shops, customers frequently stick to their routine. They can also make coffee at home using their tried-and-true formula. This coffee day, be daring and experiment with a brand-new coffee recipe or coffee shop order. You may find a new favorite beverage or be pleasantly surprised!
On National Coffee Day, treat yourself to the fresh coffee brands or flavors you've been coveting! Or maybe it's time to get some new coffee supplies! Any coffee fan in your life might have their day made by receiving amusing coffee gift baskets or subscriptions. This is a fantastic way to share coffee enjoyment or perhaps introduce someone to different coffee varieties!
On National Coffee Day, you may not only get excellent bargains on coffee but also spread the word about the importance of fair trade coffee. What plans do you have to honor National Coffee Day this year?
These are all entertaining methods to showcase your genuine love of coffee. Having a great cup of coffee is the most crucial part of commemorating National Coffee Day. If you can do it with friends and family, all the better.
How To Observe:
Enjoy a few cups of your preferred coffee. To assist you in making your own, here is a coffee brewing guide. Want to know more about the history of coffee? 11 Historical Coffee Milestones have been gathered for your enjoyment.
The bean, the roast, and the brew are all elements in establishing a coffee's body. The coffee's texture, including how it feels on the tongue and throat and how thick or thin it is, is influenced by the bean. The body of a coffee will also change depending on how we brew it and how dark the roast is. Grandpa's motor oil mix and the silky smooth, skilled grind from the coffee shop around the street have altogether different bodies.
For social media posts, use the hashtag #NationalCoffeeDay.  Celebrate Every Day,  coffee right away! This offers four distinct roasts available all year long to fulfill any coffee celebration
1- Recipes Of Dalgona Coffee: 
Ingredients 
5,6 ice cube
sugar, 3 teaspoons
coffee powder, 3 tablespoons
Kahlua 1.5 tablespoons
hot water in 1.5 teaspoons
Milk, 3 cups
Method:
Mix the instant coffee, 1 12 teaspoons of Kahla coffee liquid, the sugar, and hot water in a dish to produce the Kahla Dalgona Coffee foam.
Stir with an electric whisk until frothy.
Your choice of milk should be poured into two glasses once the ice is added.
Pour a little Kahlua into the milk.
The Dalgona Coffee froth should then be added on top of the milk.
2- Recipe of Cappuccino: 
1- espresso, 2 tablespoons
2- Low-fat milk, 2 tablespoons
3- butterscotch syrup
4-  Ice
Method 
Ice should be added to a cocktail shaker halfway.
Add 2 cups of low-fat, cooled milk.
add butterscotch syrups
Prepare 2 tablespoons of espresso and add it.
Shake ferociously back and forth (50–60 times).
Into a 10 to 12-ounce glass, pour.
With a straw, please.
Interesting Facts of National Coffee Day :
Some more facts about Coffee: 
Some companies will benefit from National Coffee Day by offering free coffee with a purchase.
The International Coffee day reports that 12.5kg of coffee was consumed per person in Finland in 2016.
Numerous antioxidants included in coffee can help you achieve better overall health.
Drinking coffee reduces stress and even depressive symptoms by releasing dopamine and serotonin.
Only Hawaii commercially grows coffee; the remainder is imported into the United States.
Because more caffeine burns off during the roasting process, dark roasts have less caffeine than medium roasts.
Brazil produces the most coffee in the world, according to the International Coffee Organization. In actuality, they produce one-third of the coffee consumed worldwide.
Hills Bros. started vacuum-packaging roasted coffee, eventually doing away with the necessity for neighborhood coffee mills and roasteries.
Yemen is where the first records of coffee use date from in the fifteenth century. Sufi Monks in the Port of Mokha are thought to have roasted and brewed coffee similarly to how we do it now.
Actually, coffee beans are the seeds of the Coffea plant's cherry-like fruit.
Averaging around $60 billion yearly, coffee is the second-highest traded commodity.
The costliest coffee beans are produced by the Asian Civet, which consumes the fruit and then digests it.
Coffee is the second-largest commercial product after crude oil and the second-most popular beverage in the world after water.
Brazile is the source of around one-third of the world's coffee production. This growth is almost double that of Vietnam. By the way, Vietnam is ranked second among nations for coffee production.
As the color of espresso when combined with frothed milk is akin to that of their robes, monks were the source of the word "cappuccino inspiration.
The Asian Civet, which consumes the fruit and then passes it through its digestive system, produces the most costly coffee beans.
A gallon of coffee was reportedly consumed daily by Teddy Roosevelt, who is said to have been the best coffee drinker ever. We advise against trying anything similar.
Coffee was originally referred to as "Qahhwat al-bun," or "the wine of the bean." Later, the term was abbreviated to "Qahwa," which the Turks changed to "Kahve." It acquired the name "coffee" around 1582, which was borrowed from a Dutch term.
On the CIA's own website, "Store Number 1" is described as being just like every other Starbucks location in the United States, with the exception that the barista won't misspell your name. This is so that none of the names—not even aliases—can be written on the cups.
History Of National Coffee Day:
The origins of National Coffee Day seem to be a little unknown, Despite the fact that it is a full week after the first day of fall, we think September 29 was chosen as a sharp reminder to return to work after a long summer. After all, Americans have made the art of procrastination.
Actually, making coffee at home can be a lot of fun! It has the ability to bring out distinct and intriguing flavors, making that morning cup of coffee even more thrilling and unusual. Many individuals use pre-ground coffee in their automated drip coffee machines. But now is the moment to step up your coffee game in observance of National Coffee Day.
On the other hand, Yemen in the 15th century may be clearly seen as the origin of coffee. (For an intriguing look at how it all transpired, pick up Dave Eggers' most recent book.) For Europeans, the first taste came some 100 years later, with Venice setting the standard. It wasn't an easy journey, according to the National Coffee Association: "Some people responded to this new beverage with distrust or horror, calling it the "bitter invention.
When coffee arrived in Venice in 1615, the local church denounced it. Pope Clement VIII was requested to step in because the debate was so intense. Before making a choice, he chose to try the drink for himself. He found it to be so satisfying that he awarded it his seal of approval.
If not for the Boston Tea Party in 1773, Americans in the United States would never have switched from tea to coffee. Tea was out and coffee was in after the colonies rose up against King George III's heavy tea tax. When brothers John and Charles Arbuckle began selling coffee to cowboys in the American West in the middle of the nineteenth century, things really began to heat up. James Folger was successful in introducing coffee to California's gold miners.
after returning to San Francisco by 1865, Folger became a full partner of The Pioneer Steam Coffee and Spice Mills became the J.A. Folger & Co. by the year 1872.
Coffee is without a doubt the most consumed beverage in the country. According to a 2015 poll, 59% of Americans said they usually drink coffee, making it the second most popular beverage, while 58% said they prefer bottled water. The population consumes tea 47% of the time and soft drinks 53% of the time.
The Coffee Association of Canada reports that 71% of Canadians consume coffee, whereas 63% use tap water and 48% consume tea.
In both nations, older generations are becoming more popular with coffee, with 18 to 24 year old's being the least likely to consume it.
Many individuals have only ever had generic crystals in their coffee, which means they frequently need to add flavored creamers to make it taste better. But there is a whole other world of delectable coffee available that is sourced from all around the world and brings its unique flavors to the table.
The kind of coffee beans affects some of the taste spectrum. The finest beans come from a single origin and are not just Arabica. Many of the top coffee roasters even have the ability to identify the exact farm from where their clients' particular beans were from! This is how the distinct flavors are recognized and brought out, not merely a method to seem pretentious.
While many physicians have previously advised against drinking coffee regularly, more recent research appears to indicate that, when consumed in moderation, coffee is generally not hazardous to most individuals. Studies that first suggested a connection between coffee and osteoporosis have now been disproven.
According to the Encyclopedia Britannica, there are several traditions surrounding the formal beginnings of coffee, the most well-known of which is that an Ethiopian goat herder by the name of Kaldi made the discovery. When Kaldi noticed his goats acting differently, he decided to try coffee beans. He felt an ecstasy like the rest of us get when the caffeine sets in when we eat the berries from the same bush his goats ate from.
The manual coffee grinder was a common appliance in upper middle-class American homes by 1850. The popularity of coffee then reached new heights during the American Civil War, when troops were issued coffee beans as their main ration.
It's unclear exactly when iced coffee became popular in the US. To diversify the coffee product line, numerous sources say that ready-to-drink iced tea, espresso, and iced coffee were created decades ago.
Iced coffee varieties flourished in the market as Americans were accustomed to paying high costs for a cup of coffee and were advertised as a pleasant beverage.
The United States only has two states where coffee is grown. Due to the fact that coffee needs a particularly specific environment, it is often cultivated in regions close to the equator. Hawaii, a state that produces Kona coffee, and California are the two states that actually cultivate coffee.