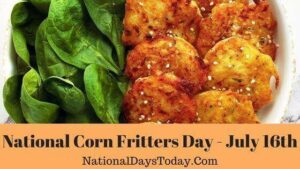 National Corn Fritters Day:
Every year on the day of 16th July, National corn fritters day is celebrated to enjoy the delicacy, of corn fritters.
| | | | |
| --- | --- | --- | --- |
| Year | Date | Day | Where |
| 2023 | 16th July | Sunday | United States |
| 2024 | 16th July | Tuesday | United States |
| 2025 | 16th July | Wednesday | United States |
Twitter Hashtags:
#NationalCornFrittersDay
 #CornFrittersDay
Related: Other National Days Celebrated on July 16th:
Why National Corn Fritters Day?
Corns are tall cereal grass that is rich in vitamin C and antioxidants. The properties within the seeds of corns protect us from numerous diseases and control cell damage. In particular, the yellow corns are rich in carotenoids lutein and zeaxanthin that are attributed to eye health and further prevent lens damage. Corn fritters are a form of fried cakes that have thick batter inside them. To make the texture of the cake more perfect there are also used chopped vegetables inside it by frying them. The cake offers both inside and outside softness and is delicious in taste. Preparing the corn fritters cake at your house is very easy by using the ingredients that are mostly available in your kitchen. It is a quick recipe that can solve your little carvings in the evening and can be a perfect snack for the evening. The crispy bits of batter and corn are a special food in restaurants, barbecues, and other summer events. To enjoy with delicious corn fritters, this day is being recognized as National Corn Fritters Day.
How Can We Observe National Corn Fritters Day?
Enjoy corn fritters: To celebrate the health benefits of corn we celebrate the day every year by having the most delicious corn recipes. By making some recipes at houses or by visiting the local restaurants we can enjoy the whole evening with our friends and family members. Significantly to enjoy all the corn fritters it is not always obvious to go out and visit the restaurants. We can prepare the recipe by taking the help of any tutorial videos on YouTube. By simply bringing the ingredients into the house it will be easier for us to celebrate the day enjoyable.
Try this recipe:  However, people can also take any one of the particular corn fritter recipes to celebrate the day. To make a delicious corn fritters cake you will need to have the ingredients such as corn, flour, Vegetable oil, baking powder, salt, cornmeal, milk, green onions, eggs, and paprika. By simply making a batter with all these ingredients and by trying all of them you can make the tastiest dish to celebrate that day. And ultimately you can share your joy and moments with other people by using #nationalcornfrittersday and #cornfrittersday on social media platforms.
Interesting Facts About National Corn Fritters Day
Some of the interesting facts about  corn fritters.
Corn fritters are equally popular in Indonesia and a large part of Indonesia produces a huge number of corns every year. To cultivate a huge number of corns in the field they use the modern Equipment of cultivation. At the end of the summer, they produce a huge number of corns for them and by preparing delicious dishes they consume them too.
On the day of 16th July, people find an appropriate place where they can harvest or cultivate corns. This made our country to rank first in Global production of corns especially during the summer season.
History of National Corn Fritters Day:
The origin of this Day is unknown within the research but Corn Fritters, particularly is a popular snack item due to their sweet and savory flavor. When the Europeans come to settle down in the United States, they observe the technique of deep-frying and cooking style with corn recipes and corn ingredients. They upgraded the cooking methods and after the cooking technique evolved and becomes much more impressive that eventually led to the proliferation of corn harvesting in the United States. People who are in Southern Mexico domesticated corns more than 10000 years ago. Subsequently, corns are one of the most productive and Dominant crops in the world. It is the third-largest plant-based food source. To produce ethanol corn is used which is a biofuel. However, in comparison to nutrition values corns are very poor. But they are full of antioxidants and dietary fiber. Besides that, corn flours are gluten-free in comparison with other cereal grains. On the other hand, corn oil is highly valued for its light color and Bland flavor.
The southern United States has a history of making traditional corn fritters as a lot of unique ingredients like milk, flour, melted butter, corn kernels, and eggs are used whereas in other parts of the United States, the usual ingredients are Honey, Fruits, jam, and cream.