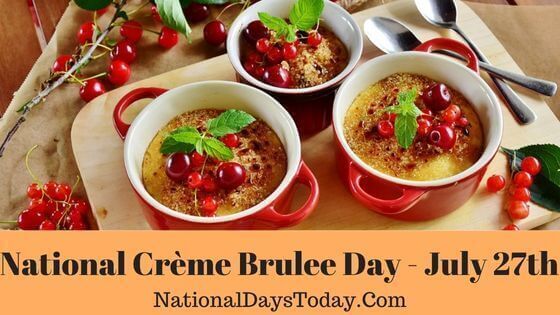 National Crème Brulee Day:
Crème Brulee, literally translating to burnt cream in French, is celebrated with lots of passion on the 27th of July every year as National Crème Brulee Day.
| | | | |
| --- | --- | --- | --- |
| Year | Date | Day | Where |
| 2023 | 27th July | Thursday | United States |
| 2024 | 27th July | Saturday | United States |
| 2025 | 27th July | Sunday | United States |
Twitter Hashtags:
#NationalCremeBruleeDay
#CremeBruleeDay
Related: Other National Days Celebrated on July 27th:
Why National Crème Brulee Day?
There is not a single reason why you wouldn't love this delicious dessert. Made of sugar, egg yolks, and cream infused with vanilla, this is a simple custard that can easily please your palate and take you on a luxurious taste of heaven. This heavenly and delicious dessert deserves a day to itself and that is why we have this day every year on the 27th of July.
The recipe for this sumptuous custard appeared in print for the first time in the year 1691 in a cookbook published by the Palace of Versailles, France. However, there is also other evidence pointing to the fact that this recipe existed even before that. For example, the Trinity Burnt Crème has a history dating back to the 1400s and from England.
Another factor that works magically in favor of a celebration of this dessert is its versatility. While the initial recipe calls for simple vanilla, the recipe has been jazzed up since then. There have been experiments made with Nutella, peach, chocolate, lemon, and more. With more to enjoy, this day is the most delicious day of the year to celebrate.
How can we celebrate National Crème Brulee Day?
Crème Brulee is one of the classic desserts that everyone loves and on this day honoring this delicious dessert you can make memories like never before.
The best option to go on this day is to enjoy this Crème Brulee. And it would taste even better if you can make it yourself. There are different recipes online that you can make use of. Of course, with different recipes, there will be variations in the ingredients, cook time, etc.
Another option you can try on this day is to experiment with the flavors you love the most. You can even call your friends and family over for a small experiment, with each contributing their favorite flavor and everyone voting on the best option. You can choose any flavor of your choice like pineapple, Irish coffee, key lime, etc.
Crème Brulee is traditionally a custard. But it need not be one all the time. You can make brownies, cupcakes, pies, or cheesecakes flavored with a classic Crème Brulee and have a party to showcase these different dishes. It would be a moment to cherish and indulge in this beautiful dessert and flavor in different forms and shapes.
Share your memories with your friends and family as you enjoy this delicious dessert with the #NationalCremeBruleeDay hashtag.
Interesting facts about National Crème Brulee Day:
The dish is not just interesting to taste but also has facts that might wow you in surprise. Here we have presented a few facts to mull over as you enjoy the dessert on this day.
During medieval times, the dessert of custard with caramelized sugar topping known as the Crème Catalana was enjoyed a lot.
In the 1400s, the Trinity Burnt Crème became a famous dessert in England, served in the Trinity College, Cambridge.
In the 1600s, there was a mention of a dessert similar to the current Crème Brulee featured in a book by Colin Spencer.
There is no need to use a butane torch to bring the crusty top but you can even broil the dish for a couple of minutes to get the finish.
The dish features very simple ingredients like vanilla, sugar, cream, eggs, and of course, water to make it.
If you want a vegan version, then you can use coconut milk, corn starch, sugar, almond milk, vanilla bean, and yeast for making this dessert.
Different dishes have been made in the flavor of a Crème Brulee including donuts, cocktails, chocolate bars, popcorn, etc. Even the smell of Crème Brulee has been incorporated in certain hair products as well.
History of National Crème Brulee Day:
The information regarding the origins of this day is unavailable currently. However, we do know that the dessert has an interesting history in many cuisines including the English, Spanish, and French cuisines. While the classic cuisine that we know is that of the French, there has also been mention of a similar dessert in the Spanish and English cuisines.