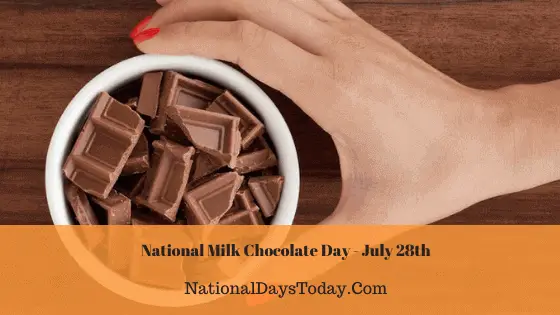 National Milk Chocolate Day:
National Milk Chocolate Day is being celebrated on July 28, every year. And it's a day to enjoy with milk chocolate of all flavors!
| | | | |
| --- | --- | --- | --- |
| Year | Date | Day | Where |
| 2023 | 28th July | Friday | United States |
| 2024 | 28th July | Sunday | United States |
| 2025 | 28th July | Monday | United States |
Twitter Hashtags:
#NationalMilkChocolateDay
#MilkChocolateDay
Related: Other National Days Celebrated on July 28th:
Why National Milk Chocolate Day:
This Day is credited to milk chocolate of all flavors. From dark Milk chocolate to vibrant buttermilk chocolate, every one of us loves these flavors. Since childhood and until now, we are fond of chocolate. Kids probably prefer milk chocolate since they do not much adore the bitterness of the dark chocolate. Kids hardly find celebrations without Milk chocolate and perhaps we can placate the kids very easily even by showing the chocolate wrapper. Sometimes we parents might be strict since we fear of cavities and health. However, we might have seen more children look for the guests in the hope that they would bring chocolates. And, that makes the importance of this Day! The versatility of the milk produces different flavors accordingly, by further adjusting the cocoa proportion. The day is to reciprocate the complete pleasure that the milk chocolate has given us and the only way is to enjoy it with utmost enjoyment.
How can we Observe National Milk Chocolate Day:
Easy! Enjoy a handful of Milk Chocolates regardless of the so-called diet or health. Post your moments of pleasure using this hashtag #MilkChocolateDay on social media. Making milk chocolate is quite easy. You Know! I believed it after searching the Preparation methods in some of the Websites.
Just try the below recipe and enjoy this day with Homemade Milk Chocolate
As suggested, the milk chocolate can be prepared in various methods like Using Chocolate Syrup, Chocolate Milk powder, Using Cocoa Powder.
And here is a recipe using Cocoa Powder
The Ingredients are:
one cup of coconut oil
One and a half cup of powdered sugar
one cup of cocoa powder
tablespoon of vanilla extract
three tablespoons of milk powder
TODO:
Step 1: Heat a pan, pour a cup of water and boil it for 1 minute.
Step 2: Gently place a large bowl in the saucepan and put the defined quantity of coconut oil. You can replace coconut oil with cocoa butter or shortening. Just stir it well. The hot boiling water in the pan allows the coconut oil in the bowl to be melted.
Step 3: After the coconut oil is melted, add the defined powdered sugar and stir it well.
Step 4: Add cocoa powder, milk powder. Stir it well until it blends well with the oil and sugars mixture.
Step 5: Add the Vanilla extract to get the flavor of milk chocolate. Mix well until it blends well and check whether it has turned smooth and creamy.
Step 6: Take an ice tray and pour the mixture. Make it even by shaking the tray.
Step 7: Freeze it for 4 hours or overnight.
Step 8: Gently take out the milk chocolate bars from the ice tray and store it in a container.
You can store it for almost 3 months and not after that since everything does have an expiry date and condition.
If you are a super disaster cook like me, just do what I do. Get the Milk chocolate from the shop and enjoy the day. It may seem lazy but it is economical since sometimes the ingredients may look costlier to that of the pre-made. Whatsoever, Enjoy this day with the Milk chocolates.
Interesting facts About Milk Chocolate Day:
Let's see a few interesting facts about Milk Chocolate,
The first-ever solid milk chocolate was prepared by Daniel Peter, a Swiss confectioner with his neighbor Henri Nestle in the year 1875.
This was the first chocolate flavor prepared by condensed milk and he names it "Gala Peter". Gala is a Greek word meaning "Milk" while the latter is his own surname.
According to the regulations defined by the Food and Drug Administration department of the United States, Milk chocolate should have 10 or greater than 10 percentage of Chocolate liquor and 12 or greater than 12% of Milk Solids.
Furthermore, the qualities of the cocoa beans are checked against DNA Testing.
The richness of the milk chocolate depends on the smooth and creamy nature and not on the basis of the sugar.
To avoid the addition of a high proportion of sugar, FDA has defined certain rules to establish the perfect quality that includes,
it should contain at least 12 percent of milk solids and at least 10 percent of liquor chocolate. It is to be noted that the addition of milk or condensed milk that is known for its versatile nature produce different flavors.
If the beans are roasted darker, the high intensity of chocolate-flavored milk chocolate can be made, termed as dark milk chocolate.
Rather, if the consistency of milk solid is in high proportion, the results will be vice versa.
Likewise, if the chocolates are processed at high temperatures, the chocolate has more caramel flavor. Therefore, Varieties of different flavored milk chocolates are available.
History Of National Milk Chocolate Day:
The Origin of this day is uncertain. However, the day is reported to be launched by the National Confectioners Association, a trade-oriented Organization that promotes candy, chocolates, and other special chocolate desserts.