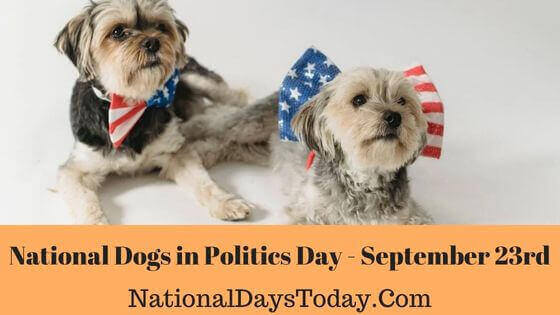 National Dogs in Politics Day:
National Checkers Day, also known as Dogs in Politics Day, is September 23. It recognizes Political Pooches, Candidate Canines, First Fidos and Revolutionary Rovers.
| | | | |
| --- | --- | --- | --- |
| Year | Date | Day | Where |
| 2023 | 23rd September | Saturday | United States |
| 2024 | 23rd September | Monday | United States |
| 2025 | 23rd September | Tuesday | United States |
Twitter Hashtags:
#NationalDogsInPoliticsDay
#DogsInPoliticsDay
Related: Other National Days Celebrated on September 23rd:
Why National Dogs in Politics Day?
Dogs in Politics Day (also known as National Checkers Day) began on September 23, 1952, when Richard Nixon gave a broadcast and televised speech in which he refuted the allegations that he took campaign funds and used them for personal expenses. His speech was later called the Checkers Speech. He stated that his family was given a black and a white cocker spaniel named Checkers, and they were determined to keep it, regardless of what others thought.
The "Checkers Speech," which attracted 60 million listeners and viewers, was successful. Everyone responded positively. Nixon gained the public's trust that day, and the accusations against him seemed absurd, all thanks to Checkers, his dog!
How Can We observe Dogs in Politics Day?
Learn more about political puppies and other political pets.
Although Donald Trump doesn't have pets, almost all Presidents before him had at least one pet. Apart from the five mentioned above, many more cute political pets have made their way into the White House. Some are even not dogs! For example, President John F. Kennedy owned a cat and a canary. He also had parakeets, and Hamsters. Horses and even a few ponies.
This website will allow you to see what other presidents have as pets for Dog in Politics Day. Pick your favorite political pet!
Host a dress-up party for your doggie-
A great way to celebrate Dog in Politics Day with your dog is to invite all of their best friends over to a doggie dress-up party! Invite them to wear their favorite Presidential dog outfits and come ready for a photo shoot. You can also prepare speeches for your dogs and have them take the "stand."
It is a great way to celebrate this day by learning about the presidents and their pets. You can also read Dear Socks, Dear Buddy, which First Lady Hillary Clinton wrote and contained letters to their pets (a dog or cat). This day is also available to adopt a dog! You can also visit Checker's final resting place on Long Island.
Make sure to post your photos on social media with the hashtag: #DogInPoliticsDay and #NationalCheckersDay!
Interesting Facts about National Dogs in Politics Day:
National Dogs in Politics Day also goes by the name National Checkers Day.
This day is dedicated to Nixon's emotional speech, which earned him the ticket to Vice President.
National Dogs in Politics Day is held every September 23 and provides an excellent opportunity to learn more about the dogs (and cats!) that have served in public office.
FUN FACTS ON FAMOUS DOGS IN THE WHITE HOUSE
Bo
Bo, a Portuguese Water Hound, was moved into the Obama White House on April 14, 2009, after an extensive review of hypoallergenic options, as Malia had suffered from allergies.
Spotty
Spotty was George W. Bush's English Springer Spaniel Spaniel. He is the only dog that has lived in the White House for two consecutive terms.
Buddy
Buddy was moved to the White House at the end of Clinton's second term, much to Socks' chagrin. It was a typical cat/dog relationship, and buddy died tragically in an accident while the Clintons were away.
Millie
Millie is an English springer spaniel and owned by Barbara and George H. W. Bush, is "the most famous White House pet in history." She was featured in episodes of Murphy Brown, Who's the Boss, and Wings.
Rex
Rex, Ronald Reagan's Cavalier King Charles Spaniel and Nancy Reagan's Cavalier King Charles Spaniel Rex, would often refuse to go into the Lincoln Bedroom at the White House. This room was long believed to be haunted by Abraham Lincoln's ghost, and it seems that Rex felt the same.
History of National Dogs in Politics Day:
1952 saw a change in the course of a presidential campaign when a dog made a difference. National Dogs in Politics Day commemorates this moment and all the great political dogs of America.
Richard Nixon spoke directly to 60,000,000 viewers on September 23, 1952, using television, which was still in its infancy. This was the largest audience of the time. The "Checkers Speech" was Nixon's defense of his innocence from accusations that he had misused campaign contributions. Nixon made himself more approachable by referring to his children and Checkers, his black-and-white cocker spaniel, in an allusion to his family. Nixon managed to win the public's trust, downplay the charges, and remain on the Eisenhower ticket as vice president.
Every President of the United States has had a dog in their First Family throughout history. This is no surprise considering Americans love dogs and how dogs can calm down in any situation. It's also essential for those who hold the most powerful positions in the world.