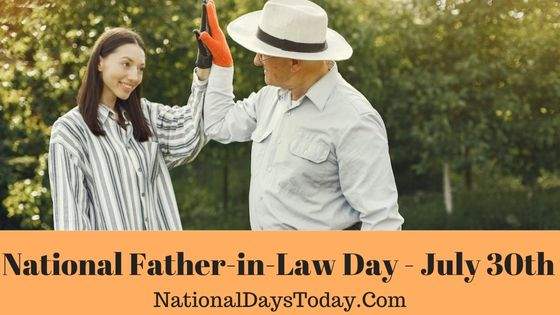 National Father-in-Law Day: 
The National Father-in-Law day is celebrated on the 30th day of July annually to recognize, appreciate, and celebrate the relationship between you and your spouse's father.
| | | | |
| --- | --- | --- | --- |
| Year | Date | Day | Where |
| 2023 | 30th  July | Sunday | United States |
| 2024 | 30th  July | Tuesday | United States |
| 2025 | 30th  July | Wednesday | United States |
Twitter Hashtags:
#NationalFather-in-lawDay
#Father-in-lawDay
Related: Other National Days Celebrated on July 30th:
Why National Father-in-Law Day?
Traditionally, a father-in-law is someone who gains the legal empathy of their ward's spouse by being their father. This day is celebrated to mark the love and affection that this special bond shares amongst themselves. The day is observed to give a chance to all the married men and women to show their fathers-in-law how much they love, care, and support them and how much you mean to them.
Parents bring us into this world and introduce us to the complexities of life. The national father-in-law day gives us a chance to thank the parents of our spouse for bringing them into this world, getting them married to you, and taking care of you as if you were his own.
Celebrating this day is a great way to honor the parents of your father-in-law. It displays that despite all the relationship bumps between you two, you still care and respect him. Celebrating the day also sends a sign to your partner that you are respectful and mindful of the affiliation needs of their parents. As a result, it will deepen and strengthen the bond between you two.
Celebrating this day is also important to mark new milestones in the relationship between you and your father-in-law. It might be that you two do not look eye to eye often, but this day allows you the opportunity to spend some time with them, share stories, and make the origin of your relationship based on love and wisdom.
How can we observe National Father-in-Law Day?
There are a number of ways in which you can celebrate and observe this day. Some of them are:
 

Sending him a heartfelt card
A card is one of the simplest yet the grandest gestures that one can choose to exhibit their love and passion towards the other person. You can either shop for a cute little card from your nearest gift shop, or make one yourself to make it more overwhelming and adding a personal value. Pair your card with some chocolates of his choice and flowers. 
 

Enjoy one of his favorite activities with him
It is important to know what he likes and where his interests lie. Take him out for the activity or sit with him and join him as he dives into his hobby. 
 

Create new bonds with him
He is the man who has raised your soul mate. If you can't really think of a suitable way to observe the day, then just be there with him and let him know you care. Talk to him, about yourself, about him, and about your spouse. You will form a very strong bond with your father-in-law in just a day. 
 

Cook him his favorite meal
Get into the kitchen, wear your apron, arrange the ingredients, lit the stove, preheat the oven, and cook your father-in-law a meal or even a dish that he absolutely loves. It will leave him licking his fingers and your bond will grow stronger. 
 

Arrange an activity that he loves
If you think that you cannot involve yourself in the activity that he enjoys, invite some of his friends over, cook up some snacks, and arrange any activity that he loves. This will let him know that you pay attention to his interests and care to fulfil them. 
 

Other interesting activities
Some other activities that you can opt to do with your father-in-law on this day is to go fishing, have lunch, pick up a beer from the local pub, visit to see a ball game, or even cook his favorite dish together.
 Post pictures with him using #fatherinlawday and #Nationalfather-in-lawDay to spread the word.
Interesting facts about National Father-in-Law Day:
                         It is also reported that to enhance sales, this day is claimed to be deliberately celebrated to make it a success like Mother's day where around a billion dollar business reported in a single day.
Two European monarchs of the early 20th century Christian IX of Denmark and Nicholas I of Montenegro were called the "Father-in-law of Europe" as some of their children married the greatest wealthier heirs.
Michael Jackson's famous father-in-law is Elvis Presley, an American singer who is hailed as "King of Rock and Roll" and regarded as the pioneer in the pop world. His daughter Lisa Elvis Presley also married Ghost Rider Star Nicholas Cage. Both marriages ended in divorce.
Famous actor Kirk Douglas is Catherine zeta-jones father-in law through her marriage with Douglas son Michael.
History of National Father-in-Law Day:
While the founder of this day is unknown, there are some speculations that are made about the establishment of this day. The first one credits the European monarchs for starting the tradition of being called the Fathers-in-Law of Europe that is when each of their children got themselves married to the prince and princess of foreign countries.
A second view holds that a card company first started the day in order to boost their sales, while a third view generates from the fact that a father-in-law became envious of the mother-in-law day and started the day as a reaction to his jealousy.