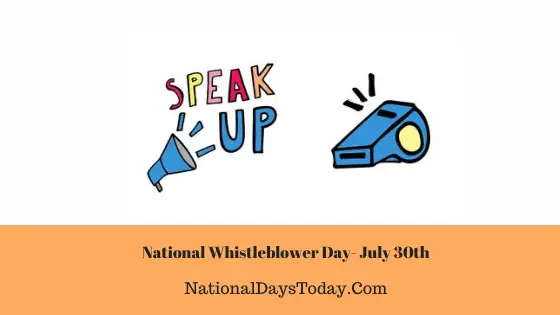 National Whistleblower Day:
Celebrated on July 30, every year, this day is to appreciate the efforts of Whistleblowers and their contributions towards their organization's well being.
| | | | |
| --- | --- | --- | --- |
| Year | Date | Day | Where |
| 2023 | 30th  July | Sunday | United States |
| 2024 | 30th  July | Tuesday | United States |
| 2025 | 30th  July | Wednesday | United States |
Twitter Hashtags:
#NationalWhistleblowerDay
#WhistleblowerDay
Related: Other National Days Celebrated on July 30th:
Why National Whistleblower Day?
People who are all willing to step-up against other person's wrongdoing,  deserve a day to get appreciated and recognized for their actions. Whistleblower actions protected many fraud and illegal activities around their organization. This day tells that one should not hesitate to allegate when they witness the wrongdoings of others. So whistleblower day should inspire and respect those who have the courage to speak up their mind and protect from the harm.
How to observe National Whistleblower Day?
On this national day, let us observe the types of whistleblower and their privileges:
Being an Internal Whistleblower, one can observe his fellow employee or superiors who tries to do the illegal activity, misconduct, or unacceptable behavior which may affect their company. Whistleblowers can report them through the company hotlines as anonymous reports. By reporting anonymously, one can avoid retaliation of that person who has been punished because of his wrong actions.
Being an External whistleblower can report the wrongdoings to law enforcement, media, police, or lawyer. If you remember, the best example of the external whistleblower is rewarding him or her money to report that particular person who has done some wrong actions.
Third-party whistleblowers are nothing but an external agency or anonymous reporting through whistleblowing hotlines which is often considered by an organization to protect from code of misconduct. Companies find it is the easiest way to protect the organization from misconduct or compliance because of its anonymous report via hotlines or web-based or app-based reports.
Nowadays, the Private sector whistleblower is not as effective as the public sector because it represses whistleblower due to its strict regulations. Private organizations suppress a person's wrongdoings in order to protect the company's image. They often won't let their illegal activities to let out in public. Though it is not a high-profile, some of the organizations protect the whistleblower and take actions of reported wrongdoings.
Public sector whistleblower is highly recognized and protects the whistleblower from the act of retaliation under First Amendment rights. Witnessing and exposing the misconduct and illegal activity against the government is always a huge fear for a public employee. These laws have been laid down in order to protect those who are stepping up to report illegal actions.
Psychological Impacts are caused due to the bad experience the whistleblower faced. Many negative aspects are present after he or she blows the whistle. This leads to fear of threatening career destruction, may get isolated after whistleblowing or they may start accusing their family. It tends to result in psychology issues so one must have a strong will if they choose to go against people's wrongdoings.
write about or share interesting facts about Whistleblower day by using this hashtag # Whistleblowerday on social media
Interesting facts about National Whistleblower Day:
Benjamin franklin is the first American whistleblower to leak a few of the Hutchingson's letters in 1773. However, his good intention later backfired him for causing a Rebel that made as a step up to the war between American and Great Britain.
Edward snowmen, also an American whistleblower shocked everyone by leaking highly confidential information of NSA and revealed about global surveillance. He fled to Hongkong and released the NSA document to the journalist of The Guardian and The Washington Post.
Another whistleblower John Chris Kiriakou is a Greek American journalist and author who worked for CIA asserted guilty for exposing a fellow CIA identity. He was prisoned for 30 months which makes him a Second CIA for leaking identities.
In the 2000s, Stefan P. Kruszewski, a whistleblower who became aware of mentally-ill children were given overmedication and physical restraints. He won First Amendment and lawsuit against the hospital after he got fired from the Public welfare department for whistleblowing the information.
In recent years, an anonymous CIA officier blew a whistle about the Intelligence community of Inspector General in The Washinton Post stating U.S President Donald Trump made a promise to an unidentified foreign leader. It later became the Trump-Ukraine scandal and acquitted those charges.
Li Wenliang, who alerted about COVID-19 on December 30, 2019. Wuhan police have demanded the presence and criticized him for spreading false accusing on the internet. Li Wenliang later Contracted by COVID -19 and died on February 7, 2020.
There were many Whistleblower who stands up against what is right and what is wrong. Those are the people who selflessly emboldened in order to protect their Nation and organization from people who sabotage by their wrong actions. So don't fear to stand up for the right ways.
History of National Whistleblower Day :
 From our Knowledge and research, we are unable to find the Origin and founder of the National Whistleblower Day