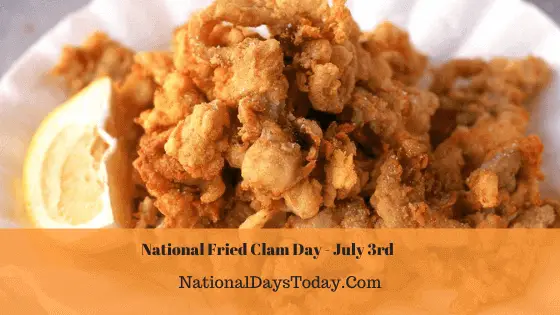 National Fried Clam Day:
Celebrated on July 3rd every year. The day is to enjoy fried clams.the process of deep-frying the clams after being coated in the bread crumbs and striping it further.
| | | | |
| --- | --- | --- | --- |
| Year | Date | Day | Where |
| 2023 | 3rd July | Monday | United States |
| 2024 | 3rd July | Wednesday | United States |
| 2025 | 3rd July | Thursday | United States |
Twitter Hashtags:
#NationalFriedClamDay
#FriedClamDay
Related: Other National Days Celebrated on July 3rd:
Why Fried Clam Day?
The national fried clam day is to enjoy fried clams. The process of deep-frying the clams after being coated in the bread crumbs and striping it further is a traditional way of preparing fried crumbs since it's invention right from the year 1916. Dipping in a tartar sauce and slurping a fried clams will be the perfect choice to enjoy this day.
How we can Celebrate National Fried Clam Day:
The main custom is to have a deep-fried clams prepared by striking repeatedly and coating with bread crumbs. Lets go for a traditional one to celebrate this day. Prepare fried clams and enjoy this day. Never forget to post your enjoyable moments using this hashtag #friedclamday on the social media. No matter if you don't have time to prepare this all. Just go to some fine restaurant with your families and friends and enjoy this day by having fried clams too in the menu.
try this out,
Step 1: Take a bowl, mix 2 egg yolks, half cup of milk, quarter cup of water, half cup of all-purpose flour and a pinch of salt. Stir well.
Step 2: Add the egg white and stir it well and we are done with the batter.
Step 3: Pour oil in a pan,take the clams and dip it in the batter. Deep fry it, serve it with the tartar sauce.
It can also be prepared with different ingredients like corn, pastry flour, soya bean oil etc. Post your recipes with the above ingredients if you are acquainted with.
Enjoy this day with fried clams.
Interesting Facts About Fried Clam Day:
Clams has low cholesterol and fat.but it does absorbs fat during the cooking process.
Fried clams are mentioned in some of the American cook books and hotel menu in 1850 itself, but rather it was mentioned with some other names not fried clam literally and the preparation methods also slightly differs.
Fried clams are quite popular in new England compared to the United States. However, fried clam is reported to be originated from the United States.
Different species like hard shell clams, soft shell clams, manila clams, Razon clams, Geoducks, Ocean quahogs, surf clams, donex clams  along with the respective subspecies are cumulatively called with a common name clams.out of this all, certain species of clams can be steamed, thus potentially called as steamers.quahog is one of the best steamer. Besides,hard shell clams can also be steamed. It has acquired the name "steamer" only on the basis of its preparation procedure.
History of Fried Clam Day:
The creator of National fried clam day is Lawrence Henry Woodman in the year 1916. He had ran a moderate type of restaurant when he kept the field clams in menu. Due to its flavor, it has garnered a country-wide attention. The first popular fried clams were made on July 3,1916. in Essex, Massachusetts.
After that, Thomas Sofforon who owned a company, Sofforon Brothers clam and co, created a new recipe with clam strips and sold it to one of the famous American chain hotel, Howard Johnson's after a deal. Howard Johnson's restaurant further expanded and listed the dish in all its branches making it further popular.