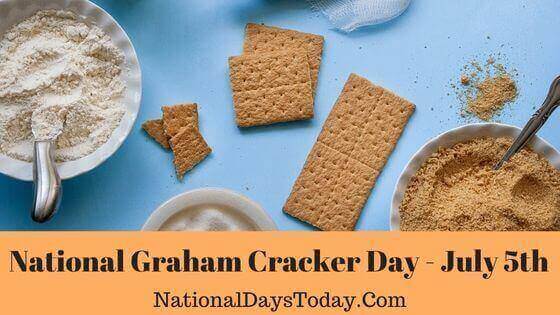 National Graham Cracker Day:
To commemorate the taste of graham crackers made from whole grains, the world celebrates National Graham Day on July 5th annually. 
| | | | |
| --- | --- | --- | --- |
| Year | Date | Day | Where |
| 2023 | 5th July | Wednesday | United States |
| 2024 | 5th July | Friday | United States |
| 2025 | 5th July | Saturday | United States |
Twitter Hashtags:
#NationalGrahamCrackerDay
#GrahamCrackerDay
Related: Other National Days Celebrated on July 5th:
Why National Graham Cracker Day? 
We know that July is filled with the appreciation and observation of almost all kinds of things and the month gives us a chance to celebrate the most amazing and less-called for things. One of these things is the celebration and commemoration of the National Graham Cracker Day. 
Graham crackers are known around the world for contributing to those exquisite pie base ingredients, a coating to your fried meals and even as a great s'more. Of course these savories deserve a day of their own and no one is to disagree!
On this day, numerous bakers come together to produce crackers of various flavors including cinnamon, honey, and  chocolate with a slight blend of white gram flour. You can also see them getting sold in those funny shapes and sizes. 
How can we observe National Graham Cracker Day ?
The  day can be observed by engaging oneself in a lot of innovative and interesting activities. Let us look at some of them: 
The simplest yet the best way to celebrate and observe the day is to buy yourself some plain graham crackers and munch on them with your breakfast or as your mid morning snack. 

Go to the store and buy a frosting of your liking and choice. Next, top your plain and bland crackers with the frosting and enjoy the eternal bliss all by yourself. 

Graham crackers are available in a number of forms and varieties in the stores today. Look out for the delicious teddy grahams and have a taste at it every now and then. 

Cook up some delish recipes that involve the use of graham crackers. You can make s'mores or pies made up of graham cracker crust. To spice up the game, you can also host a challenge that calls for each of your friends to come up with the best graham cracker recipes! 

If you do not want to go out and buy yourself some crackers, you can also make them at your home. They are easy to bake and the ingredients are almost always in easy availability. 

You can spread the word and let your close ones know about how you are celebrating your day by posting pictures of your celebration with the hashtag #GrahamCrackerDay and #NationalGrahamCrackerDay on social media and tagging your friends. 
Interesting facts about National Graham Cracker Day:
Here are some interesting facts that we bet you never knew about the day and Graham crackers that would absolutely take you by surprise. 
Graham crackers came into existence to reduce the alcohol intake and lustful desires and keep mankind free of human sins. 

The popularity of graham crackers increased so much in the 20th century that there was an entire group of people known as the Grahamites who promoted the consumption of the product. 

Graham crackers are used in both savory and sweet recipes, making them a very versatile ingredient. 
History of National Graham Cracker Day:
The origin of this day is unknown whereas the history of graham crackers goes back to their invention by Reverend Sylvester Graham in the 19th century as an effective way to get rid of evil entities like lust and gluttony. These were produced and eaten on a small scale until the U.S took over and started selling them on a national industrial and commercial level scale. That was when the general public got to have a genuine and truly authentic taste of it, making them appreciate its uniquely bland taste. This development rapidly took place somewhere near the 1880s and saw the rise of the popularity of Graham crackers around the globe. 
Not more than 30 years after this, another U.S based country known as Loose-Wiles Biscuit Company took the commercial production to next level and started selling these crackers to be made available not only to the U.S natives but to other neighboring countries as well. Fast forward to this day when the graham crackers are available in almost every household, the success for which can be attributed to the National Biscuit Company that took matters in its own hands in the year 1925 by officially producing these crackers under the name of Honey Grahams. 
Today, as a result of the endowment of so many businesses involved, we celebrate the National Graham Crackers day to recognize the success and popularity of this delish snack as being refined throughout the years.