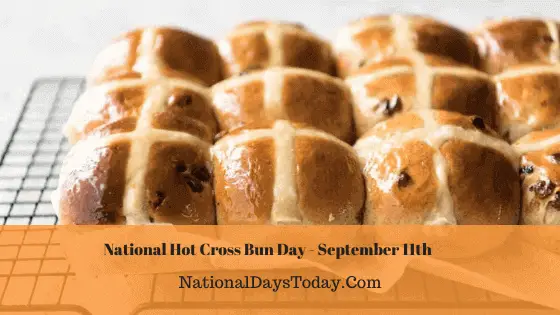 National Hot Cross Bun Day:
Celebrated on September 11th every year. The day is for hot cross bun; a sweet bun made up of raisins or currants and stuffed with spices.
| | | | |
| --- | --- | --- | --- |
| Year | Date | Day | Where |
| 2023 | 11th September | Monday | United States |
| 2024 | 11th September | Wednesday | United States |
| 2025 | 11th September | Thursday | United States |
Twitter Hashtags:
#NationalHotCrossBunDay
#HotCrossBunDay
Related: Other National Days Celebrated on September 11th:
Patriot Day and National Day of Service and Remembrance
Why Hot Cross Bun Day?
Well! The day is for hot cross bun; a sweet bun made up of raisins or currants and stuffed with spices. The place of origin is the United Kingdom; however, it has become a traditional food in all the historically Christian countries. It is traditionally made up of non-dairy products and eaten on the Good Friday.
The hot cross bun is particularly eaten to mark the end of Lent, a religious observance that begins on Ash Wednesday and ends before Easter Sunday. The Christians in between of these days observe fasting, sacrifice all the luxuries and finally at the end of fasting, it is finished by having a hot cross bun. However, it depends.
How we can Celebrate National Hot Cross Bun Day:
Try some hot cross buns at home and enjoy the day. You have loads of cooking websites where you can find all these stuffs. Use this hashtag #hotCrossBunDay to post on the social media. Besides, there are so many superstitious stories that existed in the past regarding the hot cross bun in which I have researched and stated few in the interesting facts section. You just explore more and post any unknown facts in the comment section or using the hashtag. Enjoy the day with hot cross bun.
Interesting Facts About Hot Cross Bun Day:
Traditionally, hot cross bun is a popular food on Good Friday in United States, United Kingdom, Australia, Canada, New Zealand and South Africa.it is popular during the Christmas and New Year seasons.
In most of the Christian countries, the traditional way of preparing hot cross bun is strictly followed and the inclusion of dairy products as ingredients are forbidden. There is a popular belief that the hot cross bun represents the crucifixion of the messenger of God, Jesus Christ and the spices used in the hot cross bun were the same spices used for embalming Jesus Christ before the burial.
Many irrational beliefs existed in the past with respect to hot cross bun. Few believed that hot cross bun which is prepared on the Good Friday does not decay even for a year rather it grows moldy. Few believed that hot cross bun, if carried during the voyage, prevents shipwreck. Few believed that if a hot cross bun were given to the person who is ill, he or she would immediately recover. Few believed if it is hung in the kitchen, it prevents firing. Few believed that it should be kissed before eating since it encompasses a cross symbol. However, those were baseless rumors according to scientists.
In the United Kingdom, the other hot cross bun variants are of coffee, apple cinnamon and orange-cranberry whereas in Australia coffee and chocolate flavored hot cross buns have become popular. Moreover, a variant, namely "Not cross bun" becomes popular in Australia in which the same ingredients are used but it does have a smiley face rather than the traditional cross symbol. The Australian bakery which prepared this Not cross bun stated that the smiley is to represent "Not Angry". Caramel version is also quite popular in Australia and New Zealand.  In Some other Christian counties, it is denoted with different names like in Czech republic, it is referred as 'Mazanec".
History of Hot Cross Bun Day:
The origin of the national hot cross bun day is unrevealed within the research.