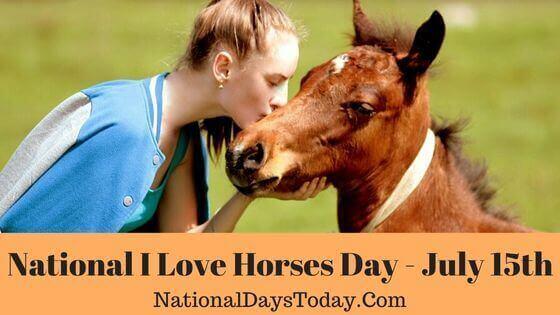 National I Love Horses Day:
National I Love Horses Day is celebrated every July 15th to tribute the contribution of horses to the country's development.
| | | | |
| --- | --- | --- | --- |
| Year | Date | Day | Where |
| 2023 | 15th July | Saturday | United States |
| 2024 | 15th July | Monday | United States |
| 2025 | 15th July | Tuesday | United States |
Twitter Hashtags:
#NationalILoveHorsesDay
 #ILoveHorsesDay
Related: Other National Days Celebrated on July 15th:
National Give Something Away Day
 Why National I Love Horses Day?
Horses don't need any introduction. The Incredible qualities of horses make them special. Similar to dogs, Horses are also equally domestic and loyal animals. They have wonderful stamina, strength, and speed. Subsequently, the horses are social animals and have incredible memory power. They are known for friendships with humans as they are wise enough to understand human feelings such as anger, stress, and happiness. Thus, becoming a part of the people. On the other hand, the horse becomes an active Participant in developing American agriculture that in turn leads to the economic development of the country. Moreover, they still contribute a lot to travel, transportation, farming, welfare, and entertainment. Therefore, to recognize their contribution, every year this day is celebrated.
How can we observe National I Love Horses Day?
Do you love horses? Do you have a horse at your house? Then this is the day for you. Show your love and kindness by celebrating this special occasion with them. This day is dedicated to all the Horses and their active contribution to the society and environment. Share your most lovable picture with your horses on social media platforms.
Show some love
. The bond between horses and human has a prolonged history. It is unfortunate that horses are ill-treated in the name of work. Like humans, every other animal must be given shift basis work. As we know still several foundations try hard to demolish animal abuse. Still, we can find on YouTube and the Internet that horses and animals are being cruelly punished or loaded with unbearable work. This day strongly suggests and condemns those people and reminds those people that the earth belongs not only to human but to every living creature. So, let's stop this callous inhuman behavior and shall insist on the same through hashtags #NationalILoveHorsesDay and #ILoveHorsesDay.
Ride a horse
If you have never ridden a horse by yourself then this is the finest opportunity for you to take a ride on this special day. Hurry up and ride today.
Spend a day with horses
Find a local farm in your location and visit there to celebrate the day. Never forget to share your moments using the mentioned hashtags.
Interesting facts about National I Love Horses Day:
Some of the interesting facts about horses,
Horses come into existence 50 million years ago. They also become part of domestic animals from 4000 B.C. Not only that they play numerous roles in human life including protecting, helping them in transportation, and Agriculture. To celebrate these versatile roles of them the day has been included as a national day and people every year show their affection by celebrating the day.
In the United State of America where horses become one of the most important domestic animals and for the companionship of a maximum number of men in US. To celebrate the role of each responsibility of horses the day is recognized as national I love horses a day and people also become very much fascinated to celebrate the day.
Horses often plow the field before the invention of the tractor.
Horses use flehmen," to determine whether a smell is good or bad. To expresses their mood, Horses use their ears, eyes, and nostrils. Subsequently, horses have the biggest eyes in comparison with any other animals. Their teeth take up a large space in their head. Horses Use their facial expressions to communicate their feelings. Red ribbon horses usually kick. Their eyes allow them to take a 360-degree angle view around them. Horses prefer to stay around other horses.
History of National I Love Horses Day:
The origin of the day remains obscure and we can realize the importance of horses in human life that made someone dedicate a day. The horses came into existence some thousands of years ago and supported human since 3000 B.C through domestication and as a mode of transportation. History recognizes their pivotal role as messengers, artillery, and a mode of transportation for shifting wounded battalions.  Horses have a significant role as cavalry played a very important role during ancient wars as well as today it is considered as a gesture to have cavalry in every army.