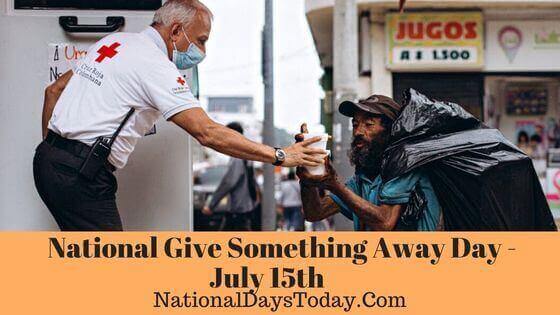 National Give Something Away Day :
Every year on the 15th of July, the National Give Something Away Day is celebrated enthusiastically.
| | | | |
| --- | --- | --- | --- |
| Year | Date | Day | Where |
| 2023 | 15th July | Saturday | United States |
| 2024 | 15th July | Monday | United States |
| 2025 | 15th July | Tuesday | United States |
Twitter Hashtags:
#NationalGiveSomethingAwayDay 
 #GiveSomethingAwayDay 
Related: Other National Days Celebrated on July 15th:
Why National Give Something Away Day?
We have all the fortunate things with us which make our lives better whereas some people do not have the opportunities to live a better life. Nothing is better than offering some of your things to those needy people. Contributing your few things can bring a big smile. On this particular day is being observed to create an awareness to give things away that you don't need any more. Further, the day also encourages donating good clothes, food, and education for someone.
Hence, this is the opportunity for all fortunate people to give a little bit of contribution to the needy people. Every year in the United States, people take participate in this celebration and give something away.
You can make someone's day peaceful by offering the daily needed items like food and clothes so that your kindness will not be forgotten forever. 
How Can We Observe National Give Something Away Day? 
Buy a meal
To make someone's day special you can buy a meal or can offer a drink. You can either invite them to your house or can simply take them to local restaurants to offer their favorite food. Capture those wonderful moments and share them using the hashtag #BigSmile to post on Social media.
Donate clothing
On the other side, you can also donate used clothes that are being shelved for years. You can donate to local NGO and help the poor people who could not afford clothes. When you offer clothes make sure, it is in good condition and not torn. By providing your kid's used toys you can also help them to make their days.
Give flowers away
Giving flowers is another one more gesture to show your respect and love. Using the #Nationalgivesomethingawayday and #givesomethingawayday to share all sweet moments on social media platforms.
Make a Habit:
Make a habit of donating on a regular basis. A little help would benefit someone. Several NGO's offer installment Donation service where your donations will be auto-debited as per your subscription policy.
Interesting Facts About National Give Something Away Day:
Let us check out all the interesting facts about the impact of being poor in the United States,
As per researchers every year Around 75000 people are homeless and spending their nights on street. It is the result of 2017 and now it is expected to be increased to at least 1%.
More than 580000 thousand people in the USA are homeless. They are experiencing very bad conditions being homeless and remaining on the roads.
According to the latest research, there are more than 1.54 million charitable organizations in the USA and they are helping the poor people to live a sustainable life by offering some basic needs.
On the other hand, more than 11.9 million kids are living a poor lifestyle in our country that is further expected to increase rapidly due to the corona crisis.
Per day one pound of food is wasted per head. If this is calculated on a national basis, then every year around 103 million tons of food is wasted in the United States of America.
More than 38 million people in the US are struggling with starvation. They are not enough fortunate to have nutritious foods on daily basis. 
40.6 million People are living in poverty. And poor education, inequality, and inflation are the main cause of why people are poor in the US. A large section of people is not receiving education which leads to unemployment and that in turn push themselves in crime.
The unemployment in the USA is also increased on a monthly basis which is 3.6 %. According to the US Department of Education, approximately 54 % of 130 million people in the US are dealing with illiteracy.
The government also actively plays its role toward poor people. And to help them to come out of their situation they provide social security, Education, etc. 
History of National Give Something Away Day:
In the year 2015, the day has been founded by Linda Eaton Hall-Fulcher. She announced the day to help all those unfortunate people who are unable to have a daily life. On this day, people also donate their leftover foods to the nearest food library or food pantry and takeaways. Initially, the day becomes a national day in the United States and later spread to other countries because of its noble cause.