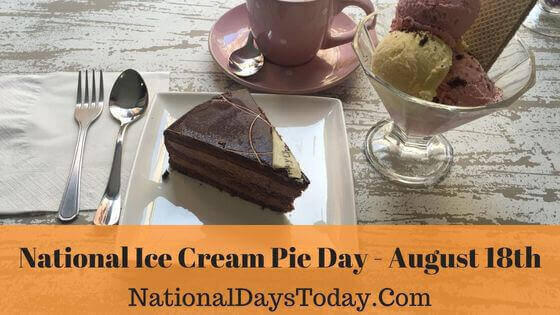 National Ice Cream Pie Day:
National Ice Cream Pie Day is celebrated each year on 18th August to honor the decedent taste of this dessert in the United States. 
| | | | |
| --- | --- | --- | --- |
| Year | Date | Day | Where |
| 2023 | 18th August | Thursday | United States |
| 2024 | 18th August | Saturday | United States |
| 2025 | 18th August | Sunday | United States |
Twitter Hashtags:
#NationalIceCreamPieDay
#IceCreamPieDay
Related: Other National Days Celebrated on August 18th
National Mail Order Catalog Day
Why National Ice Cream Pie Day? 
Who doesn't like ice cream? Well, ice cream pies consist of 2 delicious things: ice cream and pies. It's a frozen food which will melt your heart instantly!
It is celebrated in the United States annually to celebrate the delicacy of this frozen dessert. It comes in many refreshing and varied flavors. This dish takes something as simple as ice cream and pie bases and makes a new dessert that will leave your mouth wanting more.
Ice cream pie is also very famously known as Pie a la mode and makes the most refreshing and perfect dessert for someone who cannot decide if they want a pie or an ice cream cone for their birthday! 
Some of the strangest flavors for Ice Cream Pies are chili, stilton cheese, licorice, avocado, and bacon. That being said, most people believe ice cream packs a mean punch. It gives us ample energy in the form of the sudden sugar rush we get along with enough fat and some protein. Additionally, we can always have it guilt-free if it is enjoyed occasionally. 
How can we observe National Ice Cream Pie Day? 
The National Ice Cream Pie Day can be observed in several ways. However, some of the most common ways in which you can celebrate and observe this day to the fullest include the following options: 
Make an ice cream pie at your home by putting in a ready-made mix or making it from scratch. You can be innovative in your approach to creating different flavors by experimenting with recipes, or you can download and try your favorite recipe from any social media platform. 

You can also host a party at your home to make the day enjoyable by inviting your friends over and asking them to make their variant of an ice cream pie to know what tastes the best. 

The simplest and the most popular way to celebrate is to buy an ice cream pie from your favorite bakery shop or patisserie. 

Try different flavors of ice cream pies, including, but not limited to, lemonade, chocolate crunch, peanut butter, banana split, and black forest, to name a few. 

Shout out to your favorite bakery shop or online patisserie business on your social media story or status with #nationalincecreampie day
To reach a wider audience and help your friends and family know how you are observing the day, post your celebration pictures using the hashtag #IceCreamPieDay.  And don't forget to share your recipe!
Interesting facts about National Ice Cream Pie Day :
Here are some of the fun and interesting facts about ice cream, pies, and the National Ice Cream Pie Day that the US celebrates every year: 
Ice Cream Pie is said to be one of the most addictive desserts in the world. This can be because these are mainly made up of fats and sugars. Having said that, when these components enter your mouth and melt on your tongue, it sends a happy and different kind of buzz to your brain, making it want more. 

With the increase in people demanding dairy-free products, the world has also seen a rise in dairy-free ice cream pies. Recently, there has been a surge in sorbet pies, which are frozen fruits and sugar mixture on top of a pie crust; that is, only the dairy is missing. 

In a recent survey conducted, it was found that almost 90% of the native Americans have ice creams stored at an arm's length. You can find ice creams in their freezers nearly any time of the year. 
History of National Ice Cream Pie Day:
Despite trying our best, we could not track the antique roots of the day. However, we had come closer to it explaining how and when ice creams were first served on pies, and the two most delectable desserts were combined. Ice cream pie was discovered in 1885 in the Duluth city of Minnesota.
 There are stories of the Superior Street Restaurant serving blueberry pie with ice cream. However, it doesn't end here. Many claim ice cream pie to be an invention of New York's Delmonico's Restaurant. Yet another class of people dates the discovery of ice cream pie back to the Chicago World Fair of 1893.