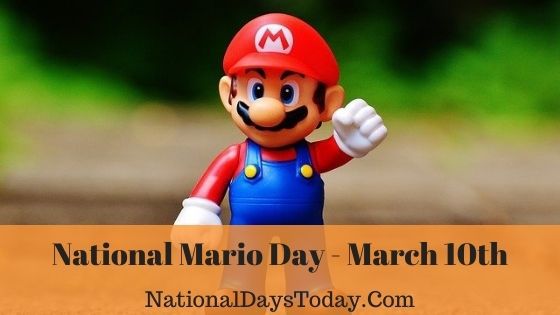 National Mario Day
March 10 is mainly known as Mario Day, a day to celebrate the popular and plausible Nintendo video game franchise, Super Mario.
| | | | |
| --- | --- | --- | --- |
| Year | Date | Day | Where |
| 2023 | 10th March | Friday | United States |
| 2024 | 10th March | Sunday | United States |
| 2025 | 10th March | Monday | United States |
Twitter Hashtags:
#NationalMarioDay
#MarioDay
Related: Other National Days Celebrated on March 10th:
National Women and Girls HIV/AIDS Awareness Day
National Blueberry Popover Day
Why National Mario Day?
The reason why fans of this game have chosen March 10 for a holiday is that March 10, when written in abbreviated form with a space between month and date- mar10: looks the same as the word Mario.
If you grew up in the 1980s -1990s, you would know about Mario and his brother Luigi. They are the most renowned character of any of the Nintendo games. Mario has become a huge part of gaming history for several years. Mario's character corresponds to a chubby Italian plumber with a big mustache, wearing a red and blue uniform and red hat. Mario got his own game in 1983.
Mario was first imported in Nintendo's game named Donkey Kong. He was not a well-named plumber in the early 1980s as compared to today. His name was Mr. Jump man, who was a carpenter. The design for the first character of super Mario, donkey Kong, star fox, and Zelda's legend.
Once he broke out of his own, his name changed from super Mario bross and profession to plumber; Nintendo's games got featured and have sold over 262 million copies worldwide, which made it the most successful video game series of all time.
In this fictional Italian plumber, the super Mario video games follow Italian plumber Mario and his brother's adventures. They both try to reclaim the princess Peach from the evil .fictional Peach was the princess of mushrooms' kingdom.
It wasn't just a character that made the game well-known but the technology inherent in it to the forfront of the video game. The release of Super Mario 64 brought with its groundbreaking 3-dimensional graphics. It was also the first game with a camera view that could be controlled by the player itself. This Mario series has been an important part of the gaming industry, which made technological jumps through the years in console gaming. Mario series has done its best way to keep its gameplay fun, challenging which made people of all ages addicted to it.
How Can We observe National Mario Day?
Throw a party to your friends with Mario's theme; playing one of the Mario games would fit in it better.
Celebrate it with cake and cupcakes
Cake and cupcakes can make this day more enjoyable; playing Mario games with some sweets hand to hand will make your party super-duper rocking.
Celebrate it on social media
One can also celebrate this day by posting pictures on social media by using the hashtag #NationalMarioDay and letting your friends and followers know that you are also fans of Mario.
 Interesting facts about National Mario Day:
Other sequels followed the same as Mario was Mario bros 2, which had released a Japanese plus the American version followed by Mario bros 3 & 4.
The Nintendo Company was facing difficulty in entering the market of games and had tired of making various attempts by manufacturing numerous games previously, but every attempt got failed.
After Shigeru designed it, the company had hired Ikegami Tsushinki to program it.
It was the first game of its kind at that time, having a background story with a lovely character that could move aside and jump too.
The staff started giving nicknames and started calling jokingly niyanmoto's character Mario.
Mario has its own TV show.
Mario has appeared in over 200 video games with the entire franchise, which has sold over 193 million units worldwide.
According to Mario's creator- Shingeru Miyanmoto, Mario wears a cap simply because drawing hair was difficult for him.
Mario has played the character of a carpenter, plumber, doctor, CEO, athlete, and akart racer.
History of National Mario Day:
During the early 80s, Mario came into view in a number of Donkey Kong sequels and other games. These included donkey Kong Jr in1982, Donkey Kong ll in 1982, Mario's cement factory in 1983, and Mario bombs away in 1983. Then a game was released that would begin to be called the Mario craze.
In 1983, Mario had given a brother, an infamous Luigi, and was put into a major metropolis plumbing system in Mario 1985, a game released in 1983. In 1985, super Mario bros were released two years later and got fame in the gaming industry. In 1988 super Mario bros 3 got released, and many consider it to the best Mario game.
From 1988 till now, a variety of different Mario games have been released. These comprise super Mario world in 1990, super Mario kart in 1992, super Mario 64 in 1995, super Mario bros deluxe in 1998, super smash bros in 1999, Mario sports superstars in 2017, Mario kart 8 deluxe in 2017, and super Mario odyssey in 2017. There are dozens of games featuring jumping Mario.
Nobody knows who invented this holiday, but March 10 was chosen for this celebration because this day abbreviation (mar10) looks like Mario.