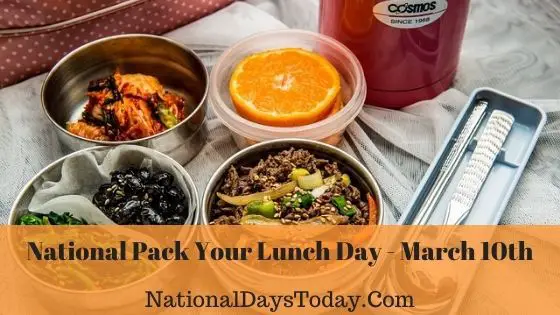 National Pack Your Lunch Day
National Pack Your Lunch Day is celebrated annually on the 10th of March to celebrate the feeling and emotions attached to the packed homemade lunch.
| | | | |
| --- | --- | --- | --- |
| Year | Date | Day | Where |
| 2023 | 10th March | Friday | United States |
| 2024 | 10th March | Sunday | United States |
| 2025 | 10th March | Monday | United States |
Twitter Hashtags:
#NationalPackYourLunchDay
#PackYourLunchDay
Related: Other National Days Celebrated on March 10th:
National Women and Girls HIV/AIDS Awareness Day
National Blueberry Popover Day
Why National Pack Your Lunch Day?
Lunch time is that precious moment of the day about which all of us can get excited. It's a moment in the middle of the busy day when we treat ourselves a delicious bite of energy from our lunch boxes that were enclosed with healthy dishes along with a lot of our mother's love.
Just keep your mind still and remind yourself of the good old days when your mother used to pack your lunch during your schooling days that I guess you may have traded with your friends and classmates for their dishes, which might have eventually resulted in building some great friendships. National Pack Your Lunch Day is a day that allows you to revisit the great golden days by packing a delicious lunch for yourself just as your mother would have done for you in your childhood.
In my view, lunch, even after being the most crucial meal, doesn't get that much importance in our daily lives. If you don't agree, just think of it on your own that. Have you ever told someone that I need to take lunch right now as it's a pretty important meal or introduced lunch as a meal for anyone? I bet that you won't be able to remember such moments, which proves my statement.
It's quite obvious that an empty stomach is a great obstacle in producing higher work efficiency. When an individual keeps working the whole day, he needs to have a dosage of energy in the form of lunch to make him stay agile and focused on work.
Lunch is an abbreviated form of luncheon, which means the food eaten at any time of the day or night whose meaning gradually changed to a small or mid-sized meal taken during mid the day. Lunch servings vary according to the various cultures, traditions, and eating habits around different parts of the world.
With the changing times, everyone had forgotten the health benefits of lunch as they keep continuously pacing towards fast foods such as burgers, pizza, noodles, etc., which may give them instantaneous pleasure but damages their health in the long run. This day gives us a chance to get rid of these fast foods.
Packed lunch has several advantages. It is cheap compared to other fast food options. It is healthy because you would have surely customized it according to your diet plan, and it is free of unknown ingredients that can come to you in fast foods without your choice.
How Can We Observe National Pack Your Lunch Day?
One can observe any days of happiness in their very own unique ways in which they feel delighted and happy. Here we are providing you with some of the great ways to observe National Pack Your Lunch Day.
As the name suggests, the first and the foremost important activity one should do on this day is to pack his or her own lunch with his own choice of healthy dishes instead of just putting down some brownies.
Leave Fast Food Addiction
If you have been a fast-food addict, this day will be a perfect day to rehabilitate yourself from that unhealthy food.
Prepare your shopping list.
Now that you have decided to leave fast foods and get healthier lunch, why not prepare a shopping list for the lunch essentials and head directly to the market to buy them for your daily lunch requirements.
Take your packed lunch boxes wherever you go and share them with others just like the old school days and encourage them to bring their packed lunch boxes and leave the unhealthy habits for a healthy future.
Proudly share your childhood incidents and memories along with your National Pack Your Lunch Day activities on social media platforms such as Instagram, Twitter, Facebook, etc., with hashtag #PackYourLunch and make the world aware of your happiness.
Interesting Facts Of National Pack Your Lunch Day:
The first licensed animated character to appear on the lunchbox was Mickey Mouse in 1935.
In 1950, the first one of its kind, a television show based lunchbox which came into existence, was The Hopalong Cassidy lunchbox.
Do share these interesting facts on National Pack Your Lunch Day among your acquaintances and friend circles.
History Of National Pack Your Lunch Day:
The origin and founders of this day are still unknown, but we can assure you that whoever has created this day must have done so to make everyone realize the importance of self packed lunch. So from this National Pack Your Lunch Day, dedicate yourself to living a healthy life.