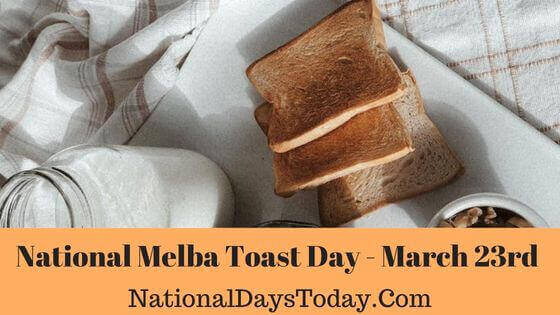 National Melba Toast Day
This day is celebrated on 23rd March, and it is observed to acknowledge Chef Auguste Escoffier's admiration towards his favorite opera singer, which lead to the creation of Melba Toast. This thinly sliced crispy bread tastes very good.
| | | | |
| --- | --- | --- | --- |
| Year | Date | Day | Where |
| 2023 | 23rd March | Thursday | United States |
| 2024 | 23rd March | Saturday | United States |
| 2025 | 23rd March | Sunday | United States |
Twitter Hashtags:
#NationalMelbaToastDay
#MelbaToastDay
Related: Other National Days Celebrated on March 23rd:
Why National Melba Toast Day?
Melba Toast is the perfect food for those who love chomping snacks. It is not like any other regular toast; it is a thin-sliced crispy toast very light and delicious with a crunch on it. It is not hard. Melba toast can be eaten plain or with some additional toppings, and it tastes good either way. It is a great canvas to build appetizers and can go with many recipes. One can have it with butter, cream cheese, fruit, salad, or soup; this sturdy toast helps add a beautiful canapé plate.
The Melba Toast day's creator may remain anonymous, and the significance of choosing this precise date also unknown, but the food itself has an interesting history. The creation, or rather say the history of the name, is associated with the amazing Dame Nellie Melba, which was the stage name of the famous Australian opera singer, Helen Porter Mitchell. Once, Nellie Melba was ill and advised to have a regulated diet that included dry toast. But the problem was regular toasts weren't enough to suit her palate, but she truly loved toast. It was then Auguste Escoffier, a French chef who admires Nellie Melba created a special thin and light toast, which was later named after her and known as Melba Toast. Initially, Chef Escoffier named the toast "Toast Marie," but the name has not been used for a long time. Melba toast quickly became a staple of the famous opera singer, and soon enough, this led to the name Melba toast.
The baking process is slightly different than normal bread. Slices of bread are lightly toasted under the grill on both sides. The toasted bread then again sliced into thin pieces, which gives it the characteristic crispy, dry, and thin appearance. As the toast is baked twice, it is described as a twice-baked food. Melted cheese, fruit, vegetables, and a variety of spreads go well with Melba toast. Not only that, there is another delicious treat named after Nellie Melba, the Peach Melba. It is Melba toast topped with peaches, raspberry sauce, and vanilla ice cream. The dessert is amazingly delicious, and the crunch of the toast fives it into another dimension.
Melba Toast day on 23rd march is observed to remind us that such a small thing, like a thin crunchy toast, could have such a big story behind it. The creation, the journey, the naming, everything about it is so intriguing. Yes, it is just a person's adoration for his favorite singer, but the events behind it made it immortal in our history, even if it is a food creation.
How can we observe National Melba Toast Day?
The best way to start the Melba Toast day is to go out and buy a package of Melba Toast. Munch on it throughout the day as you like. The best thing about Melba toast is that it doesn't require any special preparation, and one can eat it right out of the box as it is.
But adding different spreads and toppings takes the experience to a level higher. You can add jelly to it or add cheese, tomato, and some other veggies with some olive oil on top of it.
You can read about chef Auguste Escoffier and learn about his different recipes. You can also try to make Melba toast at home the way Chef Escoffier did and create a new dish using it.
As the name is related to the famous opera singer Nellie Melba, you can listen to her songs.
Share your view on Melba day, click some pictures of Melba toast and preparations, post it on social media using the hashtag #MelbaToastDay.
Interesting Facts on National Melba Toast Day:
It is originally named Toast Marie and then named after Dame Nellie Melba, the famous opera singer Helen Porter Mitchell.
Chef Auguste Escoffier created this thin toast for Nellie Melba because she gained weight in her late-career and needed to control her diet.
Chef Auguste Escoffier also created peach, Melba.
History of National Melba Toast Day:
The Toast Day has already existed for 121 years, but who established the day or why this specific date is chosen is unknown. But it is a French chef Georges Auguste Escoffier's creation named after an Australian opera singer.