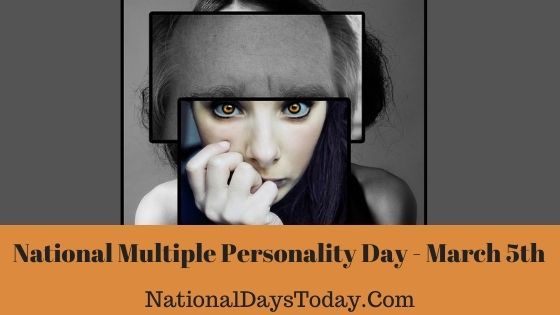 National Multiple Personality Day
National Multiple Personality Day is celebrated on the 5th of March every year. This day is celebrated in a dual manner, by either acknowledging one's personality or shedding light on the Multiple Personality Disorder.
| | | | |
| --- | --- | --- | --- |
| Year | Date | Day | Where |
| 2023 | 5th March | Sunday | United States |
| 2024 | 5th March | Tuesday | United States |
| 2025 | 5th March | Wednesday | United States |
Twitter Hashtags:
#NationalMultiplePersonalityDay
#MultiplePersonalityDay
Related: Other National Days Celebrated on March 5th:
Why Multiple Personality Day?
Multiple Personality Day is called Dissociative Identity Disorder Day as well. Dissociative Identity Disorder is a personality disorder. This rare disorder occurs in people who develop multiple personalities within themselves. These personalities may or may not be aware of each other's presence and can have different names, ages, and genders.
Dissociative Identity Disorder is a unique type of disorder, and people often find it hard to seek help. Unfortunately, there is an unfair and incorrect representation of the people suffering from this condition in the media. Because of this, there are a lot of negative stigmas attached to this Disorder. The National Multiple Personality Day aims to remove these irrational negative implications and spread awareness on Dissociative Identity Disorder.
The treatment of this disorder in psychotherapy and having a strong support system around the patient can help a lot. Since many people don't take mental health seriously and don't seek diagnosis and treatment, it is very important to spread awareness on this topic. Many people believe in irrational dogma and, instead of seeking medical or professional help, look for other ways such as temples and exorcisms, etc., which makes matters worse for the patient.  This is why it is important to celebrate and share the National Multiple Personality Day and have people get educated about Dissociative Identity Disorder and pay more attention to the mental health of themselves and the people around them.
With better research, studies, knowledge, and experience, psychologists have seen Dissociative identity Disorder has gained relevance and even increased in a number of cases. In historical times mental illnesses were referred to as "madness" or "hysteria" and compared to spiritual possession. Sigmund Freud is a pioneer of Psychology and did a lot of work on the subject.
Another reason to celebrate this day is quite different. Some people perceive this day as an occasion to take a moment for self-reflection and look deep inside their own personality. Everyone has different shades of who they are, and we bring out different parts of ourselves depending on the situation we are in, the people we are with, or what we want at a particular moment of time. With the fast-paced nature of life, we often forget who we truly are. This day provides you with an opportunity to have an introspection and learn more about yourself. By acknowledging our own emotions, fears, and behavior, we can embrace our mistakes, improve our faults, love ourselves better, and take care of ourselves better.
Introspection is an important part of the social development of human beings. It often goes unnoticed, but we think about ourselves and even talk to ourselves. To consciously participate in deep thinking about our behavior, goals, dreams, or just thinking about life, in general, helps you understand your aspirations and current actions so much better. You can solve your problems, reevaluate your choices and perceive your future decisions as well!
How Can We Observe National Multiple Personality Day:
The National Multiple Personality Day is a great opportunity for introspection and to discover your interests, passions, fears, and goals. You can take personality tests and quizzes to understand yourself better and share them with your friends.
Spread Awareness About Multiple Personality Disorder
You can use The National Multiple Personality Day as an occasion to spread awareness about Dissociative Identity Disorder, its treatment and the misconceptions about the people who suffer from it, and how to be compassionate towards them!
You can share more information about The National Multiple Personality Disorder Day by using #MultiplePersonalityDisorder and #LookInside and share with your friends the knowledge and importance of this day while also encouraging them to participate in it!
Interesting Facts On National Multiple Personality Day:
The National Multiple Personality Day falls on March 5, which is also the day for National Cheese Doodle Day!
Dissociative identity disorder is caused by emotional trauma and is a coping mechanism for many.
Each identity has its own backstory and unique personality.
Multiple Personality Disorder can cause memory loss as well.
Multiple personalities can cause a person to be completely unaware of their actions and feel like they are part of a dream.
History Of National Multiple Personality Day:
Not much is known about this day's history, but this day was founded for the people who have Multiple Personality Disorder and for them to come forward, share their struggles, and spread awareness.