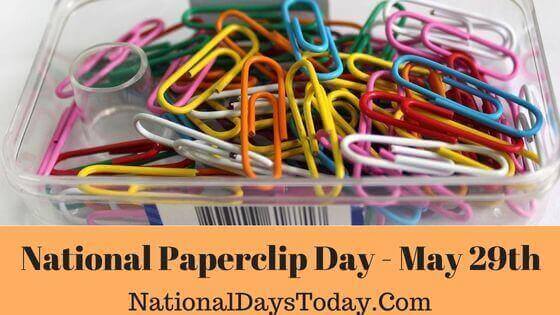 National Paperclip Day:
On the 29th of May each year, National Paperclip Day is celebrated in honor of the tiny bent metal that works as a rescuer in the systematic arrangement of the sheets of paper lying on our working desk.
| | | | |
| --- | --- | --- | --- |
| Year | Date | Day | Where |
| 2023 | 29th May | Monday | United States |
| 2024 | 29th May | Wednesday | United States |
| 2025 | 29th May | Thursday | United States |
Twitter Hashtags:
#NationalPaperclipDay
#PaperclipDay
Related: Other National Days Celebrated on May 29th:
Why National Paperclip Day?
Come to think about it, have we ever stopped to think about the importance of paperclips in our life? These clips are the reason we don't have our papers flying everywhere. Temporary keeping together of sheets would have been such a hassle if it wasn't for paperclips.
In the 19th century, people began to write on paper since it was comparatively cheaper than the other resources, so loose sheets of paper were widely available, and that's when the idea of paperclips was born. Historical references point that straight 'iron pins' were the first invention to hold papers, but it had the obvious downsides of rusting and leaving stains and holes in the papers. So, the shift from 'iron pins' to 'steel clips' happened. At present, paperclips are also made out of molded plastics and other such materials.
Samuel B. Fay won the first U.S. patent for a bent wire paper clip in 1867. This clip was initially intended for attaching tickets to fabric. Still, the patent recognized that it could be used to attach papers together, and that's when the era of paperclips started.
On the other hand, the paper clip was patented by Johan Vaaler in 1899 and 1901, which was granted in Germany and at that time. It had played a very important role during world war II because many people had incorrectly believed that he was the inventor of the paperclip and since he was a Norwegian.
During World War II, Paperclips had a symbolic significance and became a national war-time symbol in Norway and was worn by Norwegians as a sign of resistance against Nazism and anti-Semitism.
All this brings us to the fact that the original inventor of the paperclips remains unclear to this date. Who would have thought that such a tiny metal would have had such a history?
Well, talking about the use of paperclips at present, the 'Gem paperclip' is the most common type of paperclip used, and it is still in use today. It was the first designed standard double oval-shaped paperclip. The paper clips are being re-designed repeatedly, so we can see a variety of paper clips at present.
As we dig deeper into the history of paperclips, knowing and reading about it and its evolution over the period of time and the applications helps make sense of why we have a National Day for it.
How Can We Observe National Paperclip Day?
We can observe this day like-
Recycle old/unused paper clips.
You can hand out the old paperclips lying around for recycling.
Read on the significance of paper clips in World History.
Who could have thought these tiny clips had a symbolic representation during World War II? So, you can enlighten yourself with the fascinating facts about its history on this day.
DIY paperclips into beautiful ornaments
Turn paperclips into a beautiful statement neckpiece or any ornament of your choice and flaunt them on your social media handles using the #NationalPaperclipDay #PaperclipDay.
Interesting Facts About National Paperclip Day:
There are some interesting facts about this day which you want to know-
Paperclips were initially created as a device intended for attaching tickets to the
Paperclips were used as a symbol of rebellion, briefly during World War II.
In 2005, a Canadian blogger named Kyle MacDonald, starting with a single red paperclip, bartered and traded over the course of a year and ended up getting a house.
A memorial to this red paperclip was created in Kipling, Saskatchewan, in 2007, and at the time of its construction, it was the world's largest paperclip to have existed.
And three years later, the record of the largest paperclip was beaten by Evgeny Stepovik in Miass, Russia, who created a massive stainless-steel paperclip measuring roughly 30ft high and 8ft across. 
History of National Paperclip Day:
The history of National Paperclip Day goes back in decades, and the origin and founder of this day remain unknown. But the celebration of this particular day started recently and in the year 2015. Since then, on the 29th of May every year, National Paperclip Day has been observed.