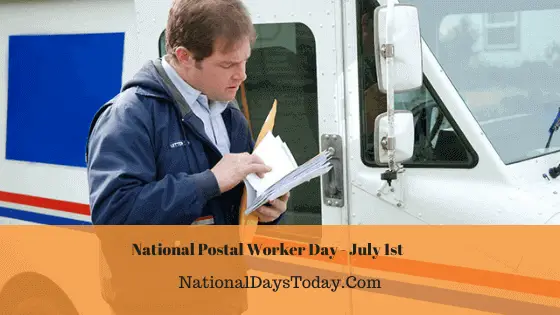 National Postal Worker Day:
Celebrated on July 1st every year. This day is dedicated to all the Workers who strive hard to deliver the post.
| | | | |
| --- | --- | --- | --- |
| Year | Date | Day | Where |
| 2023 | 1st July | Saturday | United States |
| 2024 | 1st July | Monday | United States |
| 2025 | 1st July | Tuesday | United States |
Twitter Hashtags:
#NationalPostalWorkerDay
#PostalWorkerDay
Related: Other National Days Celebrated on July 1st:
National Creative Ice Cream Flavor Day
Why Postal Worker Day?
This day is dedicated to all the Workers who strive hard to deliver the post. Postal Workers use to carry heavy loads and travel more than 10 miles to deliver the post. Surprisingly in the past, they use to deliver distinctive packages. In around 1913, the postal service was ordered to deliver to themaximum of 11 pounds. One such distinctive delivery was a kid. Unusual deliveries were continued for more than a year and those dreadful days of postal workers could not be explained in words.
They use to walk in all weather conditions with a full luggage of letters and post. Due to this expansion to 11 pounds, their life became dolorous. After more than a year, the Government noticed the concerns and several severe laws were enforced to regulate the Postal deliveries and several items like sending a kid through a post and other mere underweight items were prohibited.
How we can Celebrate National Postal Worker Day:
Say "Thanks" to your area postal workers. Present them a bouquet and post the selfie on the social media. Use your poetry skills to narrate a poem and shower your gratitude on them .Use this hashtag #PostalWorkersDay. They walk miles, works six days in a week, works in all tedious weather conditions, to reach our door to deliver the letters. This day is purely to honor and recognize the hardship.
Interesting Facts About Postal Worker Day:
The United States Postal Service, an independent body of the federal Government, United States, operates entire postal service. It is acknowledged by the Constitution of the United States and formed in the year 1971. It consisted of more than 700000 employees with more than 300000 vehicles. The world's largest vehicle fleet is owned by the U.S Postal Service.

It was ordered by federal government to serve at uniform rate irrespective of weather conditions and area despite difficulties. As stated by U.S Supreme court in 2006,660 million posts are being deliver to more than 140 delivery destinations on a daily basis and average of more than 153 billion posts are being delivered annually. The United States Postal Service operates more than 30000 post offices across the country as of 2016.

Nearly 584000 people were employed as Postal Workers that includes Service Clerks, mail Carriers, and Mail Sorters in the United States. The duty of Service clerks is to sell Postage stamps and other activities like carrying out procedures for Passport deliveries. The work of Mail Sorters is to sort out the mail appropriately to the correct destination. Mail Carriers deliver the mail either by walk or with the help of mail truck. The Transportation depends on the population. Salary is up to 43000 dollars in accordance with the Cadre.

The American Postal Workers Union is a union formed for the welfare of the Postal workers. More than 200000 employees and ex-employees of the United States Postal Service are represented in the union. After the Massive strike by postal workers in the year 1970, the union had been formed to consolidate their bargaining.
History of Postal Worker Day:
A Postal Worker to honor his co-employees commemorated the National Postal Worker day in the year 1997. However, the creator name and details could not be found within our research.