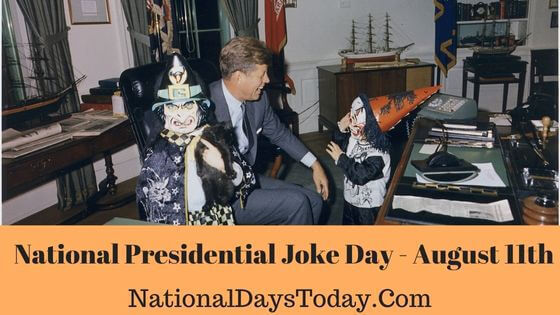 National Presidential Joke Day:
The day is celebrated on August 11, The day started due to the mistake of a President, but the people of America loved it so much that they turned it into something memorable. 
| | | | |
| --- | --- | --- | --- |
| Year | Date | Day | Where |
| 2023 | 11th August | Friday | United States |
| 2024 | 11th August | Sunday | United States |
| 2025 | 11th August | Monday | United States |
Twitter Hashtags:
#NationalPresidentialJokeDay
#PresidentialJokeDay
Related: Other National Days Celebrated on August 11th
Why National Presidential Joke Day?
American presidents are known for their humor even though politics hardly synchronizes with it; basically a day to cherish the blunders made by the president. If you are feeling especially festive then go on YouTube and watch "Man of the year" and witness how late Robin William plays a jester who became president and get pulled for being a jokester. 
The American President, Ronald Reagan's not intentional wit, made America's history. Loved by the people of America, the wit engraved itself as the National Presidential Joke Day.
American history has a bigger list of humorous Presidents besides Reagan. George Washington has a humorous side different from his strong image. He had dogs with names like Tipsy, Ranma, Mopsey and Truelove. The letters he wrote during the worst days of the Revolutionary War were topped with his jokes and wits.
16th President Abraham Lincoln was also known for his humorous streaks. The humorous part of his personality was so widely loved and appreciated that his opponents wrote a song about it calling them out as Uncle Abe. 
Are you joking yet? President Barack Obama never missed a chance to lighten up the environment by cracking a joke. He couldn't stop himself even at formal events like The White House Correspondents Dinner. He once also said he saves the worst jokes for the Presidential Turkey Ceremony. He used to mention them as dad jokes about turkeys.
This wonderful day is celebrated to remember these funny and bright moments to create an ambience and a new environment for the people. This day also has some importance as it brings the selected rulers closer to the country's people, which in turn makes them feel content with their choices.
How can we observe the National Presidential Joke Day
?
The day has its unique significance and creates fun moments for the people who love participating in it. There are simple ways to observe the National Presidential Joke Day. Like you can share your favorite presidential jokes and moments on social media platforms using the hashtag #PresidentialJokeDay. More of what you can do to observe this enlightening day:
You can check out Ronald Reagan's video on YouTube to learn how this all started.

You can search and find out more Presidential jokes on the internet.

Many people observe the day by watching the perfect movie for this day, Man of the Year, to light up the mood.
The day makes us feel closer to the leaders we choose and humanizes them. It also has a great significance as it helps develop humor in the people, which is a necessary part of our lives.
Interesting facts about the National Presidential Joke Day:
This day has noted so many remarkable, witty moments that the Americans always loved; some of them are:
Once, President Abraham Lincoln called the meeting for all the war cabinet members and then started reading funny stories from a book.

 Senator Bob Dole published a book about the wits which he named "Presidential Wit (I wish I was in the book)."

In an article, President Barack Obama mentioned the deadpan flourishes that he used to add to his speeches.
History of National Presidential Joke Day:
The day has its origin dated back to when President Ronald Reagan made a joke during a soundcheck of NPR, his regular radio broadcast. He spoke to Americans and told them that he had signed legislation that would outlaw Russia forever. And that will begin in five minutes. Little did he know that the broadcast was on-air. 
Even when the soundchecks were reserved, someone notably leaked this statement which also was aired on CBS and made up the front-page headline of The London Standard. His supporters found it humorous but not the Soviet Union; they got their army on high alert and labelled the statement as "monstrous".
America decided to mark the situation to celebrate it as National Presidential Joke Day. A day like such helps create a sense of humor among the people and brings a ray of hope to the stressed daily routines. It also brings the leader closer to the people of America and helps to know them better.