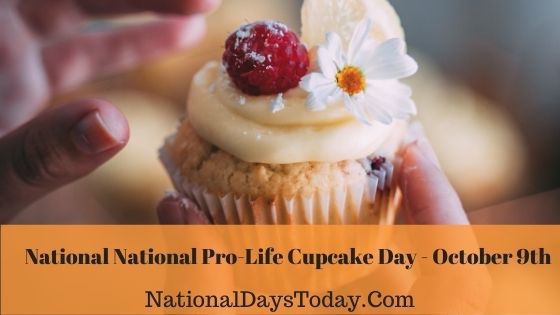 National Pro-Life Cupcake Day:
The National Pro-Life Cupcake Day is a celebration that takes place on October 9. During this day, people celebrate by interacting and exchanging cupcakes.
| | | | |
| --- | --- | --- | --- |
| Year | Date | Day | Where |
| 2023 | 9th October | Monday | United States |
| 2024 | 9th October | Wednesday | United States |
| 2025 | 9th October | Thursday | United States |
Twitter Hashtags:
#NationalPro-LifeCupcakeDay
#Pro-LifeCupcakeDay
Related: Other National Days Celebrated on October 9th:
Why National Pro-Life Cupcake Day?
The National Pro-Life Cupcake is specially celebrated to honor the lives of the unborn. It is a day that is also used to discuss the topic of abortion. Cupcakes are used during this celebration because they help create a comfortable environment for people to discuss a sensitive issue. The people who organize this event encourage participants to bake cupcakes and share them with others. They can then take the chance to share their thoughts with them and encourage them to engage in the conversation. The main conversation that is shared during this day is about abortion and the impact that it has. The topic of abortion is a sensitive one, and it has caused division among people. However, this day creates a chance for people to talk as they discuss about the rights that unborn babies have as well as the impact of abortion on the mother and the society.
How can we celebrate National Pro-Life Cupcake Day:
Some of the activities that you can engage in as part of observing this day include:
Bake cupcakes and share them with family, friends, and strangers: The main way that you can celebrate the National Pro-Life Cupcake Day is by baking cupcakes. Cupcakes are the tool that is used to mark this celebration. You can choose to bake any number of cupcakes depending on the number of people that you are hoping to interact with on that day. Besides this, you can also decorate the cupcakes with images and words that will align with the main message of this day. Whenever you are giving a cupcake to someone, you should make sure to accompany with a conversation.
Use fetal development models and pictures: Besides baking and sharing cupcakes, you can set up models or pictures that will also display the message that you intend to communicate on this day. When you are selecting the messages and pictures to use, you should make sure that your message is not offensive to your audience. You can also distribute T-shirts, banners, or cards that will communicate your message as you share cupcakes and interact with others on this day.
Become a regional manager: You can also choose to take a bigger role on this holiday and become a regional manager. With this position, you will be able to assemble a team that will take part in the celebrations. You will coordinate the baking and distribution of cupcakes and take charge of distributing other materials that will create sensitization about this day. People in your region will be directed to you concerning the activities that will take place on that day.
Go to social media: You can also use this day to educate people on social media about the importance of the celebration. You can share pictures of you and your team taking part in the celebrations and then use a hashtag to draw more people into participating. You can also display the cupcakes that you baked during this day on your social media pages.
Use the hashtags #NationalPro-LifeCupcakeDay and #Pro-LifeCupcakeDay.
Interesting facts about  National Pro-Life Cupcake Day:
The cupcakes that are baked on the National Pro-Life Cupcake day are actually used to celebrate the birthdays of the children who were not born because of abortion.
For every 1000 children born, 700 abortions take place, and this has been one of the motivations behind observing this day.
The reason why cupcakes are used as the main way of celebrating this event is not only that they are easy to make but are also a warm way of encouraging people to get into conversations.
History of National Pro-Life Cupcake Day:
The origin of the National Pro-Life Cupcake Day is attributed to the Cupcakes for Life group. This organization chose October 9 to be a day when they would come together to celebrate the birthdays of all the kids who have been aborted and did not get a chance to celebrate their birthdays. The reason behind using cupcakes during this celebration is to welcome other people in a warm manner to take part in the conversations that you are sharing. This event is marked annually, and it involves different teams in different parts of the world coming together to communicate one message and give a unanimous voice on a sensitive issue.