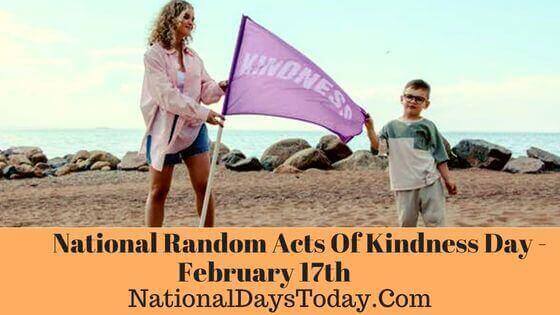 National Random Acts Of Kindness Day:
Celebrated annually on 17th February, National Random Acts Of Kindness Day is observed in the US to encourage and engage in kindness gestures today and everyday. In a world where you could be anything, being kind can transform lives. Buckle up to be kind as you explore the importance of this celebration.
| | | | |
| --- | --- | --- | --- |
| Year | Date | Day | Where |
| 2023 | 17th February | Friday | United States |
| 2024 | 17th February | Saturday | United States |
| 2025 | 17th February | Monday | United States |
Twitter Hashtags:
#NationalRandomActsOfKindnessDay
#RandomActsOfKindnessDay
Related: Other National Days Celebrated on February 17th:
Why Random Acts Of Kindness Day?
Kindness is a virtue that can transform lives. It is described as the act of being generous or considerate. Just as there is enough evil in this world, there is also kindness and goodness. Kindness is not just a virtue that you read in storybooks, believe it or not, it still exists today. Probably we don't often see grand acts of kindness in our daily lives but humanity continues to amaze us now and then.
These acts of kindness that we see or hear, bring about that warm fuzzy feeling inside and even tears of joy. In the many instances when you chose to be kind, you have begun a chain reaction unknowingly, the impact of which you cannot fathom or may never know. The butterfly effect of kindness is hard to trace but if it's possible to do so, you will realize that it's never small.
You might probably relate to previous experiences or anecdotes when we talk about kindness. But what does it mean to be kind and what does it take to be kind? There is no short answer that conveys the meaning of kindness. It means a lot of things. To be kind means to be gracious even on your bad days, to empathize with people and creatures, to be non-judgemental and to build people with constructive criticism, and much more.
Kindness is a two-way path, it enriches the giver and the recipient as well. When you perform an act of kindness your body responds positively by releasing a bunch of feel-good hormones like Oxytocin and Serotonin. Oxytocin helps to control blood pressure and creates a feeling of positivity while serotonin gives a calming effect and induces healing. The cumulative effects of these hormones lead to a reduction of stress, anxiety, and even pain.
What about namesake kindness? One might wonder, as quite often the alleged acts of kindness tend to have hidden intentions such as an expectation of a favor in return or to create a good image. For instance, numerous politicians, influencers, and YouTubers record their acts of kindness on public platforms to increase their popularity. What truly matters is the intention behind these acts. All these gestures do help in spreading kindness but when there is a hidden agenda your conscience may not be kind to you.
You might feel that It's relatively easier to be kind to your friends and family or to someone you owe a favor to than to random strangers. But these random acts create more impact on people because you have no obligation to show kindness to someone you have never met before. These altruistic acts go a long way and will remain with the benefactor for a long time and because of your kindness they may help someone in the near future.
The studies on positive psychology have proved that emotions such as joy, gratitude, and love can increase the overall quality of life cultivating happiness and energy. How is that related to kindness? Well, kindness is a product of all these emotions. In this universe, you might be a speck but your actions have repercussions, as Newton elucidated, "every action has an equal and opposite reaction". The kindness you show may or may not come back to you, but it surely makes the world a better place. Kindness is one of the most valuable virtues an individual could possess and valuable things in life should be celebrated! Celebrate the kindness in you along with the nation on 17th Feb!
How Can We Celebrate National Random Acts Of Kindness Day:
Be kind wherever you are and to everyone you meet, because there are people out there in dire need.
Kindness doesn't have to be in terms of money or material. You can encourage and uplift people by giving them compliments and acknowledging them for all that they do.
It's important that you take care of yourself and your emotions, forgive yourself when you make mistakes, and show some kindness to yourself.
Spread posts about kindness and love using #NationalRandomActsOfKindnessDay
Interesting Facts On National Random Acts Of Kindness Day
Here are a few interesting facts surrounding the National Random Acts Of Kindness Day!
New Zealand celebrated the Random Acts Of Kindness Day in 2004!
Princess Diana shook hands with an AIDS patient in 1987, breaking the stereotype through her kindness to prove that HIV does not transmit by touch.
Caitlin Boyle, Operationbeautiful.com's blogger began pasting sticky notes with positive messages in public areas to promote self-love.
The movie Pay it forward, directed by Mimi Leder is based on random acts of kindness and their impact.
A non-profit organization, Life Vest Inside posted a video called Kindness Boomerang based on real-life experiences when kindness shown by one person impacted many people and finally how it was returned to the person.
History Of National Random Acts Of Kindness Day:
The National Random Acts Of Kindness Day was founded in 1995 in Denver by a non-profit organization known as the Random Acts of Kindness Foundation founded by Will Glennon.