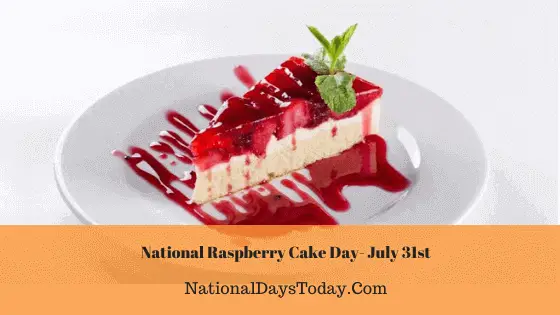 National Raspberry Cake Day:
Celebrated on July 31, every year, this day is to rejoice the sweetness of raspberry cakes.
| | | | |
| --- | --- | --- | --- |
| Year | Date | Day | Where |
| 2023 | 31st July | Monday | United States |
| 2024 | 31st July | Wednesday | United States |
| 2025 | 31st July | Thursday | United States |
Twitter Hashtags:
#nationalraspberrycakeday
#raspberrycakeday
Related: Other National Days Celebrated on July 31st:
Why National Raspberry Cake Day?
Raspberry, an edible fruit belongs to the genes of the Rose family. With the layer of cake filled with raspberry jam and the topping, these cakes are super delightful and delicious to eat. It is also popular around the summertime in the United States. As it belongs to the rose family, it is always special when you bake and gift it to your loved ones on this special day.
How Can we celebrate National Raspberry Cake Day?
On this national raspberry cake day, try and make a homemade raspberry cake with the below ingredients.
Chocolate raspberry cake:
All-purpose flour – 2 cups
Cocoa powder (unsweetened ) – ¾ cup
Baking powder – 1 teaspoon
Baking soda – 2 teaspoons
Salt – 1 teaspoon
Canola oil – ½ cup and 2 tablespoons ( Grapeseed can also be used instead of canola oil)
Granulates sugar – 1 cup
Unsalted butter in room temperature
Brown sugar – 1 cup
Egg – 3 nos
Vanilla extract – 2 teaspoon
Buttermilk – 1 cup
Hot water – 1 cup
Instant espresso powder – 2 teaspoons
For the Filling:
Raspberry jam ( seedless)
Fresh Raspberry
How to Prepare:
Step1: In a saucepan, add the sugar, water, and cornstarch and heat it in a medium flame. Stir the mixture until the sugar melts and add raspberry to the sugar mixture.  Raspberry starts to get soft and mushy with its juice. If it is not mushy, mash the raspberry using a spatula. After the mixture becomes thick, transfer it to another bowl and let it cool in the refrigerator.
Step2: In a bowl, add sugar, cocoa, flour, baking soda, and baking powder and mix it well. In another bowl add eggs, heavy milk, vanilla extract, and canola oil to make it as a mixture and then add this to the dry ingredients little by little and stir it well until the batter becomes thick. Slowly stir the mixture adding hot water till its well combined. Preheat the oven to 350°F and add the batter in three different medium-sized pans and bake for 20 -25 mins. Then remove the cake from the oven and cool for 3-4 mins at room temperature.
Step3: For the chocolate frosting,  add butter, melted chocolate, cocoa powder in a large bowl, and stir it well. Then add half of the powdered sugar and heavy cream to the mixture until combined well. Again add the other half and stir well to make the right consistency of the frosting.
Step4: For making ganache, in a bowl add some chocolate chips and boil the heavy cream in the oven to combine it in the chocolate chips. Whisk it until it becomes smoother and sauce.
Then in the first layer of baked cake, add the chocolate frosting around the cake leave the middle area of cake empty. Add the raspberry mixture in the middle and spread it equally. Repeat it for the second and third layers. And at the top of the layer add the ganache and spread it all over the top of the cake. Then add some raspberry at the top for topping. Decorate the cake with raspberries and chocolate chips. Share this delicious cake with your friends and family.
Nutrition facts: One piece of chocolate raspberry cake contains: 940 calories, cholesterol – 108mg, fat – 51g, protein – 9.7g, Sodium – 481.2mg, carbohydrate- 122.3g and, Vitamin A and Vitamin C.
Write down your innovative raspberry cake recipes using #nationalraspberrycakeday to post it on social media.
Interesting facts about National Raspberry Cake Day:
facts about Raspberry and Raspberry cake day,
Raspberry can be found in paleolithic age which has been long-forgotten in a run and never cultivated before 4th century BC , but now it can be found all over the world. Later it is used for medicine and herbal teas. If you think why it is used in cakes, of course, it is for its richness in taste. It is used in cakes to give the cake a good flavor content because of its sweetness.
Raspberries are rich in vitamin C and contain nutritional benefits. If you think the cake is a lot of calories, try adding raspberries in it which helps with the sweetness with vitamins C. Raspberry has fiber and manganese to help with digestion.
Raspberry cake day is celebrated in mid-summer which can be a reason because raspberry is mainly harvested in July – September. There are more than 400 varieties of raspberry in the United States which can also be used in cakes
History of National Raspberry Cake Day
From our research, we are unable to find the Origin and creator of the National Raspberry cake Day.