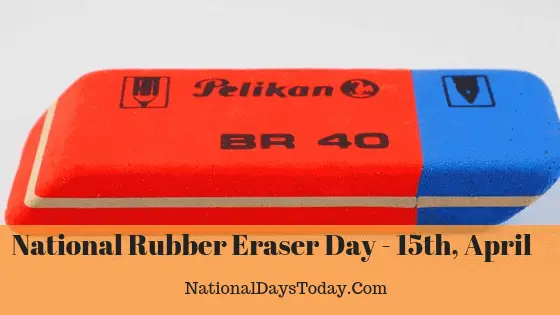 National Rubber Eraser Day:
Celebrated on April 15th every year. The day is to thank the invention of Rubber Eraser.
| | | | |
| --- | --- | --- | --- |
| Year | Date | Day | Where |
| 2020 | 15th April | Wednesday | United States |
| 2021 | 15th April | Thursday | United States |
| 2022 | 15th April | Friday | United States |
Twitter Hashtags:
#RubberEraserDay
#NationalRubberEraserDay
Why Rubber Eraser Day?
This day is celebrated to appreciate and thank the invention of Eraser and to acknowledge the idea invested to clear our written mistakes in a comfortable way.
How we can Celebrate National Rubber Eraser Day:
On this rubber eraser day, observe some types of erasers available in the market.
Cap Eraser:
Usually available in pink color and it can be inserted on pencil top. These erasers are usually made from Styrene Butadiene Rubber mixed with plasticizers and abrasives to make it harder so that it sustains at the pencil's top for a longer period.
Kneaded Eraser:
Kneaded Erasers are flexible, similar to soft clay, and it can be hauled to a sharp point. Artists use these erasers to rub minute details in pencil arts, to reduce the intensity of shades from smaller areas, and to produce blot effect in drawings.
Unlike standard erasers, it does not remove the pencil marks by shedding crumbs. Instead, it absorbs the graphite particles from pencil stains and lightens the areas. An effective method to use this eraser is, stretch it like a thread, press it on the thinner areas of pencil arts, after it absorbs the graphite, take it out from paper. New Kneaded erasers are fresh and white colored when used more, it turns dark and loses its efficacy due to the absorption of black graphite.
Electric Eraser:
These erasers work with the help of batteries and motor. It looks like a pen and has a replaceable cylindrical rubber fixed to the motor axis. Roll this eraser pen over the paper at a constant speed to erase pencil marks, so that it creates minimal or no tear to the paper.
Pencil Eraser:
One half of this pencil is fixed with graphite, while the other half is attached with the eraser. Both the sides of the pencil can be sharpened to get pointed graphite (to write) and pointed eraser (to rub).
Let us learn to make an eraser emoji bracelet, on this national rubber eraser day.
—-Eraser Emoji bracelet—-
Eraser clay-Buy your favorite colors
Elastic cord- 6 inches.
Emoji stickers-Choose your favorite emoji faces
Take a pea-sized eraser clay of different colors and make it to small balls(10-12). On the eraser balls, make a hole of a suitable size so that an elastic cord can be inserted to it. Now put these balls in a hot boiling water to make it hard. After 10 minutes take the balls out and wipe it with a dry cloth. Paste an emoji sticker on the eraser ball of each color. Make sure all your favorite emoji stickers are stuck on balls. Join all the eraser balls by inserting an elastic cord into their holes. Tie both ends of the chord with a knot. You can further make it firm by adding a drop of glue over the knot. It may be used as an ornament or an eraser as per your desire.
Share your experience in purchasing unique and fancy erasers from your nearby shops using '#RubberEraserDay' to post it on Social Media.
Interesting Facts About National Rubber Eraser Day:
During the year 1770, a scientific instrument maker named Edward Narine accidentally discovered eraser to rub pencil marks. He then sold his new unnamed eraser material for 3 shillings per half-inch cube. On April 3rd of the same year, Joseph Priestley, an English Separatist Theologian, in his footnote mentioned about this new material, its erasing property, and its availability from Mr.Edward. Later it was named and identified as 'rubber'.
There is a chemistry behind erasers. When you write graphite from pencil sticks with the fiber materials of paper. If these pencil marks are rubbed, the polymer of eraser being more sticky than paper fibers, makes the graphite to get stuck into it.
Till 1770, bread crumbs were used to erase graphite marks. They were softened, moistened and kneaded to round balls. Although it was inexpensive and available in surplus amount, it gets rotten over time.
The small erasers at the pencils top are called as 'plugs' and the metal cups that withstands these plugs are known as 'ferrules'.
Little pink erasers attached to pencils top contain volcanic ash, to increase abrasiveness.
History of  National Rubber Eraser Day:
The origin of "National Rubber Eraser Day" is not known.