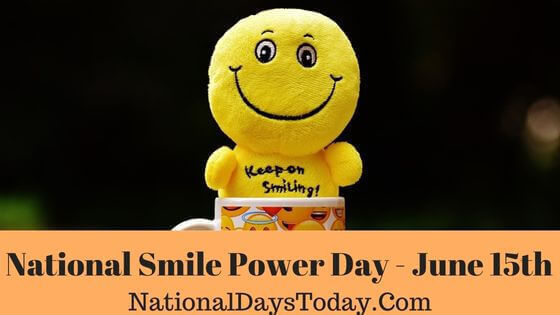 National Smile Power Day:
Emphasizing the importance of a smile, we celebrate National Smile Power Day on the 15th of June every year.
| | | | |
| --- | --- | --- | --- |
| Year | Date | Day | Where |
| 2023 | 15th June | Thursday | United States |
| 2024 | 15th June | Saturday | United States |
| 2025 | 15th June | Sunday | United States |
Twitter Hashtags:
#NationalSmilePowerDay
#SmilePowerDay
Related: Other National Days Celebrated on June:
Why National Smile Power Day?
While it is just an involuntary movement of the zygomatic muscles on your face, a smile can brighten up the day of anyone at the receiving end. Whether you are wishing good morning or you are offering assistance to anyone, when accompanied by a smile, it can certainly change the way it is looked at. Many popular quotes from many popular personalities emphasize the importance of having a smile while you get to work. Whether you want to improve your chances of a better day at work, or you want to improve your holiday times, smiling is all you need to start with.
Starting your day with a smile can cheer you up while also bringing a shine of happiness to those around you. It gives you a certain sense of positivity like no other and is favored by everyone. A smiling person is never forgotten and that is why a smile has the power that can overcome any situation or challenge. We, therefore, use a day to celebrate the power of a smile on this day every year to let everyone know the importance of a simple smile.
How can we celebrate National Smile Power Day?
While a smile is a natural reaction, it certainly brings a dose of joy into the environment. On this day, you can be the reason to bring a smile to the faces of those you love. It is the day when you should try to smile as much as you can and if you are finding it challenging, then we have some tips to help you realize the full potential of a smile.
Thinking of happy memories often brings a smile to our faces. You can think about any occasion that you felt cherished or occasions when you had to laugh hard and you would be smiling instantly.
You can enjoy handing out simple jokes to everyone and you will smile as they start smiling at your jokes. Riddles are also a good way, simple riddles though, to bring a smile to people's faces. It is more so when you solve it for them and they realize they were so close to the solution all along.
You can try making a list of things you are thankful for in this life. Thinking about your blessings is one way to smile upon your life and enjoy this life.
You can indulge in charities, donating to others' lives, that will make them smile. This would involuntarily make you feel content and happy, bringing a smile to your face as well.
Spread the joy and smile on your social media too with #NationalSmilePowerDay added to the story.
Interesting facts about National Smile Power Day:
You might wonder what is so special and powerful about a smile. But you would be surprised by the results you can enjoy by adding a simple smile to any transaction, monetary or not.
On this day, we bring some interesting facts about smiling in general.
If you do not know already, smiling is very contagious and people find it impossible not to smile back at a person who is smiling at them.
Smiling can add more beauty to your appearance and it is also the first expression we learn after being born.
It doesn't matter which country or city you are in, you can smile and it will be understood just fine.
Smiling is not just a way to bring a dose of endorphins and dopamines, but it also helps in keeping your blood pressure under check. It also helps to keep your stress levels low.
People who can smile are often confident and much preferred for interaction than those who frown. Also, smiling is much easier than frowning or crying.
Smiling is the best exercise for your facial muscles as it uses the maximum muscles on your face.
Studies show that women smile more times a day than men.
History of National Smile Power Day:
We do not have the information on the origins of this day or who initiated a celebration. But it is undeniable that a smile can make all transactions smoother and this day is a celebration of the power of a smile.