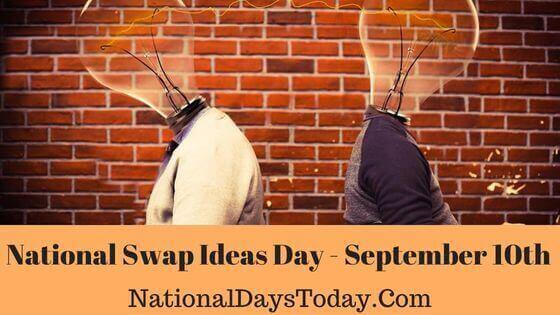 National Swap Ideas Day:
National swap ideas Day is celebrated on 10th September every year. This day encourages every individual to share creative and thoughtful ideas with another individual or a group and, in return, receive their thoughts. 
| | | | |
| --- | --- | --- | --- |
| Year | Date | Day | Where |
| 2023 | 10th September | Sunday | United States |
| 2024 | 10th September | Tuesday | United States |
| 2025 | 10th September | Wednesday | United States |
Twitter Hashtags:
#NationalSwapIdeasDay
#SwapIdeasDay
Related: Other National Days Celebrated on September 10th:
Why National Swap Ideas Day?
This day should not be done on a one to one basis but for many people. Therefore, sharing your thoughts and ideas will help this society grow the person's personality.
People with the same interests often gather together for a discussion, which is generally a social gathering. This is a very creative and knowledgeable day where you can learn many new things about yourself and different issues. 
When people share their different thoughts and opinions, you see the issue from a different perspective from your own. Therefore, people share their concepts, ideas and thoughts to swap and share their perspectives. 
Whatever the ideas are, it is worth brainstorming, whether applied today to day life or for extended plans. This is a fun day activity with your family, friends or co-workers. During this day, you can also create a special bond with the people you work with and with the friends you have lost contact with. 
How can you observe the National Swap Ideas Day?
The best way to make use of this day is to have many discussions, share your knowledge, and receive some ideas and thoughts. You can share and swap your ideas throughout the day is the main objective of this day. 
Swapping ideas at offices, organizations, and clubs can be very helpful for some people as they can improve their knowledge on specific topics. Try to share the ideas that will lead to solutions or new products. 
Never resist sharing an idea as any new idea of yours can create either innovation or technology or a new genre of fiction. 
Some of the ways this day can be more interesting are by hosting a brainstorming session of ideas and calling some of your creative friends for a group discussion where you can ask and discuss various topics and issues in your personal and the country. 
Another way could include creating a group of friends on any social media platform to discuss some of your ideas and some of their ideas. This giving and receiving of information can be an excellent way to educate about the things that people are not aware of. 
The most creative way to generate new ideas and thoughts is doodling. Doodling is a very creative process that can help explore your mind through various perspectives and angles you have not even thought of. Your mind works differently while doodling and can see the creative perspectives and generate new ideas.
With all these, do not forget to share the pictures of you and your group swapping ideas with the hashtag #Nationalswappingideasday. With this hashtag, you can see who is celebrating this day and can also trade ideas with them. 
Interesting facts about National Swap Ideas Day:
Some of the interesting facts about National Swap Ideas Day and some facts about ideas are as follows:
The word idea was first coined in 1400 A.D. The word originated from the Greek word idein and was translated to Latin later.
In 1644 A.D., the support for competing came to light. English poet and intellectual John Milton highlighted the necessity of sharing ideas with the people. 
Brainstorming the ideas in the workplace first started in 1941. Alex F. Osborn originated it, and he began to develop the method of enhancing creativity in an office. 
In 1960 the first televised debate took place. This first televised debate was between the vice president Richard Nixon and John F. Kennedy. 
History of National Swap Ideas Day:
This day is believed to be discovered by Robert Birch, who also created other strange days like Lumpy rug day, trivia day and nothing day. 
Researchers say that every million-dollar idea is created through brainstorming ideas and discussing them will gain knowledge. Every human being is different, and not all think the same way. 
Every idea is worth sharing as you never know the idea can be a birth of something new and unique. Sharing and discussing these ideas will do something better and will not harm anyone.
There is a saying that two heads are better than one, and swapping ideas is the best way to support this saying. Brainstorming and debates are the popular ways to swap ideas and good practices to swap ideas and thoughts. 
National Swap Ideas Day has an objective to create a serene environment where people can share their ideas, opinions and thoughts without any harm.